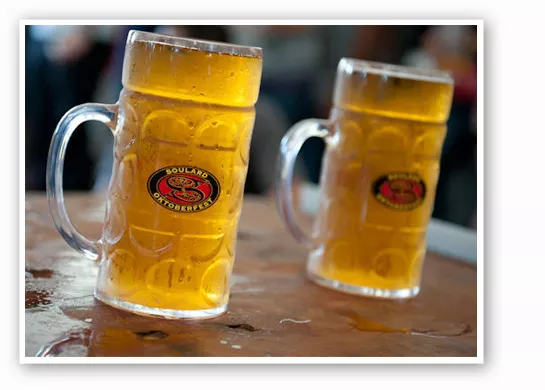 Oktoberfest macht Spass. | Jon Gitchoff
It's finally Oktoberfest! Check out the annual celebration of beer in Soulard, or, if that's not your style, meet St. Louis beekeepers and taste local honey at Extra Virgin. Either way, there's something for everyone this weekend. Read on for our food-related recommendations after the jump.
See also: Strange Donuts Opens Friday (For Real This Time)
Friday (Oct. 11)
Soulard Oktoberfest @ 300 Lafayette Avenue
"Let's place the important names up front: Schlafly, Kulmbacher and Paulaner. These are the beer suppliers for this year's Soulard Oktoberfest, and they're truly a lovely trio more than capable of meeting your thirst requirements. And if you're gonna have a beer or two, you'll need a bratwurst, or one of those pretzels that's as big as your torso -- both of those tasties will be in plentiful supply as well. Throw in some Old World dance music from the Dorfrockers and the Deutschmeister Brass Band and it's clear to see why Oktoberfest is the most wonderful time of the year. The Soulard Oktoberfest parties down from 5 p.m. to midnight Friday, 11 a.m. to midnight Saturday and 11 a.m. to 6 p.m. Sunday (October 11 through 13) in Soulard (Lafayette Avenue and South Broadway; www.soulardoktoberfest.com). Admission is $10 to $200."
Alpine Wine Dinner @ Five Bistro
Five Bistro (5100 Daggett Avenue; 314-773-5553) is once again pairing with Vinoteca to bring you a themed wine dinner, and this time they're taking you to the Alps! Enjoy Italian and French wines paired with each of the five courses. Our mouths are watering over the confit rabbit and roasted butternut squash ravioli with garden sage butter. Tickets are $80 per person, call 314-773-5553 for a reservation. 7 p.m.
Soulard Farmers' Market @ Soulard Farmers' Market
"Soulard Farmers' Market is still going strong and is without a doubt the largest and most eclectic market in the region -- you can buy everything from a sack of apples to a new pair of sunglasses. This is truly an iconic spot...The days and hours of operation are a bit confusing: Wednesday through Saturday, the Grand Hall, or the central inside shops, are open, along with a smattering of outside vendors (varies daily), from 8 a.m. to 5 p.m., with the afternoon hours usually offering the best options."
Continue for the best events on Saturday & Sunday.
Saturday (Oct. 12)
Downtown Fall Festival @ Washington Avenue
Over 50 restaurants are helping the Downtown Restaurant and Bar Association celebrate autumn with the first Downtown Fall Festival. Enjoy live music, a beer garden plus a kids' area and sports zone. Try picks from Pickles Deli, Robust, Rosalita's, Prime 1000, Gelateria Tavolini, Urban Chestnut, 4 Hands, The Dubliner, Side Bar and lots more. Oh, and the event is pet-friendly, so bring your dog and take advantage of the nice fall weather. The festival will be held on Washington Avenue between 10th and 14th Streets. Admission is free. From 11 a.m. to 9 p.m.
Pumpkin Fest @ Market Pub House
Are you serious about Pumpkin Beer? Then don't miss Pumpkin Fest at Market Pub House (6655 Delmar Boulevard, University City; 314-727-8880). It will have fourteen craft pumpkin beers on tap from O'Fallon Brewery, Rogue Farms, Crown Valley, Kirkwood Station Brewing, New Belgium Brewing, Wood Chuck, Imperial, Urban Chestnut, Six Row Brewing Company, Shipyard Brewing and more. The ticket also includes Chef Matt's dinner buffet and a souvenir Pumpkin Fest pint glass. Tickets are $20 in advance, available at 314-727-8880, or $25 at the door. 4 p.m.
Romanian Ethnic Festival @ St. Thomas the Apostle Romanian Orthodox Church
Explore this ethnic fest for a taste of kabobs, stuffed cabbage, homemade soups and sausages, and Romanian wine and beer. Glimpse folk dancing, a traditional costume display and church tours along the way. Admission is free. Saturday, Oct. 12 and Sunday, Oct. 13 from 11 a.m. to 8 p.m.
Applefest @ Downtown Clarksville
The 35th annual Applefest kicks off Saturday with a parade followed by a bevy of contest: a baby (cuteness?) contest, a fiddler contest and an apple-baking contest. Downtown shops will be open both days and snack on all the apple treats you can get your hands on: apple pie, apple fritters, apple cider, cinnamon apples, plus kabobs, barbecue and more. Admission is free. Saturday and Sunday, 10 a.m. to 5 p.m.
Sunday (Oct. 13)
2nd Annual Homebrew Competition @ iTap Chesterfield
4 Hands brewers and iTap Chesterfield (161 Long Road, Chesterfield; 636-537-8787) customers will taste test the creations of over twenty homebrewers. Last year's winner Bryan Clauser will be there to defend his title. The winner, chosen by 4 Hands, will be brewed by its team and entered in the 2014 Great American Beer Festival. There will also be a People's Choice Award. The homebrew tastes are free, and iTap will have its full selection of drafts available for purchase, plus live music and of course, football on TV. Admission is free. From noon to 3 p.m.
Art in the Park: Dueling Desserts @ Lindendale Park
This food-as-art competition in Highland, Illinois takes some area pastry chefs and pits them up against each other with dessert-making demonstrations. This year features Pat Jacoby of Patty-Cakes, Leslie Gillette of Cafe Ventana, Jenny Cleveland of Cleveland-Heath and Martin Lopz of Piccione Bakery. Vote for your favorite with tips that are donated to the local food pantry, and stick around to check out the rest of the visuals and festivities. Admission is free. Noon to 2 p.m.
Honey Tasting @ Extra Virgin, An Olive Ovation
Extra Virgin (8829 Ladue Road, Ladue; 314-727-6464) has the biggest selection of honeys in St. Louis, so it teamed up with the Eastern Missouri Beekeepers Association for a tasting. Sample twelve honeys from local beekeepers and learn why each honey is different. Admission is free, honey available for purchase. 10 a.m. to 3 p.m.
Gut Check is always hungry for tips and feedback. Email the author at nancy.stiles@riverfronttimes.com or follow her on Twitter.
---