In honor of our 2013 Best Of St. Louis issue, we're profiling some of the most fascinating winners from the Food & Drink section. The topic of this conversation: Best Cupcakes. Read the entire Best of St. Louis issue here.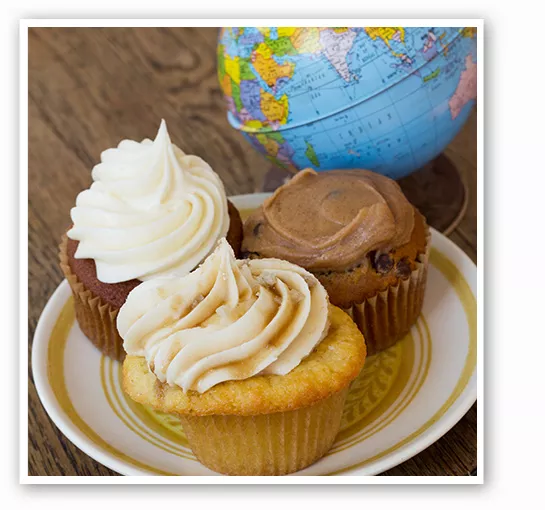 A selection of Whisk's cupcakes. | Mabel Suen
Last week, Kaylen Wissinger singlehandedly whipped up more than 1,000 cupcakes for the Missouri Botanical Garden's annual Best of Missouri Market. Her quaint bakery storefront, Whisk a Sustainable Bakeshop (2201 Cherokee Street; 314-932-5166), opened in November 2012, and she hasn't taken a break from baking since. Whisk has seen a lot in its first year in business, and it shows signs of slowing but certainly not stopping to meet the demands of the season.
See also: First Look: Whisk a Sustainable Bakeshop
On a weekday morning, Wissinger emerges from her Cherokee Street kitchen to warmly greet a customer stopping in to sample her cupcakes, which were named best cupcakes in the RFT's Best of St. Louis 2013. She first introduced her locally focused, all-natural concept, Farm Fresh Cupcakes, in 2011, and she continues to commit her time to creating sustainable sweets for the community.
Vegan pumpkin brownies, fresh from the oven. | Mabel Suen
With the last festival of the season under her belt and the farmers' market season getting ready to hibernate for the winter, Wissinger says she can finally spend some more time focusing on the shop and wholesaling her small-batch goods to local businesses, such as the recently opened Rise Coffee House (4180 Manchester Avenue).
See also: First Look: Rise Coffee House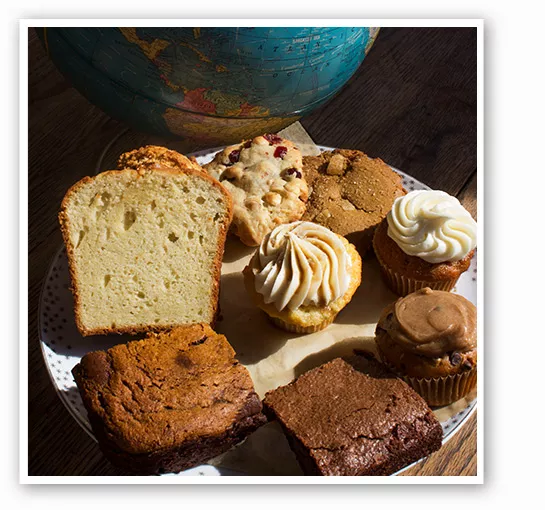 Clockwise from bottom left: Vegan pumpkin brownies, cardamom pound cake,
winter cookie, ginger cookie, pumpkin cupcake, vegan pumpkin chocolate
chip cupcake, brownie and salty-caramel cupcake. | Mabel Suen
With fall well under way, warm spices and hearty produce begin to make their way into Whisk's bakery case next to crowd favorites including bacon chocolate chip cookies. Look for treats featuring pumpkin, apples, carrots, zucchini and sweet potato in the coming months, as well as desserts infused with cardamom, ginger and even peppermint around Christmastime. Wissinger also hopes to collaborate with local businesses including Parsimonia and ReTrailer to host fun events sure to warm up wintry evenings.
As for her cupcakes, the little gems that started it all, expect to find at least three (and up to four) different flavors any day that the shop's open. The resounding favorite tends to be her salty-caramel concoction, a perfectly proportioned cake wearing a swirly hat of luscious buttercream drizzled with sticky, golden caramel. What makes her cupcakes so good? Simplicity is key and so are good ingredients.
See also: Kaylen Wissinger Introduces Farm Fresh Cupcakes
"We use all-natural ingredients and have never used mixes. I don't take shortcuts," Wissinger says. "We use the best produce we can get from local farmers, and all of our eggs come from an organic farm. We invest in a higher-quality ingredient, and I think that creates a higher-quality cupcake."
For more information, check out Whisk's website or follow it on Facebook and Twitter. Stay tuned for information on Whisk's one-year anniversary festivities.
After that, keep your fingers crossed for what Wissinger refers to as a "super long-term goal" with her husband and right-hand man, Pete: a popsicle food truck.
Gut Check is always hungry for tips and feedback. Email us!
Want access to our Best Of picks from your smartphone? Download our free Best Of app for the iPhone or Android phone from the App Store or Google Play. Don't forget to check out the full Best of St. Louis® online at bestof.voiceplaces.com.
---