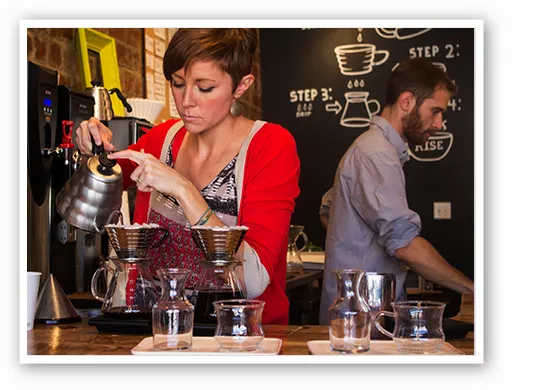 Co-owner Jessie Mueller prepares coffee with a kalita wave dripper. | Mabel Suen
Rise Coffee House (4180 Manchester Avenue) opened its doors in the Grove on September 28, fueling area residents and passerby with hot Goshen coffee and freshly prepared Whisk Bakeshop pastries. Aside from simply offering up an artisan caffeine and sustainably prepared sweets fix, Rise looks to to be well on its way to achieving its ulterior motive: providing a daytime community hub for the neighbors.
See also: Rise Coffee Offers Fair Trade Beans, Sustainable Baked Goods and Community to the Grove
Rise's latte ($4). | Mabel Suen
On a weekday morning during its first week in business, professionals of all ages from the area have already set up shop. Manilla folders, notepads and pens dot some tables alongside mugs of carefully handcrafted espresso drinks. Meanwhile, a college student studies quielty in the corner, earbuds firmly implanted; a toddler rifles through a toy cabinet with his mother in the kid-friendly zone upstairs; and pairs of people engage in casual chatter.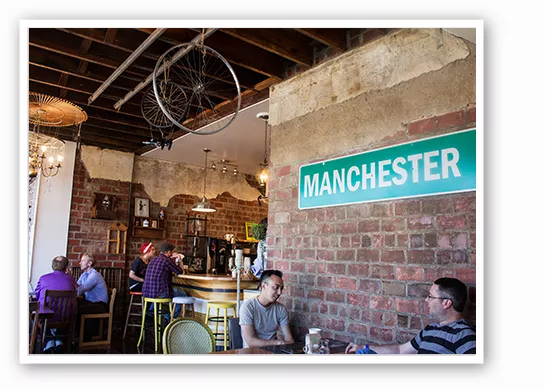 Decor by Jipsi Boho. | Mabel Suen
The previously blighted 1,500-square-foot brick bungalow that houses Rise got a huge facelift thanks to upcycled artistic direction from Jenny B of Jipsi Boho Design. All told, Rise offers a quintessential coffee-house experience in an area that illustrates a vibrant cross-section of the city.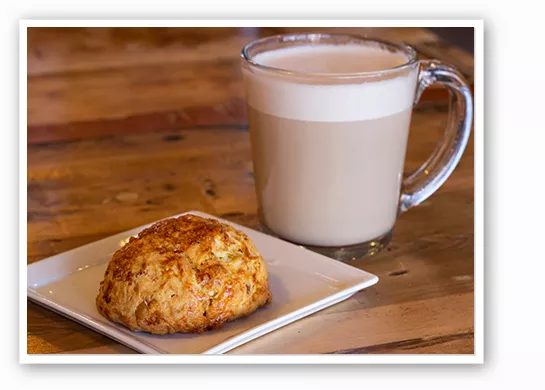 Whisk's apple-cheddar scone and Rise's chai ($4). | Mabel Suen
Cheerful-sounding indie rock and pop music plays softly through overhead speakers, sunlight shines through big windows onto glossy, refurbished wooden tabletops, and tasteful bohemian kitsch embellishes exposed brick walls. It's as picturesque and close-to-cliche as an episode of Portlandia, which makes sense given co-owner Jessie Mueller's initial inspiration to open shop.
See also: Rise Coffee to Open in The Grove
Upstairs seating area. | Mabel Suen
Mueller, a former social worker who studied nearby at Saint Louis University, says she didn't really understand the world of artisan craft coffee until she visited Portland last year. At Rise, you won't find a tray full of generic flavored syrups or chargers armed with sweetened whipped cream; instead, expect a specially created profile of carefully roasted Goshen coffee beans, brewed carefully to extract flavors in their purest form. To achieve this, Rise uses properly tempered water with its signature kalita wave drippers, as well as Chemex, V60 and kyoto.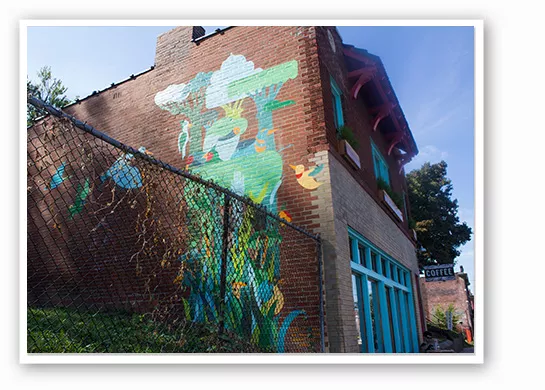 Mural on the side of Rise. | Mabel Suen
Cappuccinos and lattes are also available, along with fruit smoothies, hot chocolate and chai that lingers with a sharp bite of fresh ginger. Rise also offers four blends of ReTrailer teas. Whisk's baked goods offer an appropriate counterpart to balance the deep flavors of Rise's drinks. Depending on the day, patrons can find anything from seasonal quiche and savory scones to cupcakes and muffins.
Rise's current hours are Tuesday through Sunday from 7 a.m. to 4 p.m. For more information, visit Rise's official website or follow it on Facebook.
See also: - First Look: Blueprint Coffee - First Look: Sump Coffee - First Look: Whisk A Sustainable Bakeshop
Click through for more photos!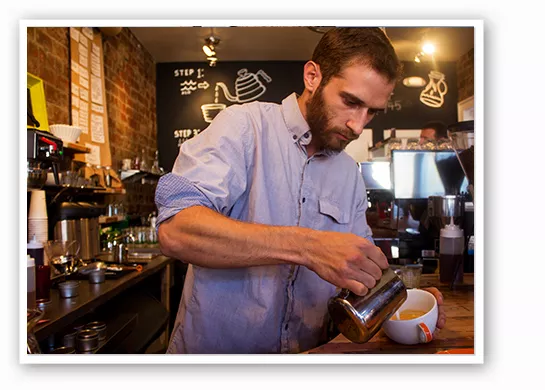 Carefully pouring a latte. | Mabel Suen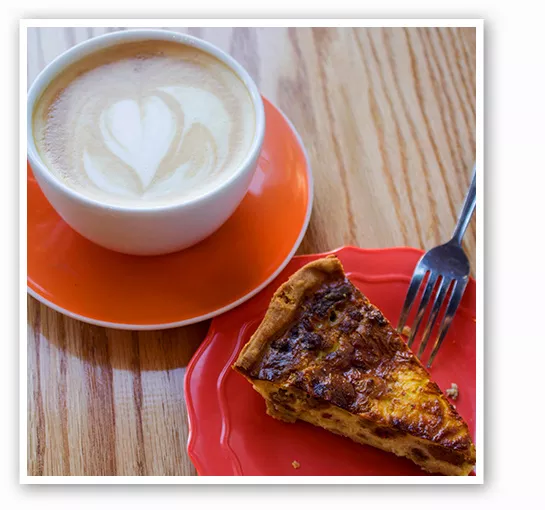 Latte with Whisk's quiche. | Mabel Suen
A variety of options from Whisk Bakeshop. | Mabel Suen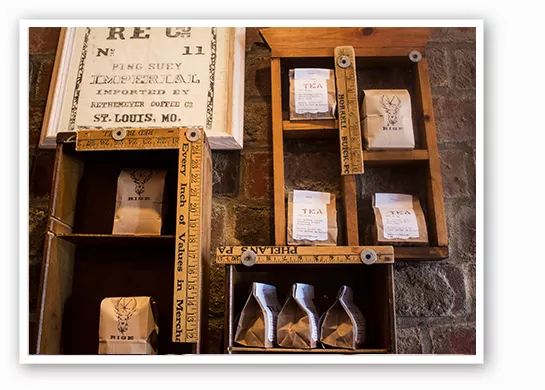 Goshen coffee and ReTrailer tea. | Mabel Suen
Plenty of seats by sunny windows. | Mabel Suen
Wake up. Kick ass. Repeat. | Mabel Suen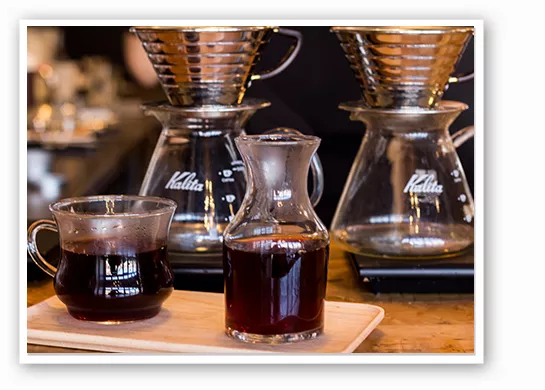 Kalita wave. | Mabel Suen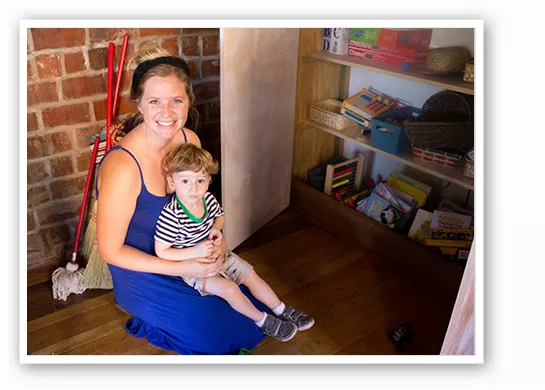 A mother and son find the toy chest. | Mabel Suen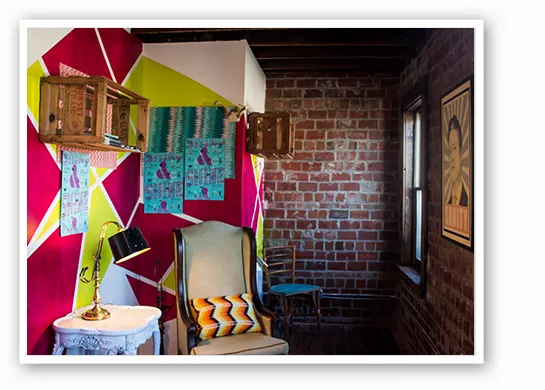 Additional seating upstairs. | Mabel Suen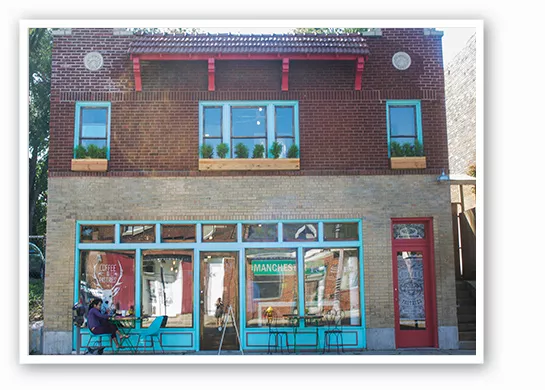 Rise Coffee's two-story brick bungalow. | Mabel Suen
On Manchester Avenue. | Mabel Suen
Gut Check is always hungry for tips and feedback. Email us!