Note the Serrano pepper in Water Street's "Silver Cloud." | Pat Kohm
Baby, it's cold outside. It may only be early October, but current forecasts show temperatures aren't likely to break 80 degrees again in 2013. Leaves are falling, pumpkins sit on porches waiting for their inevitable smashing -- it's clear fall is here to stay. So what better way to settle in than a nice, warming cocktail? We've assembled a list of our favorite fall cocktails in St. Louis, all guaranteed to give you that warm feeling in your gullet. Enjoy!
The bar: Water Street Cafe and Cocktail Bar (7268 Manchester Road, Maplewood; 314-646-8355)
The drink: "Silver Cloud"
The key to Water Street's "Silver Cloud" is the simple garnish of a Serrano pepper -- each sip combines fiery aroma with the smooth taste of Scotch, amaro, honey syrup, lemon and, the crucial final piece, egg white. As owner and drink creator Gabe Kveton explains, there's definitely a spicy intensity, "but the egg white balances it out and cuts into the heat." Served in a devilish, red-tinted cocktail glass, the "Silver Cloud" is wonderfully warm and equally potent.
Little Country Gentleman's smokey concoction. | Zach Garrison
The bar: Little Country Gentleman (8135 Maryland Avenue; 314-725-0719)
The drink: "37 ½"
Barkeep Jeffrey Moll Jr. serves the "37 ½" with a smokey flair that's sure to warm you to your core. Moll says the drink is one of his favorites because "it's layered, savory going into fruity and then a spiciness." It's definitely complex, combining bourbon, homemade crème de mure (a blackberry liquor), ginger liquor, the bitter Amaro Zuca, tincture white pepper and, finally, barbecue bitters. But the drink isn't complete until the smoking gun pulls in smoke from apple woodchips and infuses it into the cocktail glass. The rich aroma of smoky bourbon and herbs is followed by the warm taste of bourbon, barbecue and blackberry. (More on this delectable drink later this week.)
Dressel's "Barrel-aged Manhattan." | Pat Kohm
The bar: Dressel's (419 North Euclid Avenue; 314-361-1060)
The drink: Barrel-aged Manhattan
What's better than a classic manhattan cocktail? How about a barrel-aged manhattan. Dressel's ordered its own custom-made oak casks and filled one with 100-proof Rittenhouse Rye. Mixed with sweet vermouth and bitters (and a cherry, of course), this Manhattan is unbelievably mellow and smooth. On its own, the 100-proof would normally knock you off your feet, but, as barkeep Brandon Thomas explains, the aging process "calms it down, making the drink more mild and oaky at the finish." With more barrel-aged inspired drinks on the way, the fall cocktail menu (including the always popular "Hot Butter Rum") looks quite promising.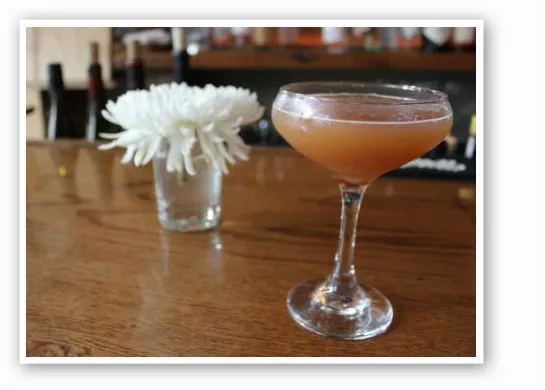 Brennan's "Blood and Sand." | Pat Kohm
The bar: Brennan's (4659 Maryland Avenue; 314-361-9444)
The drink: "Blood and Sand"
At Brennan's, not only can you enjoy a topnotch cigar, but you can also score a helluva cocktail. The "Blood and Sand" is a classic, simple drink, but it definitely gets the job done. The Highland Park 12 is a great Scotch base to start with, mixed with vermouth cherry heering and orange juice for a even finish. It's a serious drink -- no frills -- but it's the perfect thing on a serene fall evening at one of the most laid-back bars in the Central West End.
Taste's "TBD." | Pat Kohm
The bar: Taste (4584 Laclede Avenue; 314-361-1200)
The drink: "TBD"
Taste is preparing to transition to its fall cocktail lineup, creating brand-new drinks on the fly. In fact, the cocktail that Kyle Mathis prepared for Gut Check is still without a name -- we'll go with "TBD." Namelessness aside, the concoction is pretty amazing. A take on the "Remember the Maine," which is itself a variation on the manhattan, the "TBD" combines apple brandy, pear brandy, puntemez, cherry heering, absinthe and orange oil. Mathis describes the final product as having "a lot of orchard and fresh fruit, but boozy."
Gut Check is always hungry for tips. Email us!
---