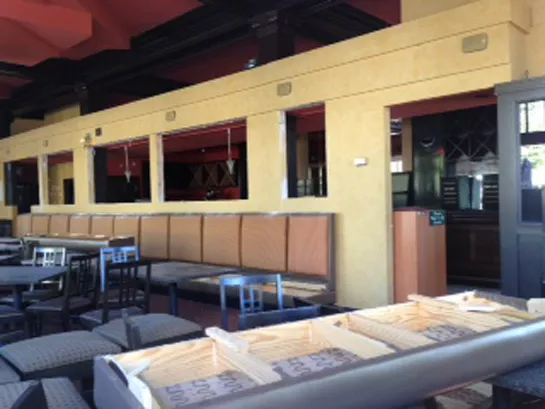 The gutted former interior of Coco Louco. | Nancy Stiles
On Friday we broke the news that Coco Louco Brasil closed September 30. Legally embattled chef Jorge Carvalho is barely out the door, but a new tenant is already hard at work on a brand-new restaurant, as we discovered during a visit to the Central West End.
Restaurateur Don Bailey had the keys turned over to him on October 1. Bailey and his team, including nineteen-year-old chef-in-training Maggie Ducey, have been working feverishly ever since to get the place cleaned up and transformed into a New Orleans-inspired bistro called Evangeline's New Orleans.
"I want to make it a neighborhood bar more or less -- sophisticated but not so upscale that you can't just come in and hang out and have fun," Bailey tells Gut Check. "I don't want to do anything that's too trendy. I've been in the business long enough to know that trendy food comes and goes. We're in the Midwest -- people like to drink beer and have fun."
See also: Coco Louco Brasil in the Central West End Closed
Bailey, originally from Millstadt, Illinois, owns EurOrleans Bistro in Millstadt. He tells Gut Check that Evangeline's will have a similar menu, but tweaked for a St. Louis audience. Nothing pretentious, just classic Bayou cuisine with some American standards thrown in to keep it level-headed.
"Say you come in like, 'Dude, I love mussels,' and your friend is like, 'I don't like any of this shit! Do you just have a cheeseburger?' I think you always gotta have a cheeseburger. It's America. It's the Midwest!" says Bailey. "Even if you like fancy food, you gotta have a cheeseburger."
Although he won't call himself a chef, Bailey first started cooking -- albeit bar food -- at Three-1-Three in Belleville, a music venue that he owned until its shows rather famously got too big for the space. After the Three-1-Three ran afoul of city government one too many times and had some tax problems, Bailey sold it in 2006 and headed back to Millstadt to open EurOrleans Bistro.
Bailey found himself with the opportunity for a restaurant in St. Louis, thanks to his friends Nicki and Jim Dwyer, the Central West End developers. Though it's not clear exactly what led to the closure of Coco Louco, Carvalho had plenty of problems including tax liens and judgments against him for failing to contribute to his unemployment plan. He was also charged with property damage last winter for punching a car. Once it became clear Coco Louco was not coming back from the brink this time, Bailey says the Dwyers asked him if he'd be interested in bringing the same kind of menu he's doing at EurOrleans to St. Louis.
The new restaurant will have an always-fresh, local food philosophy. Bailey plans to feature a live music lineup with blues, jazz and rock bands playing late nights.
See also: Belly up to the Kitchen Sink for a burger or something a little more Louisiana-fied
Bailey says he learned to cook Creole in the aftermath of Hurricane Katrina when he worked with a team of about 50 for two months in Baton Rouge, Louisiana, to feed those who had lost everything.
"It was people as far as the eye could see. We had tractor trailers pulling up with food from all over the country, so we were throwing together whatever we could do to make something that was edible, you know?" he says. "I had this old lady come up to me and says she's giving me Louie Armstrong's recipe for red beans and rice, his favorite dish. I thought she was just being nice. I go home and make it, and it's incredible. Like, holy crap, this is really good."
Bailey and Ducey are gunning for a November 1 opening -- at least a soft opening -- with a grand opening on the fifteenth. Stay tuned!
Gut Check is always hungry for tips and feedback. Email the author at nancy.stiles@riverfronttimes.com or follow her on Twitter.
---