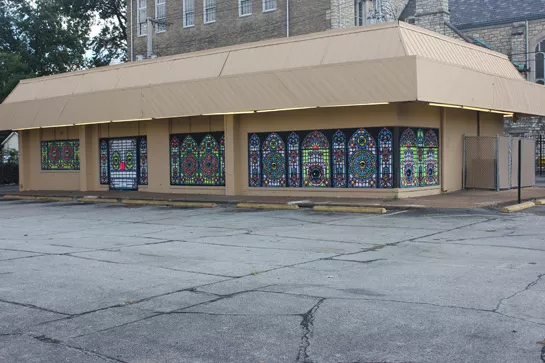 The mural on the former Church's Chicken building. | Nancy Stiles
The beleaguered Church's Chicken (6190 Delmar Boulevard) in the Loop closed in May, and has been sitting vacant ever since then. It's some pretty prominent real estate -- the corner of Delmar and Skinker Boulevards -- so it's a little surprising some developer hasn't snatched up the eyesore, what with the explosion of restaurants in the Loop.
Over the summer, local artist Peat Wollaeger spruced up the construction site of the new Washington University student housing with his signature eye motif. Now, he's done it again, with ocular faux-stained glass windows on the old Church's building.
"Since it was a 'church's' chicken, I thought it would make sense to do stained glass windows," says Wollaeger. "Seems appropriate, right?"
See also: Church's Chicken, Delmar Loop Location, is "Permanently Closed"
Wollaeger's signature eye features in the mural. | Nancy Stiles
Wollaeger completed the project over the weekend of September 27. He was inspired not only by the name of the building's former tenant, but also the work of his assistant Chris Rice -- he's been experimenting with stained glass windows.
"It's just about beautifying that corner until they decide what they want to with that property. It was kind of ugly, so it that's how it all came about," Wollaeger tells Gut Check.
Curiously, Wollaeger wouldn't disclose who commissioned the project, though current property records show that the building is still owned by Falcon Holdings, the largest Church's Chicken franchisee in the country.
Whoever it was, Wollaeger says the person saw his "Eyes on Delmar" project and asked him to beautify the vacant building.
"My motivation for putting up art in the first place is to make St. Louis cooler, the Loop cooler," Wollaeger says. "I just love getting more art up, and before that was just an ugly piece of Americana running down."
See also: Artist Peat Wollaeger Eyes The Loop, Brightens Wash. U. Delmar Construction Site (PHOTOS)
Wollaeger even wanted to switch out the outdoor overhead lights at Church's with black lights to really make the neon paint pop, but it was just too expensive.
"How dope would that be?" he says. "That would look so cool for Halloween."
Continue for more pictures of Wollaeger's mural.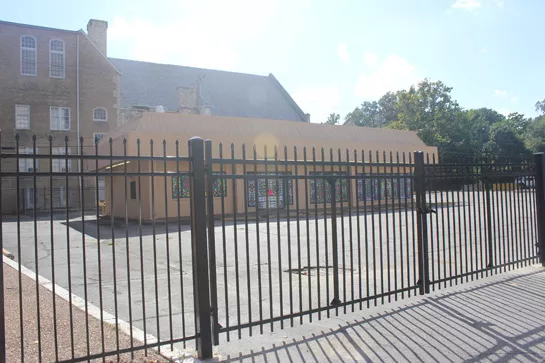 Gut Check is always hungry for tips and feedback. Email the author at nancy.stiles@riverfronttimes.com or follow her on Twitter.
---