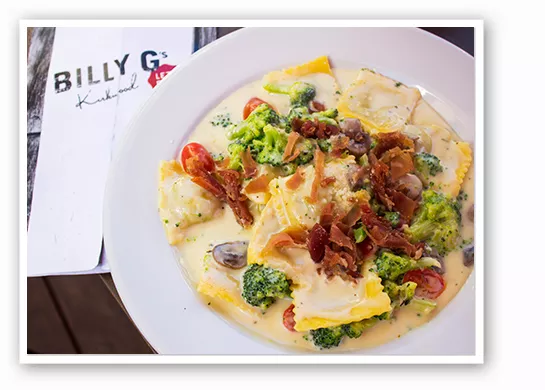 Billy G's ravioli prosciutto ($16.99). | Mabel Suen
On August 6, Kirkwood welcomed a brand new restaurant, fully equipped with a wine-and-dine-worthy patio: Billy G's (131 West Argonne; 314-984-8000). Owned by the family-operated Gianino's Restaurant Group, the proprietor of nine other local establishments, Billy G's serves up Italian and American eats. The space, previously occupied by Massa's, seats a total capacity of 350 inside and out.
See also: Billy G's in Kirkwood Now Open
"We offer many tried-and-true family recipes for our pastas and other dishes, but we also have your traditional American fare like burgers, sandwiches and salads," says manager Maria Austermann.
Billy G's in Kirkwood. | Mabel Suen
The kitchen also offers a selection of "farmers' market" entrees including skillet-seared Louisiana redfish ($23.99) and grilled bone-in pork chops ($22.99). A selection of comfort food includes Southern shrimp and grits ($17.99) and Newcastle fish and chips ($13.99). St. Louis-style pizzas ($14.99 to $21.99) are made to order in the open kitchen in classic margherita-style or build-your-own. Additional barbecue options are available during weekends.
From the bar, Austermann recommends blackberry smashed lemonade and a green tea mojito. There's also an extensive wine list, as well as a selection of both domestic and craft beer.
See also: First Look: Jax Cafe in Benton Park
Billy G's brought on chefs Ryan Cooper and Michael Burnau, formerly of Araka, to develop the menu. During Gut Check's visit sometime between lunch and dinner service, the staff seemingly outnumbered the guests (of which there were many). Billy G's seemed to still be working out the kinks but were accommodating nonetheless.
"Billy [Gianino] is here a lot. A lot of the time, he's the one running food to the table. He's very hands-on," says Austermann. "The restaurant is very big, but we're still trying to give off a family feel. We want to keep it close-knit."
Billy G's opens for lunch daily at 11 a.m., with the bar open until 1:30 a.m. every day except for Sunday. To see the full menu, check out Billy G's official website.
Click through for more photos.
Billy G's "bleu cheese and bacon" burger ($10.99). | Mabel Suen
Part of the dining room. | Mabel Suen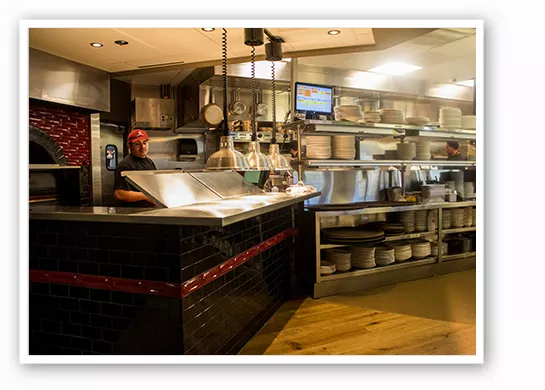 The open kitchen. | Mabel Suen
More of the dining room. | Mabel Suen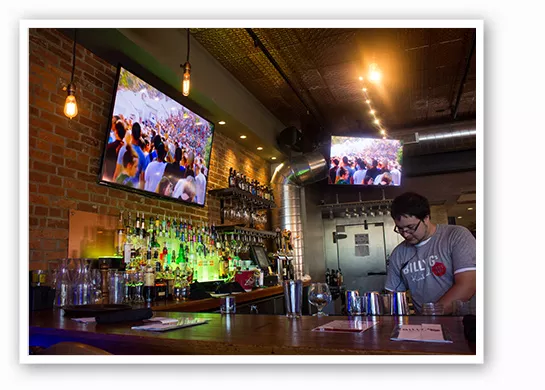 Entrance to the patio. | Mabel Suen
Gut Check is always hungry for tips and feedback. Email us!
---