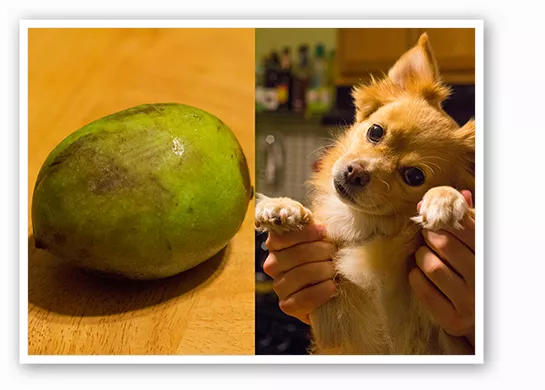 We compared the pawpaw to two pup's paws and found few similarities. | Mabel Suen
A couple weeks ago, Gut Check came into possession of some mystery produce: the pawpaw fruit. As soon as we learned some of its common nicknames, "a poor man's banana" and "American custard apple," we were intrigued. What is this? Where did it come from? What can we do with it?
Enter Andy Moore, who delivered the pawpaw to us directly from grower Jerry Lehman in Indiana. Moore stopped in St. Louis to conduct research for his book, Pawpaw: The Story of America's Forgotten Fruit, and he had plenty to impart about his adventures thus far.
Pawpaws grow abundantly in the wild throughout the country, including Kentucky, Louisiana, Michigan, Ohio, West Virginia and, of course, Missouri and Illinois. Pawpaw season is short -- roughly the month of September.
The innards of a really ripe pawpaw fruit. | Mabel Suen
Moore's book will be a complete history of the pawpaw in America, including a travelogue about the places where pawpaws grow and the people who grow them. In St. Louis, he hung out on the banks of the Missouri River in Belle Fontaine Park, where he says Lewis and Clark wrote about eating nothing but pawpaws and biscuits for three days. Though the landscape has changed, plenty of pawpaws still grow on the site to this day, Moore reports.
Where else can you find them locally? According to fallingfruit.org, a user-generated site which maps the urban harvest, seven pawpaw trees line a public walkway on the northeast side of Tower Grove Park, and two trees are located on the east side of Forest Park.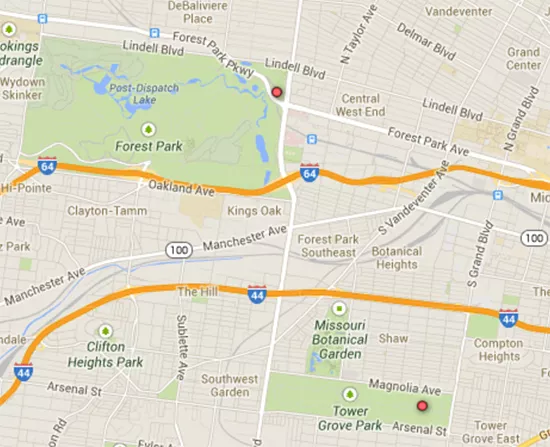 So we know where they grow. But what do they taste like? And what the heck are you supposed to do with one? We took ours to the Gut Check Test Kitchen to find out.
Ingredients for pawpaw pie, minus the pawpaw. | Mabel Suen
The plump, round tropical fruit has big flat seeds. A chef's knife cut straight through its smooth, custard-like flesh, and its flavor reminds us of some wacky combination off of the gas-station candy shelf: a fusion of mango smashed with banana with hints of melon and pineapple.
"It's like a tropical custard pie," says Moore. "It's an interesting fruit that changes and intensifies dramatically depending on when you eat it. The riper it is, the sweeter and more caramel-flavored it becomes."
We did our best to preserve the fruit in our crisper and waited a bit too long -- it was very ripe (itsshort shelf life is one of many reasons the pawpaw has fallen out of favor in the U.S.). We decided to give it a try anyhow, using a pawpaw pie recipe via NPR.
Pawpaw filling. | Mabel Suen
First, we removed the skin and seeds, a surprisingly simple task. Then, we tried pulping it a couple different ways, through a strainer and using a food mill. Both methods worked fine, catching the majority of the fibrous material and leaving behind a bright yellow pulp that freezes well, if necessary.
After that, we set out to work assembling. We used some leftover homemade graham crackers combined with brown sugar and melted butter as the base, and essentially made a pawpaw pudding for the filling, enhanced with lime juice and zest per the recipe's direction.
The acid lent a nice tang to the pawpaw pudding's creamy sweetness, but it turned it into something that resembled a key-lime pie rather than allowing the fruit to be the main focus. Aesthetically speaking, it made it look a bit too much like salsa con queso or a revisit of said salsa after a long night of too much drinking.
The pie is complete! | Mabel Suen
Thankfully, some fresh whipped cream and raspberries spruced it right up. Not surprisingly, the pawpaw isn't an entry in the Flavor Bible, but mango is, and mango goes well with banana which goes well with raspberries which goes well with graham crackers which goes well with lime (which is good enough for us).
The pawpaw pie didn't win us over entirely, but then again we didn't get to use the fruit in its prime. Moore insists that the best way to enjoy the fruit is fresh out of the hand. The second best way? As a simple fruit, cream and sugar ice cream unadulterated by cooking and additional flavorings like vanilla. Better luck next year, pawpaw! We promise we'll treat you better.
Moore hopes to have his book out by next pawpaw season. Follow "the Pawpaw Book" on Twitter and Flickr.
Click through to see some of Moore's photos from his travels so far.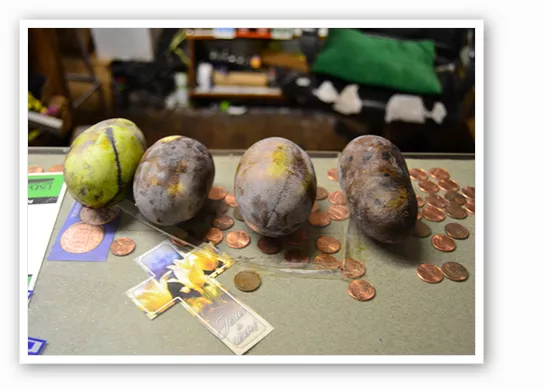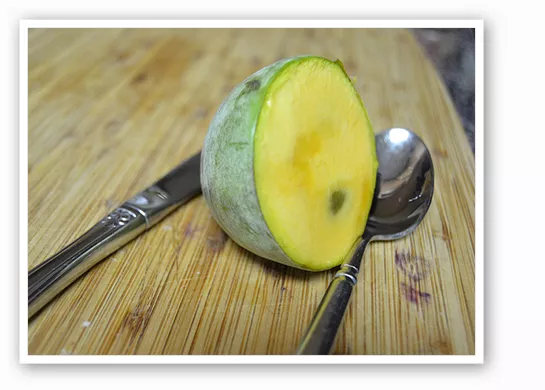 Gut Check is always hungry for tips and feedback. Email us!
---