Pomme Cafe & Wine Bar | Tara Mahadevan
The Veggielante is on a mission to spread the word about places to order good, meatless grub. Check out this week's pick.
Destination: Pomme Cafe & Wine Bar (44 North Central Avenue; 314-721-8801)
Neighborhood: Clayton
Cuisine: Fresh, French-inspired food in a bistro setting
Overview: Pomme Cafe & Wine Bar is located in the heart of Clayton. Its sister establishment, Pomme Restaurant, is just two doors down. While Pomme Restaurant offers fine dining, Pomme Cafe is more casual -- its menu features sandwiches, soups and salads.
This week, Pomme Cafe is introducing its fall menu with a slew of new, vegetarian options. Owner Bryan Carr also let us in on a little secret: The cafe has nightly veg specials that change daily. Don't sleep on this, St. Louis vegetarians!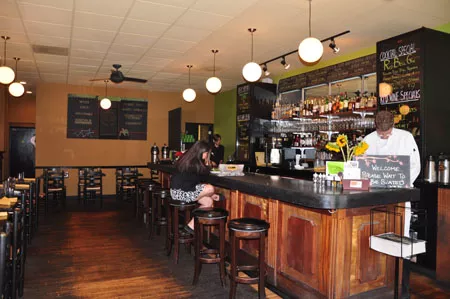 Inside Pomme Cafe & Wine Bar. | Tara Mahadevan
See also: Blues City Deli Serves Up Luscious Vegetarian Sandwiches
Highlights: Pomme Cafe's mushroom bruschetta ($11) is new to the restaurant's fall menu. The dish features three pieces of toasted baguette, laden with wild mushrooms, tomatoes and goat cheese. It's a simple but surprisingly filling dish that is sure to satiate any appetite.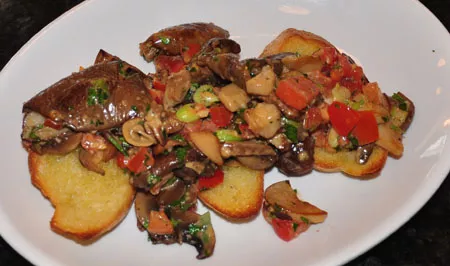 Mushroom bruschetta at Pomme Cafe & Wine Bar. | Tara Mahadevan
Given that pumpkins and fall are pretty much synonymous, Pomme Cafe is debuting a pumpkin ravioli ($11) on the new fall menu as well. The warm ravioli are stuffed with sweet pumpkin filling and dressed with pine nuts, sage and parma-reggiano.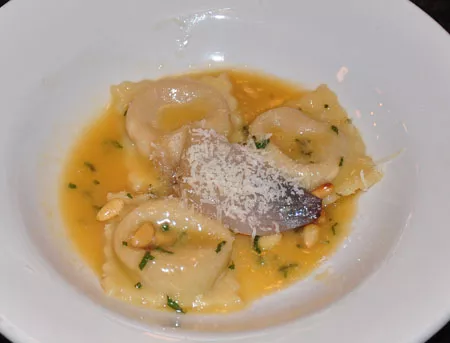 Pumpkin Ravioli at Pomme Cafe & Wine Bar. | Tara Mahadevan
See also: Square One Brewery: For the Vegetarian Beer-Lover
Gut Check is always hungry for tips. Email us!
---