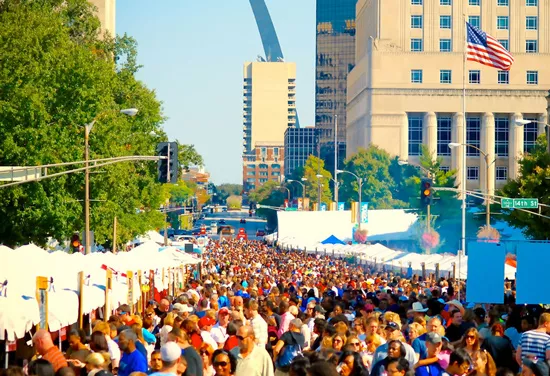 Taste of St. Louis is downtown this weekend.
The big foodie extravaganza this weekend is the annual Taste of St. Louis, which will have over forty restaurants to choose from. But for those who can't make it downtown, there are plenty other things to do as well, from the silly (zucchini car races at the Clayton Farmers' Market) to the much-anticipated (Side Project at Perennial Artisan Ales). Read on for all our food-related event recommendations.
See also: Taste of St. Louis: What to Do and Eat
Friday (Sept. 27):
Taste of St. Louis @ Soldiers Memorial Plaza
St. Louis' huge, annual food event, Taste of St. Louis (Soldiers Memorial Plaza, 14th & Chestnut Streets), is upon us. You'll definitely want to go to restaurant row, where 45 St. Louis restaurants will be available for your gastronomic pleasure. Eat at favorites like Frida's Deli, Pappy's Smokehouse, Naked Bacon, Joanie's Pizzaria, The Cup and Vito's. Most menu items range from $2 to $7, and every single restaurant will offer a small portion of one of their menu items for $2, so you can try a lot more places without filling up too quickly. There's also the Stella Artois Chef Battle Royale, which pits chefs against each other until there is only one left standing. For the full roster of events, music, and information on prices and parking, visit tastestl.com. Admission is free. Friday, from 4 p.m. to 11 p.m., Saturday, from 11 a.m. to 11 p.m. and Sunday, from 11 a.m. to 9 p.m.
Morton's Mixer Celebrity Bartenders @ Morton's The Steakhouse
KSDK's Julie Tristan, co-host of Show Me St. Louis will face off against 102.5 FM's Vic Porcelli, co-host of Vic & Trish in the Morning at Morton's The Steakhouse (7822 Bonhomme, Clayton; 314-725-4008) to benefit Operation Food Search. Using Purus Organic Wheat Vodka, Tristan will be making Tristan's Show Me-tini and Porcelli will mix Porcelli's re-Fresh-er. Enjoy appetizers, door prizes and raffles on the patio. Email [email protected] for tickets or call 314-726-5355 ext. 19. $25, Friday, from 5 p.m. to 7 p.m.
Distilled History Drinkup & Tweetup @ Campbell House Museum
Love the show Drunk History? OK, it's not exactly the same thing, but local blog Distilled History combines history and drinking in a similarly charming way. It's hosting an event to celebrate St. Louis History and Smithsonian Museum Day at the historic Campbell House Museum (1508 Locust Street; 314-421-0325) -- that's only a block away from Taste of St. Louis. Take a look at St. Louis and Campbell House history from the perspective of wine, beer and spirits production of the time while drinking Schlafly beer, wine, Virginia Campbell's Roman Punch and even bathtub gin made by the man behind Distilled History. Eats will be provided by Maya's Cafe. Plus, the winner of a raffle gets to take a swig out of a cup owned by Ulysses S. Grant! Admission is free. Friday, from 4 p.m. to 6 p.m.
Click through for Saturday and Sunday's events.
Fermenting barrels. | Pat Kohm
Saturday (Sept. 28):
Side Project @ Perennial Artisan Ales
Side Project's first release (hence the name) will never be brewed again and this release party is likely your only chance to try it. The Origin is a blend of Imperial Stout, Black Oatwine and Baltic Porter aged in one Rittenhouse Rye barrel over twenty months, coming in at a whopping 14.3 ABV. Besides the Origin, two other beers will also be given top billing at the event: The Saison du Fermier (a Chardonnay-barrel-fermented Saison), and the Brett Project #1 (fermented and aged in wine barrels). This is sure to be one of the biggest beer releases of the year, so be sure to check out Side Project's event on September 28, held at Perennial Artisan Ales (8125 Michigan Avenue; 314-631-7300). Doors open at noon, but long lines are expected to form early in the morning. The limited bottle supply will go fast -- so don't be lazy, set an alarm and wake up early. It'll be worth it.
Cheese, Rum & Drum @ Marcoot Jersey Creamery
Marcoot Jersey Creamery (526 Dudleyville Road, Greenville, Illinois; 618-664-1110), the family-run dairy farm, is hosting a pairing event featuring its artisanal cheeses and dark rum, hosted by Barrie Lynn, a.k.a. "The Cheese Impresario," and rum expert Ed Hamilton. Enjoy the pairings as well as Salumi Beddu salumi, dark chocolate and Marcoot's homemade ice cream. Saturday, from 2 p.m. to 5 p.m.. $65, call 618-664-1110 for reservations.
Bacon & Brewfest @ Whole Foods Town & Country
It's the first of what organizers hope is an annual event for charity at Whole Foods Market (1160 Town and Country Crossing Road, Town & Country; 636-527-1160). Nine local breweries have will be featured and have selected a charity to benefit -- the two beers with the most votes will receive a donation to their charity of choice. Vote for over twenty beers from Schlafly, Excel Brewing, Cathedral Square, O'Fallon Brewery, Perennial Artisan Ales, Six Row, Charleville, 4 Hands and Crown Valley. Don't forget the bacon! Sample applewood smoked bacon, smoked uncured beef bacon, peppered turkey bacon, Black Forest bacon and uncured Sunday bacon. Advance tickets are $5, available here; $7 at the door. Saturday, from 1 p.m. to 5 p.m.
Zucchini Car Races @ Clayton Farmers' Market
The Clayton Farmers' Market (8282 Forsyth Boulevard, Clayton; 314-398-9729) is going strong until it closes for the season in November. But this weekend, mix it up with a little competition to go with your produce. Kids can make and decorate zucchini cars (!) and race them on a track. There will also be games and activities from the Mid-County YMCA and music from the Tommy Holloran Quartet. Admission is free. Saturday, from 9 a.m. to 11 a.m.
Strange Folk Festival @ O'Fallon Community Park
The DIY movement has yielded a host of alternative craft shows and festivals, but there's only one Strange Folk. The early fall festival of handmade art takes place in outdoors in O'Fallon Community Park (401 East Fifth Street, O'Fallon, Illinois; www.strangefolkfestival.org), and takes advantage of the space by bringing together 150 vendors selling everything from Jillian Nickell's dreamy screenprinted posters to robots made from scavenged kitchen equipment (courtesy of Bill's Retro Robots, of course). In addition to the small village of artisans, Strange Folk brings in some of the most danceable local bands to entertain the shoppers -- so danceable in fact, that this year's festival includes a dance floor. With all this and an alpaca petting area, Strange Folk is tough to beat. Catch food and beverages from The Coffeehouse Co., Whisk, J. Gumbo's, The Cup, I Scream Cakes and more! Admission is free.
Oktoberfest @ Urban Chestnut Brewing Company
Urban Chestnut (3229 Washington Avenue; ) is partnering with Schlafly for the annual Oktoberfest celebration in St. Louis. There will be, of course, German food, music and beer, with two stages and eight bands, and even more German goodness than last year. Buy a glass stein ($8 in advance, $10 at the door) and get $8 one-liter refills. Admission is free. Saturday, from 11 a.m. to 11 p.m. and Sunday, from 12 p.m. to 7 p.m.
Sunday (Sept. 29):
Art in the Park @ Francis Park
Go check out artists working in all different media in sprawling Francis Park (Eichelberger Street & Donovan Avenue) at this annual event. No outdoor event is complete without eats to keep you going -- pick from 3500 Winehaus, Bartolino's, Bogart's Smokehouse, Legrand's Market and Catering, Maggie's Lunchbox, Mathew's Kitchen, Onesto Pizza and Trattoria, and Stellina Pasta. Admission is free. Sunday, from 10 a.m. to 9 p.m. For more information visit artintheparkstl.com.
Gut Check is always hungry for tips and feedback. Email the author at [email protected] or follow her on Twitter.
---