De Palm Tree's oxtail stew. | Pat Kohm
When St. Louisans think Jamaican cuisine, jerk chicken with a bottle of Red Stripe is probably what first comes to mind. Now, to be sure, there's nothing wrong with such a classic combo, but why not do some exploring?
At De Palm Tree (8631 Olive Boulevard, University City; 314-432-5171) University City's much-beloved authentic Jamaican restaurant, you can try out the codfish balls, curry goat or okra creole-style to gain a new appreciation for the island nation's variety of delicious dishes.
Then again, if you're brave enough, if you're strong enough, you'll order the oxtail stew.
See also: - Jamaica Jerked Chicken at De Palm Tree and Marley - Red Stripe, De Palm Tree
That's right, the tail of an ox (okay, cow), cooked up and served with the bones in. Now, you're probably picturing a thin appendage swishing at flies in some god forsaken field -- not the most appetizing image. But after the tail is skinned and goes through a lengthy cooking process, it is utterly transformed.
De Palm treats the oxtail with special care, braising the tailbone (cut into three separate pieces) until the meat is tender and the center marrow perfectly cooked. Though called a stew, the dish is more like a roast with gravy -- wonderful, wonderful gravy. The onions, carrots and butterbeans are coated in spices and black pepper, and mix perfectly with the side of rice and red beans.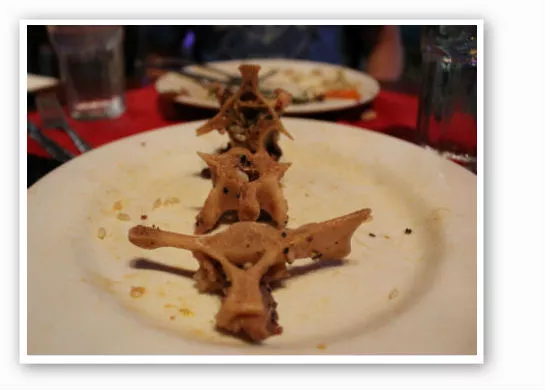 Bones were all that remained. | Pat Kohm
As a whole, the dish is pretty amazing. So much so that at one point, we lost all shame and picked up the tailbone with out bare hands, picking it clean, sucking the marrow. The meal certainly set our tails a waggin' -- we bet you'll be bullish on De Palm, too.
Gut Check is always hungry for tips and feedback. Email us!
---