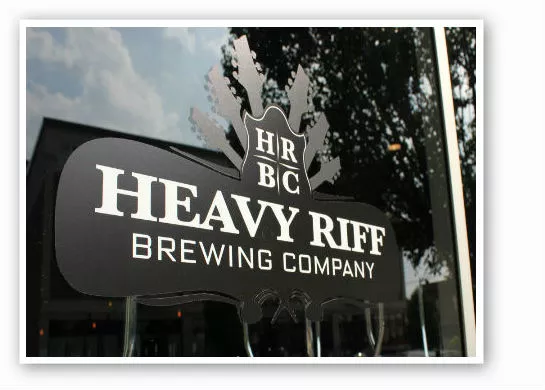 Through these doors, beer awaits. | Pat Kohm
Dogtown is already one of St. Louis' best neighborhoods, and now it has its own brewery. St. Patrick's Day just got a little more interesting.
The Heavy Riff Brewing Company (6413 Clayton Avenue) officially opened on Monday, September 16, and Justin Saffell, one half of the brother duo behind the operation, has so far been pleased with the results.
"Opening has been great," he tells Gut Check. "The neighborhood has been in and out, and people seem to really like this place."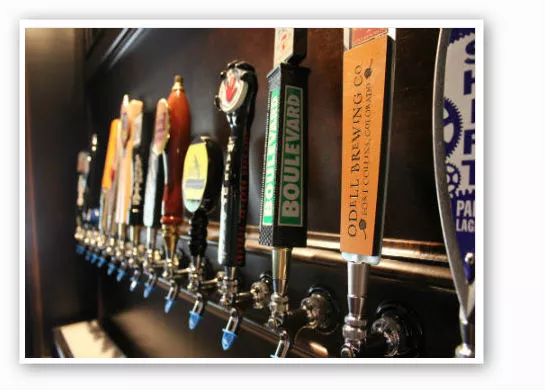 Guest tap lineup. | Pat Kohm
See also: History on Tap Tours Dogtown
The vision of opening their own brewery started with Jerid Saffell's love of home brewing, which turned into a five-year-long apprenticeship of sorts at different breweries in the region where he learned the tools of the trade (starting with cleaning kegs). After kicking around the idea for a few years, the brothers finally made their move.
"We decided we were young enough to still do it and we didn't want any regrets of trying it -- kind of a now or never," says Justin. "Luckily, we have really understanding wives."
When searching for a location, Dogtown quickly popped up. Heavy Riff is the neighborhood's first and only brewery.
"We found this building and decided to try and make it work because we love this neighborhood; it's a diverse place and great mix of people."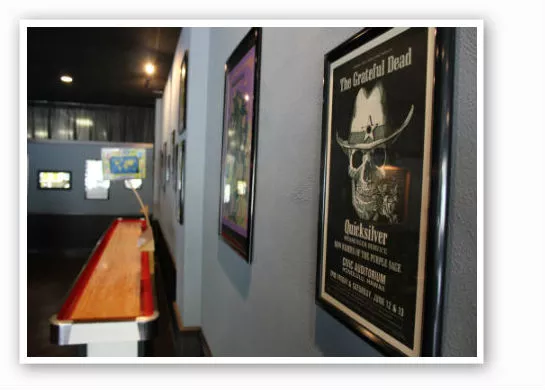 Shuffleboard and Rock n' Roll. | Pat Kohm
The building is the perfect size for a small-scale brewing operation in back and an open bar area with plenty of seating in front. The bar itself was almost entirely handmade and is quite impressive. The shuffleboard table is free, and the walls are covered in music posters. There's even a few guitars hanging on the wall -- one of which is signed by Neil Young. It's all a part of the bar's music theme, inspired by the brothers' love of rock & roll.
"We're both just huge music fans and thought we would combine our interests," says Justin.
See also: Where to Eat and Drink in Dogtown
Still, the Saffell brothers won't be completely happy until their own beer is finished and flowing generously into pint glasses. Saffell explains that fermentation is near complete, which means the first beer (a brown ale cleverly called the "Velvet Underbrown") is just about ready. He estimates that within the next week and half, patrons will be to enjoy their first Heavy Riff original. Until then, guest taps of excellent craft brew from far and wide are getting the job done.
Throughout the year, Heavy Riff plans on brewing somewhere between 30 and 40 styles (from hoppy IPAs to Belgian sours) with 8 to 10 constantly on tap. A few guest taps will serve as a complement, including a dedicated light lager for those not yet fully converted to the craft-beer mania.
Once their own beer starts coming down the line, the Saffells would like to eventually move toward barrel aging, sours and small-batch projects, operating as a experimental beer factory where new creations are tasted by regulars, and improved or tweaked as needed. With any luck, Heavy Riff should fit in nicely as a neighborhood brewery capable of producing some fine beers.
Gut Check is always hungry for tips and feedback. Email us!
---