Proudly displayed jerseys at Amsterdam Tavern | RFT Photo
Come fall, Saturday afternoons are spent tailgating, throwing bean-bags into holes, and watching college football. But early weekend mornings, like 8 a.m.-early, is quickly becoming the designated time for soccer hooligans to gather at one of the fine establishments that will open the front door at such an early hour just so the European soccer matches can be seen live, in all their glory. It's a pretty great way to start the day. For those soccer fans looking for such a place, we've assembled some of the best spots where your kit-wearing-self will fit in just fine.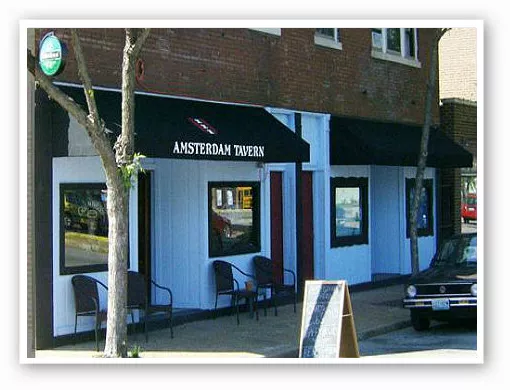 Amsterdam Tavern (3175 Morganford Road; 314-772-8224)
The Amsterdam Tavern lives and breathes soccer, with scarves and jerseys from dozens of European clubs covering the walls and every TV showing games from leagues located all over the world (English Premier, Italian Serie A) on all the pertinent soccer channels: the NBC networks for the English Premier League, GOL TV and beIN Sport. Amsterdam opens early so that you, the dedicated/obsessed fan can watch each and every game live. If the weather is nice, there's a large, newly remodeled covered patio and beer garden outside with big flat-screens so you can keep up with the match. A large draft list emphasizing English and Scottish ales combines with The Dam, a restaurant that shares a walkway with the tavern and specializes in burgers and bar food, to offer everything you'll need to last the full 90.
See also: - Soccer Bars and Farmers' Markets: An Updated Guide to Tower Grove
Barrister's (7923 Forsyth Boulevard, Clayton; 314-726-5007)
Barrister's opens up bright and early on the weekends at 8 a.m., or, "if match quality dictates," will open up even earlier -- so next time the World Cup is on the other side of the globe, count on Barrister's. Plus, this is the self-proclaimed "Best Happy Hour in Clayton," with a menu that's quintessential pub fare, like crab cakes, onion rings, twelve kinds of burgers, six varieties of personal pizzas and a "Brie-L-T." There are also seventeen beers on tap, which only improves the experience.
See also: - The 6 Best St. Louis Sports Bars for Food
Welcome to The Scottish Arms. | Caillin Murray
The Scottish Arms (8 South Sarah Street; 314-535-0551)
The owner of the this fine establishment, Alistair Nisbet, is a native Scot, so this is about as authentic you can get in St. Louis, which means soccer is omnipresent. And sure, you're there for the soccer, but why not also enjoy one of the best brunches in town while watching the match? It's worth mentioning that along with a strong selection of beer, the list of Scotch and whiskeys is one of the best in town. In fact, it's the largest single-malt collection in the state of Missouri. Though the crazy fandom level might remain low, the mood is laid-back and inviting, and the bar is one of the friendliest around. This is the place if you're looking to just kick back and enjoy a pint.
See also: - Happy Hour at the Scottish Arms: Walking in a Whiskey Wonderland
Bob Dolan, bartender at the Dubliner | Kaitlin Steinberg | RFT Photo
The Dubliner (1025 Washington Avenue; 314-421-4300)
This is an Irish-themed pub on a grand scale -- a spacious box of a building, a huge bar, multiple seating areas meant to handle big crowds. And if you're searching for a place to watch rugby, there's no better. But rest assured, soccer is a close second. In fact, it turns out that the Dubliner is the official bar for fans of Chelsea F.C. The menu is pretty traditional: lamb, fish and chips, and of course, there's a Guinness stew. It keeps beer around for more than just stew, though: grab twenty-ounce pints of Smithwick's, Harp, Guinness and Magner's Cider, or look over its collection of Irish whiskeys -- combine the best of both worlds and have yourself an Irish car bomb.
See also: - The 10 Best Irish Pubs in St. Louis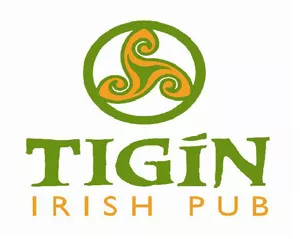 Tigrin Irish Pub (333 Washington Avenue; 314-221-8666)
Tigín is a Gaelic word meaning "small cottage," so there's some knowledge for you. And, as everyone knows, the best place to traditionally watch soccer is in a small cottage-like space filled with flat-screens and beer. With live matches broadcast from all over the U.S. as well as the U.K., Europe and South America, Tigin has become something of a gathering place for internationals living in St. Louis. You'll find fans enjoying a traditional Irish breakfast (two eggs, Irish sausages, black and white pudding, mushrooms, tomatoes, Guinness and cheddar bread) on a Saturday morning. Here, you'll be surrounded by die-hard fans, Irish symbols and a true game-day atmosphere, which sounds pretty great.
Gut Check is always hungry for tips and feedback. Email us!
---