Fermenting barrels. | Pat Kohm
Saturday, September 28, has long been circled on the calendars of beer-lovers, because on this day, Cory King's Side Project Brewing (8125 Michigan Avenue; 314-631-7300) unveils the first beers of an ambitious lineup. The non-ticketed, open-to-all event has piqued the interest of many and is expected to draw a crowd, based solely on King's reputation as head brewer at Perennial Artisan Ales (8125 Michigan Avenue; 314-631-7300) where he has helped create some of the most popular beers in St. Louis (See: Barrel-Aged Abraxas). Before the kegs are opened up, Gut Check was lucky enough to get a look behind the curtain to see what's on tap.
See also: - Beer Geeks Brave Long, Cold Wait for Perennial Artisan Ales's Barrel-Aged Abraxas - The Six Best Craft Beer Makers in St. Louis
Cory King explains the finer pints of brewing. | Pat Kohm
Like many brewers, King found his way to beer via home-brewing, but he also just so happens to have a bachelor's degree in chemistry and a master's degree in business. Those degrees and an indefatigable work ethic have allowed him to successfully manage brewing duties at Perennial and simultaneously carve his own path with the appropriately named "Side Project Brewing."
Side Project brand looks good next to a beer. | Pat Kohm
Side Project is what those in the craft beer industry call "gypsy brewing." Typically, gypsy brewers travel to established breweries to lease their equipment while using their own recipes. King's Side Project is bit unique in that he leases Perennial's space and equipment while also working as the head brewer at Perennial. Basically, it's a hell of a lot of work.
"It's after work and on the weekends; but I have free reign to lease the brew house," King says. And it's that freedom that has proved so alluring. "The reason I'm starting Side Project is to really not necessarily re-brew a lot of things," he explains. "A lot of breweries you go to are factories -- brewers there make four recipes, and they make them over and over, and that's not why I love brewing. The reason I got into brewing was to always try new things, to always be pushing forward." The innovativeness constantly on display at Perennial has helped King gain a dedicated following of self-proclaimed beer nerds who crave new, bold flavors, and is why many expect big things come September 28.
Continue for the details on King's first batches.
Side Project's brand seared into a barrel. | Pat Kohm
King describes the envisioned modus operandi for Side Project as one featuring small-batch ales (like the upcoming "Fuzzy," a blond sour with Missouri-grown white peaches), all of which will age in wine or spirits barrels, soaking up immense amounts of flavor. It's a somewhat arduous process involving unique brewing strategies (King talks with the expertise of a chemist, dropping bacterial nomenclature that is impossible to spell) that incorporate traditional methods employed by brewers for hundreds of years, like open-air and spontaneous fermentation that allows nature to take its course. He also brings serious innovation and experimentation to the brew kettle with bourbon barrels and aging recipes.
To wit, the "The Origin:" Side Project's first release (hence the name) that, now complete, will never be brewed again (it's likely your only chance to try it will be during the release party, which is exactly why you should go). The Origin is a blend of Imperial Stout, Black Oatwine and Baltic Porter aged in one Rittenhouse Rye barrel over twenty months (and thus would be difficult to ever replicate), coming in at a whopping 14.3 ABV. Besides the Origin, two other beers will also be given top billing at the event: The Saison du Fermier (a Chardonnay-barrel-fermented Saison), and the Brett Project #1 (fermented and aged in wine barrels).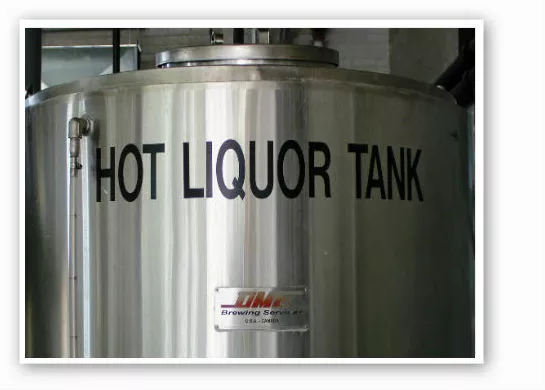 "Hot Liquor Tank," that's about all you need to know. | Pat Kohm
Eventually, King plans on opening his own storage facility to house the aging barrels where he would then also open a tasting room to display Side Project beers. Plus, he's an affable guy. "I love being behind the bar and talking with people," he says, and there's no doubt that much in the way of beer knowledge can be gained just by engaging with the brewmaster for a few minutes. Luckily, in the meantime Side Project's release party has a temporary home at Perennial, where King will continue to work and produce amazing beer.
The branding iron. | Pat Kohm
So, if you don't want to miss out on a one of the biggest beer releases of the year, be sure to check out Side Project's event on September 28, held at Perennial Artisan Ales. Doors open at noon, but long lines are expected to form early in the morning and the limited bottle supply will go fast -- so don't be lazy, set an alarm and wake up early. It'll be worth it.
Gut Check is always hungry for tips and feedback. Email us!
---