The Loco Burger at Chubbies. | Mabel Suen
Today in excuses to eat something delicious, it's National Cheeseburger Day! Obviously, we need to celebrate. The cheeseburger is a thing of glory, an all-American delight, paired with a side of salty french fries and an ice-cold beer. While it's the perfect time of year to throw some patties on the grill, sometimes you want a professional. Try our favorite cheeseburgers around St. Louis and celebrate the day like our Founding Fathers did. Or something.
See also: The 7 Best French Fries in St. Louis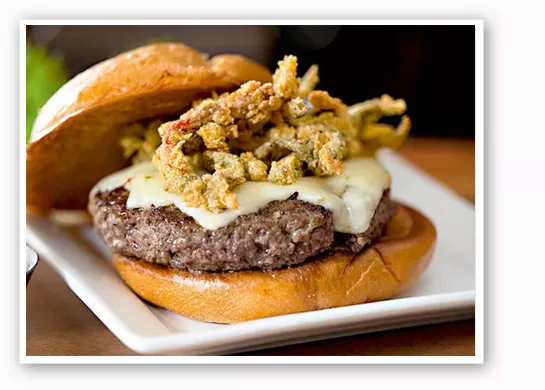 The green chile cheeseburger. | Jennifer Silverberg
Five Star Burgers (8125 Maryland Avenue, Clayton; 314-720-4350)
Five Star's Steve Gontram brought his father's restaurant to St. Louis from New Mexico. Another import? The green chile cheeseburger. The meat is ground daily and formed into perfectly sized patties, topped with New Mexico Hatch chiles not one but three ways. There's a layer of raw chiles under the burger, a layer of battered and deep-fried chiles on top of the burger (plus pepperjack cheese) and green-chile mayonnaise on the side. It's all served on a toasted brioche bun. It's one of the best burgers in St. Louis, period.
Would you like fries with that?
The cheeseburger at Home Wine Kitchen. | Jennifer Silverberg
Home Wine Kitchen (7322 Manchester Road; 314-802-7676)
Chef Cassy Vires changes the menu at Home Wine Kitchen's menu constantly, but the good ol' cheeseburger is one thing you'll always find -- albeit only at lunch. A Missouri grass-fed beef patty is lightly seasoned and topped with roasted garlic aioli, cheddar cheese, bacon, and of course, a fried egg. To the burger-egg doubters: yes, it's that good.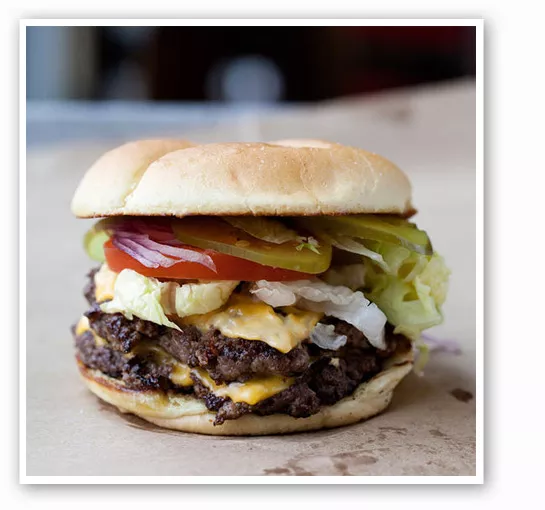 The double cheeseburger at Sugarfire Smokehouse. | Jennifer Silverberg
Sugarfire Smokehouse (9200 Olive Boulevard; 314-997-2301)
Obviously, you're going to go to Sugarfire Smokehouse for the barbecue. But don't underestimate the burger. Grass-fed beef from Rain Crow Ranch in Cape Girardeau is hand-packed daily and blended from chuck, brisket and boneless short rib. They're thin, so go for the double -- it comes with two slices of cheddar cheese, and your choice of lettuce, tomato, pickles, red onions and house-made condiments, all served on a toasted Fazio's bun.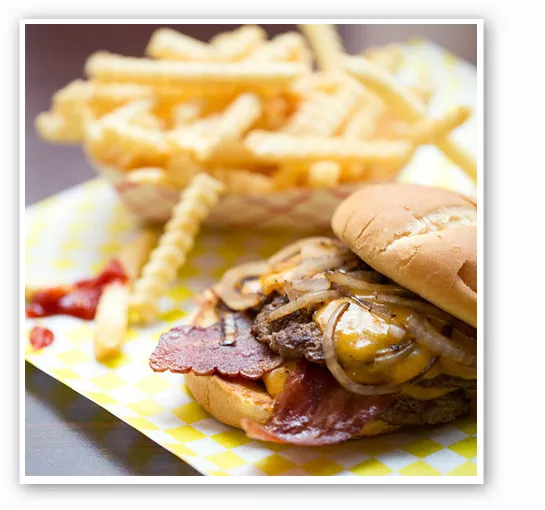 The Double Chubbie Cheddar at Chubbies. | Jennifer Silverberg
Chubbies (6227 Delmar Boulevard; 314-725-5000)
Chubbies makes good old-fashioned burgers, complete with crinkle fries and checkered wrappers. They're made with a "secret" blend of three cuts of beef packed into a quarter-pound patty. There are several delicious variations of burgers and you can build-your-own with tons of toppings -- the Memphis burger has slaw and barbecue sauce, while the Loco burger has jack cheese and raw jalapeno. The classic burger even comes with a twist: Chubbie sauce, which is a delicious blend of mayonnaise and something akin to Thousand Island dressing.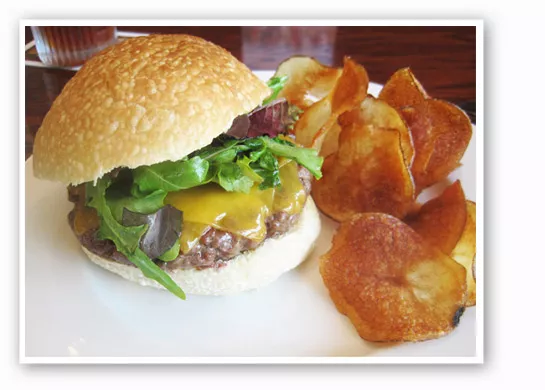 The burger at Five Bistro. | Ian Froeb
Five Bistro (5100 Daggett Avenue; 314-773-5553)
We first fell in love with Five Bistro's cheeseburger when chef Anthony Devoti served it at the now-shuttered Newstead Tower Public House. Luckily, he revived it at Five Bistro. Using grass-fed chuck from Rain Crow Ranch, the burger can be topped with your cheese of choice, plus caramelized onions, or a fried egg, or pickled shiitake mushrooms, or smoked pork jowl, or bacon with tomato and a balsamic jam. It's only served at lunch and from 10 p.m. to midnight Thursday through Saturday, though, so plan wisely!
Gut Check is always hungry for tips and feedback. Email the author at nancy.stiles@riverfronttimes.com or follow her on Twitter.
---