Welcome to the Pin-Up Bowl. | Pat Kohm
Wednesday. Hump Day. Congrats, you've made it halfway through the work week! Unfortunately, you still have two days to go. Dunno about you, but in order to survive the midweek blues, we're going to need a drink. Which brings us to our Wednesday Gut Check feature: Gut Check's Hump-Day Cocktail Suggestion! Each week we take you to one of our favorite St. Louis bars (and, oh, the list is long) for a drink (or two) we -- in consultation with the bartender -- highly recommend.
The Pin-Up Bowl (6191 Delmar Boulevard; 314-727-5555) is the Delmar Loop's most versatile bar. For starters, it's open every single night till 3 a.m., with bowling lanes, 1950s décor, a solid beer list and pop-tarts on the menu. Plus, with the Pageant right next door, you're likely to run into the band you just saw on stage throwing stones on lane three. On the particular afternoon that we stopped by, Rancid was in town, so the bar had its share of mohawks. But just as impressive as all that is the cocktail list, and that's why we're here.
See also: - The Scottish Arms' "Blond Lass": Gut Check's Hump Day Cocktail Suggestion - Pat's "Blue Molly" & "Irish Car Seat": Gut Check's Hump-Day Cocktail Suggestion
Lucky number 13. | Pat Kohm
And luckily, Marisa Beck, wearing very chic 1950s-esque glasses, is on hand to guide us through the menu. Conveniently, there are three sections: Signature, Classic, and Modern. The Red Sangria (Signature) is pretty tasty, made with Ciroc vodka, Graham's Six Grapes port, Cointreau, and fresh lemon juice. And for dessert, you can get the Orange Creamcicle (Modern), made with Stoli orange vodka, Licor 43 and fresh orange juice. It tastes exactly like it sounds -- only better.
Ah, the Sidecar, a classic. | Pat Kohm
As you probably guessed, we went the Classic route, ordering the Sidecar and surely impressing everyone at the bar. Beck approves, describing the drink (one of her favorites) as "a touch of sweetness, but not very girly, just smooth." A savory concoction of Remy Martin cognac, Cointreau and fresh lemon juice rimmed in sugar, the Sidecar is, as Beck suggests, "a drink for all seasons," with the sugary sweetness upfront, followed by a pleasant warmth that serves to remind that you are in fact drinking strong liquors that pack a punch. Served in a martini glass, this is a cocktail you take your time with, really mull over and appreciate -- by the time you reach the bottom of the glass your day will have markedly improved.
Additionally, after one Sidecar, our confidence is up and the bowling lanes look tempting. And unlike your typical bowling alley during Wednesday league, night where light beer flows like boxed wine, bowling at the Pin-Up while drinking cocktails seems both entertaining and classy -- even after a gutter-ball.
Continue for the recipe.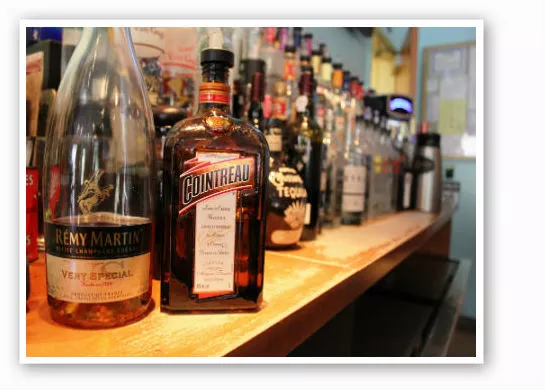 Key ingredients. | Pat Kohm
"The Sidecar"
2 oz. Remy Martin cognac 1 oz. Cointreau 1 oz. Fresh lemon juice Served with a lemon twist and rimmed in sugar.