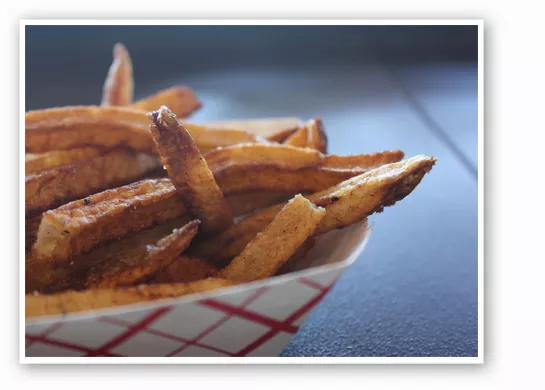 Fries at The Kitchen Sink. | Nancy Stiles
Making claims on the best fries in St. Louis is sure to stir up controversy; much is at stake in this, what is surely one of the most consequential debates of our time. So consider the list below a humble suggestion, a conversation starter. We've scoured the region and assembled a collection of places whose unique style and spices make the fry far more than a side dish, but instead, a delicacy.
Polenta fries at Mangia. | Nancy Stiles
Mangia Italiano (3145 South Grand Boulevard; 314-664-8585)
The South Grand mainstay is known for live music, excellent entrees and a great local tap list. And then, of course, there's the late night menu that goes strong until 1:30 a.m. But what about those Polenta fries? Crispy and golden on the outside with a soft, rich texture inside -- more reminiscent of grits than potato. The perfect seasoning and accompanying chipotle aioli offer one of the more unique interpretations of french fries you're likely to find.
See also: - The Ten Best 3 a.m. Bars in St. Louis: 2013
Fries with Sriracha mayo at Three Kings. | Nancy Stiles
Three Kings Public House (6307 Delmar Boulevard, University City; 314-721-3355)
The go-to bar on the Delmar Loop, Three Kings is so dedicated to maintaining a top-notch beer selection that they've rigged up a flat-screen to list and keep track of the rotating taps. And what goes better with a cold beer than salty french fries? But when it comes to fries, you've got a difficult choice to make: the natural cut or sweet potato. It all depends on your mood and your entrée. The fresh Prince Edward Island mussels are served up with the natural-cut fries with a side of curried caper mayo -- seems a perfect combo. But the sweet potato version belongs next to the "Flamethrower" burger. Really, you can't go wrong either way. Embrace the variety.
See Also: - The Eight Best Wings in St. Louis
Sweet potato fries at The Kitchen Sink. | Nancy Stiles
The Kitchen Sink (275 Union Boulevard; 314-261-4455)
The Kitchen Sink is preparing to move to a new location this fall, boasting big expansion plans and likewise an expanded menu with appetizers, more entrees and sandwiches. But let's take moment to focus on those fries -- Creole sweet potato might be the best way to describe them, though delicious works well also. Sweet and buttery with brown sugar and covered in marshmallow, it feels like you've started desert...and it feels good.
See Also: - The Kitchen Sink Is Moving to Union Boulevard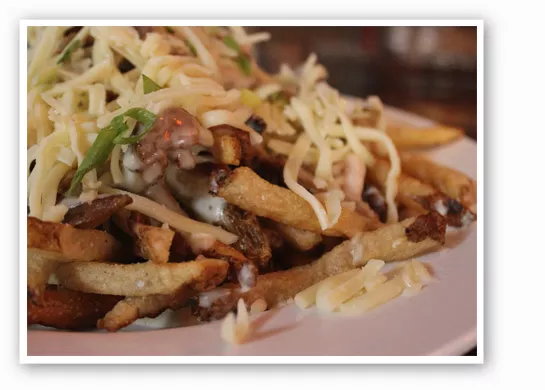 Smothered fries at The Shaved Duck
The Shaved Duck (2900 Virginia Avenue; 314-776-1407)
This Tower Grove East gastropub features rustic American cuisine, including several types of chili, tender and tasty smoked meats like the baby-back ribs and St. Louis-cut spare ribs, pulled pork and chicken. That's a lot of meat -- why not add a side dish? How about one that includes more meat? Like pulled rib meat layered over hand-cut fries that just so happen to be smothered in cheese sauce made in-house. You might want to skip the entree and just go with the fries.
See Also: - The Shaved Duck on Diners, Drive-Ins and Dives Tonight
Gravy and fries at The Crow's Nest. | Tara Mahadevan
The Crow's Nest (7336 Manchester Road; 314-781-0989)
Here's what you get when you order the Truffle Frites: thick waffle fries, dill truffle gravy, garnished with bacon and green onion. Pretty much sells itself, what with the truffle gravy and bacon. Add to that the 1980s punk décor and let the sublime decadence wash over you.
See Also: - The Crow's Nest's "Better Off Dead": Gut Check's Hump Day Cocktail Suggestion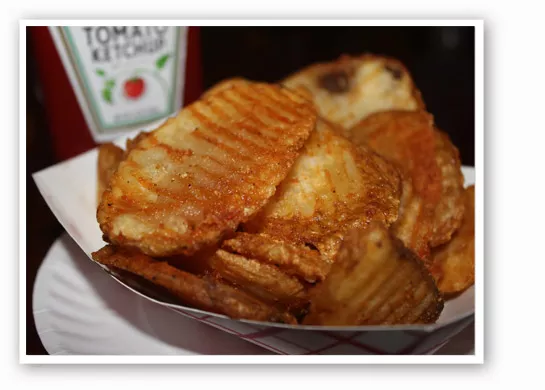 Buffalo fries at Blueberry Hill. | Nancy Stiles
Blueberry Hill (6504 Delmar Boulevard, University City; 314-727-4444)
Okay, so you went to Blueberry Hill for its famous burgers, and good for you because they're wonderful. But why not go big and complete the meal with the Buffalo fries? These babies pack some heat with plenty of spicy seasoning served in chip form that makes for easy dipping. Oh, and don't forget to add a side of blue cheese dressing, because, you know, it makes sense.
See Also: - Ten Best Hot and Spicy Foods in St. Louis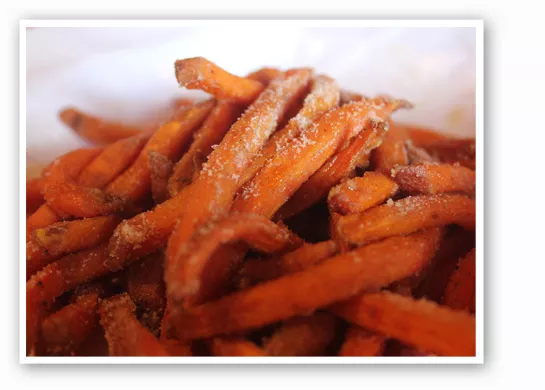 Sweet potato fries at Pappy's. | Nancy Stiles
Pappy's Smokehouse (3106 Olive Street; 314-535-4340)
With all the care and precision that Pappy's dedicates to its barbecue, you might not expect much from a simple side dish like sweet potato fries. But you would be wrong -- these might just be the best sweet potato fries around. Dark, crispy and thinly cut, they can conveniently be dipped in any of the remarkable sauces on hand, which basically turns already terrific fries into mouth-watering goodness.
See Also: - St. Louis Scores Three Winners on Daily Meal's "America's Best Ribs" List
Gut Check is always hungry for tips and feedback. Email us!.
---