A variety of scone options at Caife Caife. | Mabel Suen
Colleen Thompson is the premier cookie lady in town. On August 19, she expanded her sugary empire by adding 1,200 square feet and 40 seats to her bakeshop, Colleen's Cookies (7337 Forsyth Boulevard; 314-727-8427). The space, dubbed Caife Caife (Gaelic for "coffee cafe"), offers her usual sweet treats as well as Intelligentsia coffee from Chicago and plenty of breakfast and lunch options.
See also: First Look: Blueprint Coffee in the Loop
"We do everything by hand. We make all of our own flatbreads and biscuits, as well as scones from scratch. We love what we do and I think it shows," says Thompson.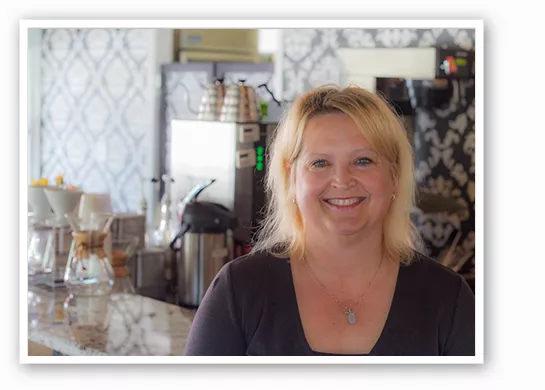 Colleen Thompson of Colleen's Cookies. | Mabel Suen
Thompson's posh shop has a veritable arsenal of baked goods laid out on display to choose from, with tea and coffee options including cold brews and pour overs to go with them. The food menu features in-house baked components to hold seasonally rotated toppings and fillings.
Barn lights and chandeliers coincide lots of natural light pouring in through windows with a simple black and white theme presented in pretty prints and patterns, the perfect setting for sitting back and studying or partaking in a caffeine break.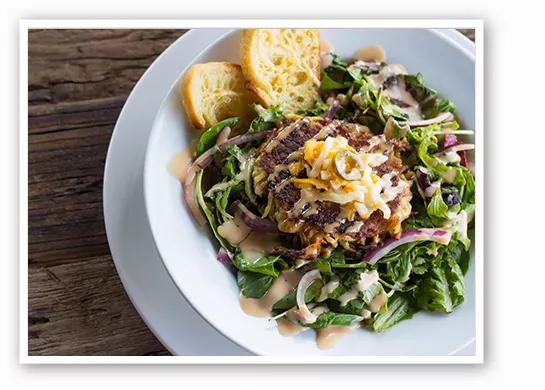 Potato cake salad. | Mabel Suen
Offerings include everything from breakfast biscuits in the morning to lunchtime potato cake salad, sandwiches, flatbreads and pastas. Besides the shop's coveted cookie varieties including macarons, whoopie pies and signature shortbread, visitors can choose from a selection of hand pies, cupcakes and more. We have few words to say about Colleen's creations and instead defer to the old cliche that pictures really do speak a thousand words (especially if you have a particularly onerous sweet tooth like us).
See also: First Look: Amy's Corner Bakeshop in the Grove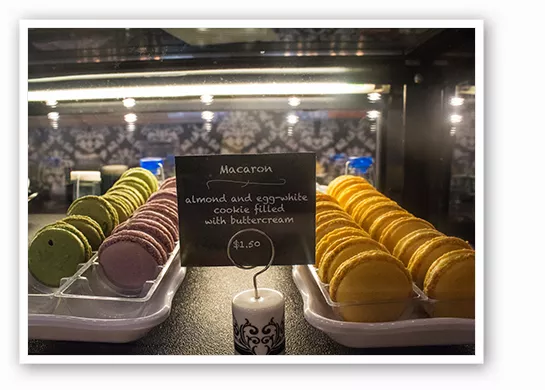 Three flavors of macarons. | Mabel Suen
Located on Forsyth Boulevard. | Mabel Suen
"We have a little something for everybody... Every day, we try to do something fun and different, " says Thompson, who recommends following Caife Caife on Facebook and Twitter to see what's on the menu any given day.
Caife Caife's operating hours are Monday through Friday from 6:30 a.m. to 5:30 p.m., Saturday from 7:30 a.m. to 5:30 p.m. and Sunday from 7:30 a.m. to 2 p.m. with brunch available at 8 a.m.
Click through to see lots more cookies and the interior of the shop.
"C" is for... | Mabel Suen
Sugar cookies come elaborately decorated. | Mabel Suen
Grab some to go. | Mabel Suen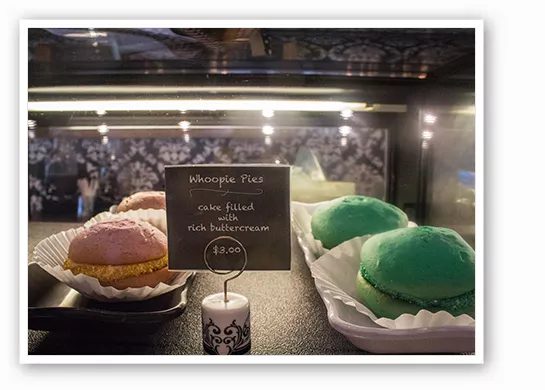 Whoopie pies. | Mabel Suen
Scratch-made breakfast biscuit. | Mabel Suen
Fresh flowers adorn tables. | Mabel Suen
Coffee and drink options. | Mabel Suen
Part of the seating area. | Mabel Suen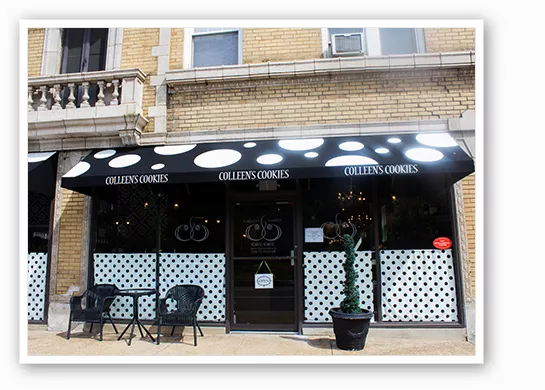 Stop in for some sugar! | Mabel Suen
Gut Check is always hungry for tips and feedback. Email us!
---