"The Blue Molly" at Pat's. | Pat Kohm
Before walking into Pat's (6400 Oakland Avenue; 314-647-6553), you better leave any notions of fanciness at the door. You're here to drink (and maybe eat some fried chicken), friend, not sip daintily from a straw. This is a pub, an Irish pub, and damn proud of it, widely recognized as the heart of Dogtown, where serious drinkers come to partake in the tried-and-true tradition of throwing back edgy drinks and slamming them down on the bar exuberantly. Which is exactly why we ordered the "Blue Molly."
See also: - The Crow's Nest's "Better Off Dead": Gut Check's Hump Day Cocktail Suggestion - Brennan's "I Wanna Get Buzzed But I Don't Wanna Drink Drink": Gut Check's Hump Day Cocktail Suggestion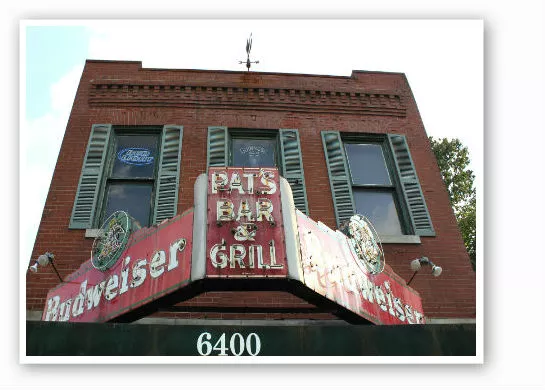 Pat's iconic signage. | Pat Kohm
That's right, the "Blue Molly," a colorful cocktail (with a straw!) made with raspberry vodka, sweet and sour, and Sprite. And yes, maybe that doesn't sound hardcore, and no, there wasn't any whiskey involved. But here's the thing: On the particular afternoon we walked into Pat's, the sun was just baking the earth with a blistering heat and we were near death. So when bartender Amy Brewer offered to make the cool, refreshing and rejuvenating "Blue Molly" in a tall glass filled with blessed ice cubes, we dropped the hard-drinker pretense and happily agreed.
Welcome to Pat's. | Pat Kohm
As it turns out, this delightfully tropical-blue drink, in all its simplicity, is quite popular among the regulars. The creation of a former barkeep by the name of Molly, the eponymous concoction soon caught on, eventually making the main menu. And, surrounded by fans pleasantly whirring inside the salt-of-the-earth bar filled with local artifacts and memorabilia, we soon noticed the intended effects and began to cool off, finally.
An "Irish Car Seat" to make you strong. | Pat Kohm
But then Brewer stepped back up and reminded us that if we really wanted the full-on experience, we pretty much had to get an "Irish Car Seat." She had a point, and we easily give in to peer pressure -- so line 'em up! Much like its cousin the Car Bomb, the "Irish Car Seat" requires half a pint of Guinness and a shot of Kahlua and Baileys: take the shot, drop it in the Guinness, and throw it back like a grizzled veteran. Now we're talking.
Continue for both recipes.
"The Blue Molly"
1 ½ oz. Blue Curaco Raspberry Vodka Equal parts sweet & sour and Sprite
"Irish Car Seat"
½ pint of Guinness 1 shot of Kahlua and Baileys Drop shot into Guinness and chug
Gut Check is always hungry for tips and feedback. Email us!
---