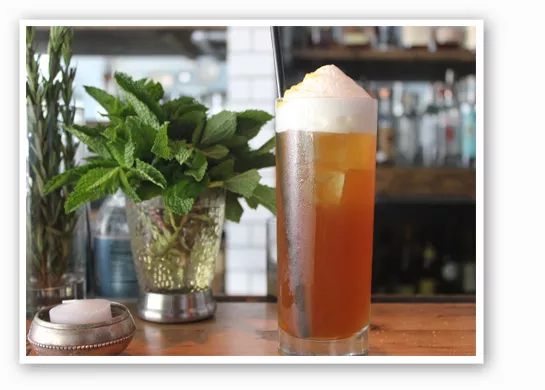 The Libertine's "Fear & Loathing," a cocktail fit for Dr. Thompson. | Cheryl Baehr
It's a funny thing how you can go into a bar prepared to talk about cocktails and end up on an organic-goat tangent. Then again, it's a funny thing how you can be on the bustling streets of Chicago one day and a goat farm in Willamette, Oregon, the next. Such is the story of Victoria Mitchell and Nate Weber, co-general managers of the Libertine (7927 Forsyth Boulevard, Clayton; 314-862-2999), one of St. Louis' most talked about new restaurants. Lest you think that these are two completely disparate topics, there is something abut their story that seems to encapsulate cocktails at the Libertine. Farm-to-table ingredients? Check. An air of irreverence and whimsy? Check. Asking patrons to take a leap of faith that results in a fantastic experience? It's there too.
See also: -First Look: The Libertine in Clayton
Weber and Mitchell's involvement with the Libertine can be traced back to their tenure in the Chicago restaurant scene where they met (the Libertine proprietors) Nick and Audra Luedde. While they loved their time in the big city, Weber and Mitchell found themselves longing for quiet and simplicity. "I had to rent a car to go to the grocery store," laughs Mitchell when recounting the hassles of Chicago life. "We just needed to get away, to do something completely different."
Their change of pace came in the form of an opportunity to volunteer on an organic goat farm through WWOOF (Worldwide Opportunities on Organic Farms), an organization that connects would-be volunteers with small-scale organic farms throughout the world. "WWOOFers" agree to work on the farms in exchange for room and board, a deal that the couple found extremely satisfying yet demanding.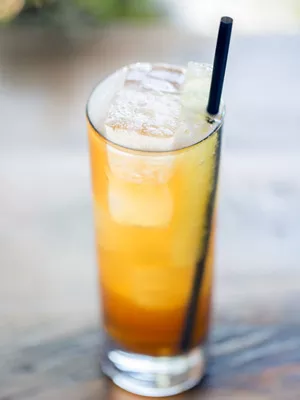 The "Elvis Costello Lost in Missouri," made with Pimm's No. 1, Pinckney gin, housemade citrus soda, cucumber soda, cucumber ice and housemade mint tincture. | Jennifer Silverberg
As Weber and Mitchell wax poetic about their time in the pastoral Willamette Valley (think fields of poppies interspersed with Christmas tree farms), they are quick to point out the backbreaking ten- to twelve-hour days spent milking goats by hand, trying to avoid getting a hoof to the face. Eventually, their time on the farm ran its course, and the two found themselves, on a whim, in St. Louis. Enter the Lueddes, also preparing for a move back to Nick's native town, and the rest is serendipitous history.
See also: -Owner Nick Luedde Discusses The Libertine
Weber jokes that the cocktail program at the Libertine is the result of friendly competition between he and Nick Luedde, himself a veteran sommelier and mixologist, for bragging rights and spirits-filled late nights spent listening to music. Weber and Luedde wanted to take pillar cocktails, such as the rum and Coke and the Manhattan, and add their own twist. The result, Weber describes, is a list that leans toward refreshing, easy-drinking and balanced flavors that are all about having a good time, playing around and using fresh, quality ingredients.
One of the most notable selections is the "Fear & Loathing," the Libertine's nod to the rum and Coke. Inspired by "what Hunter S. Thompson would drink if he were at our bar," the drink mingles Gosling's Black Seal Dark Rum with house-made cola. The Libertine's cola is nothing like the mass-produced, industrial high-fructose corn syrup stuff to which we have become accustomed. Instead, the brew has a distinctly citrus and ginger flair, with notes of star anise, lavender and clove. To balance the sweetness of the rum and cola, bartenders top the drink with slightly savory pecan foam and some dehydrated citrus zest for brightness. If you're wondering whether this is one of those dangerous drinks that goes down just a little too easily, the answer is yes. Watch out, or you will be hallucinating lizards like Gonzo -- or in this case, maybe goats.
To see more impressions of The Libertine, check out my review and accompanying slideshow.
See also: -The Libertine: Now Serving Lunch
Gut Check is always hungry for tips and feedback. Email the author at cheryl.baehr@riverfronttimes.com or follow her on Twitter.
---