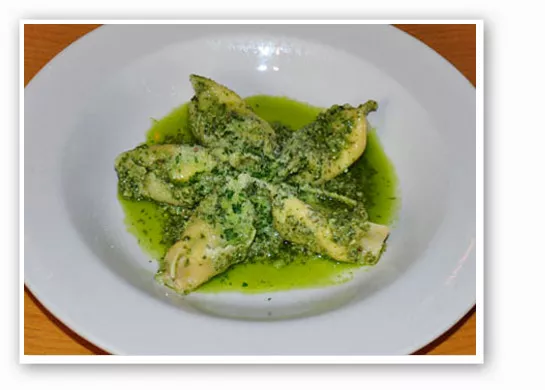 Goat-cheese-stuffed agnolotti at Stellina. | Tara Mahadevan
Destination: Stellina Pasta Cafe (3342 Watson Road; 314-256-1600)
Neighborhood: Lindenwood Park
Cuisine: American, Italian
Overview: Stellina prides itself on its ephemeral menu, where pasta dishes change daily. The restaurant serves at least two vegetarian pasta options every day -- the day of our visit, Stellina was featuring three vegetarian pasta dishes (including a vegetarian lasagna!) and two vegetarian appetizers courses. Additionally, there's a "Twice as Nice" lunch special, where you choose a half sandwich and half soup or salad combo for $7.95.
See also: - Save Room for Vegetarian Pizza at PW Pizza - Big Sky Cafe is a Vegetarian Delight - The Veggielante Tries a Meatball Sub & Nachos at Plush
Whole wheat pasta at Stellina. | Tara Mahadevan
Veggie Highlights: Pair anything with goat cheese and you'll have Gut Check's heart. Stellina's goat-cheese-stuffed agnolotti ($13.95) isn't any different. The five savory pieces of stuffed pasta are doused (and by doused, we really mean deliciously soaked) with olive oil and pesto -- the creamy center is just an added bonus. Keep a breath mint handy, though. Your pesto-garlic breath might get mean after you devour the whole dish!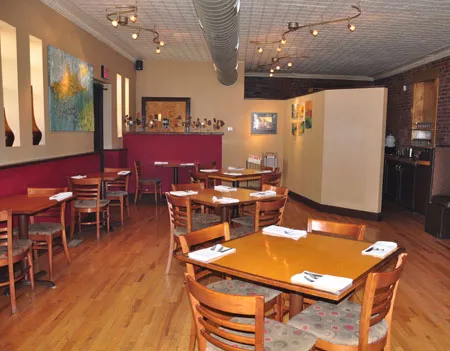 Inside Stellina Pasta Cafe | Tara Mahadevan
Stellina does a few versions of a whole wheat pasta ($14), and today's rendering was nothing short of vegetarian bliss. Added to the pasta were generous servings of carrots, spinach, edamame and a red sauce, with a sprinkling of parmesan. An absolutely filling, and quite healthy, dish.
Stellina Pasta Cafe | Tara Mahadevan
Though Stellina changes its menu very frequently, you can still look forward to many vegetarian appetizers, such as hummus and vegetarian toasted ravioli. There's also the "Veg Out" sandwich ($9.50): grilled eggplant, red pepper, red onion, zucchini, spinach and herb goat cheese on multigrain bread.
The Veggielante has had it up to here with people bitching that St. Louis restaurants are vegetarian unfriendly. Sure, we'd like to see more restaurants offering more meatless dishes, but there are excellent choices out there if you take the trouble to look for them. We're not here to proselytize about greening up your diet. Our only motive is to spread the word about places where you can order good grub that ain't got no meat. To enhance your reading experience, we've settled on a handful of criteria we'll use to suss out a restaurant's vegetarian friendliness.
Gut Check is always hungry for tips. Email us!
---