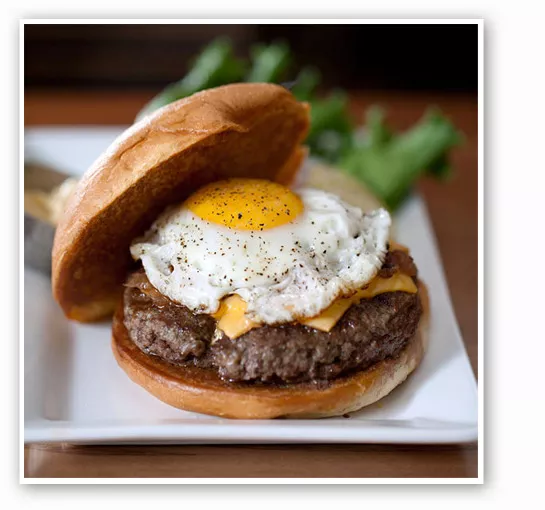 The "Breakfast of Champions" burger from Five Star, with a sunny-side-up egg, American cheese, roast tomato-bacon jam and hollandaise sauce. | Jennifer Silverberg
Five Star Burgers (8125 Maryland Avenue; 314-720-4350) is adding a second location in Kirkwood, as first reported by St. Louis magazine. The new Five Star Burgers will take over the space of the recently closed Culpeppers at 312 South Kirkwood Road.
See also: Five Star Burgers' Green Chile Cheeseburger: One of 100 St. Louis Dishes You Must Eat Right Now
The "Gateway Burger" with smoked bacon, crispy onion rings, cheddar cheese and barbecue sauce. | Jennifer Silverberg
Owner and chef Steve Gontram opened the gourmet burger joint in Clayton last October after Gontram sold Harvest to its executive chef. Gontram's father, Bob, actually opened the very first Five Star in New Mexico in 2008; there are three total in that state and three more in Colorado.
The old two-story Culpeppers building will undergo a renovation before Five Star Burgers opens later this fall. Haven't tried Five Star's impressive burgers yet? Maybe this slideshow will change your mind.
Gut Check is always hungry for tips and feedback. Email the author at nancy.stiles@riverfronttimes.com or follow her on Twitter.
---