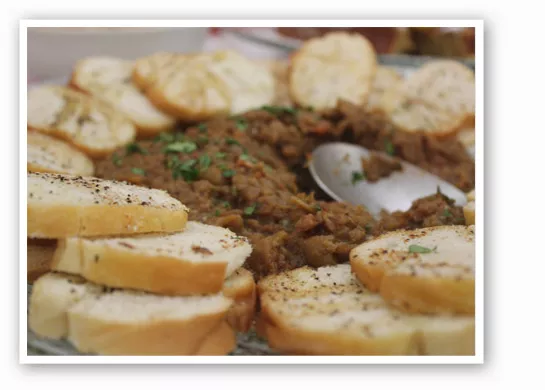 Zaaluk, fresh eggplant and tomato blended with olive oil, cilantro, garlic and cumin, with herb crostini. | Nancy Stiles
When Abder Meskine came to America from Morocco, he just thought he'd invest in a fast food franchise. Then he realized St. Louis didn't have any Moroccan food. "We found this place and we fell in love with it, and we decided to create a Moroccan restaurant. It's time," Meskine says. Enter Baida (3191 South Grand Boulevard; 314-932-7950).
See also: St. Louis Restaurant Openings & Closings: July 2013
Assia and Abder Meskine, the owners. | Nancy Stiles
Meskine brought on his nephew, Adam Bennis, as manager just a few weeks ago. "He's not with me because he's my nephew," Meskine laughs. "OK, it's because he's my nephew. But first of all because he has the experience." Bennis worked with HMS Host, the company that runs restaurants at Lambert Airport, as well as a few franchises. Jeremy Bowman has signed on as executive chef, and spent three days cooking with Meskine's wife, Assia, to turn her Moroccan specialties into a restaurant menu. Bowman's father was a chef for Hershey's Chocolate and inspired him to enter the culinary industry. He has previously worked at Eleven Eleven Mississippi (1111 Mississippi Avenue; 314-241-9999) and opened Lola (500 North Fourteenth Street; 314-621-7277).
Lamb tajine. | Nancy Stiles
"We're not trying to scare anybody away from the unordinary, but I think it's going to be something exciting for St. Louis, something a little different," Bowman says. "We have a lot of ethnic restaurants up and down Grand here, but I think we'll set ourselves apart. It will be fun -- I think people will come in and enjoy it."
Dinner began September 7, after a few days' worth of soft openings, and lunch service -- a buffet, to acquaint those who have perhaps not had Moroccan food -- begins Monday, September 9. Tajines, a North African staple, are standout dishes (try the lamb), as are the kabobs and of course, couscous. Lunch is from 11 a.m. to 2 p.m. and dinner is from 5 p.m. to 10 p.m.
Continue for more photos from Baida.
Handmade watermelon, cucumber and cantaloupe juice drink. | Nancy Stiles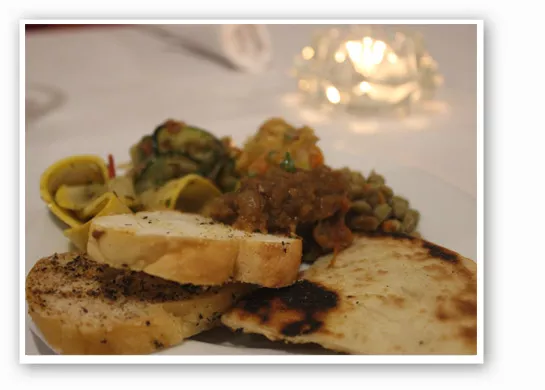 A bevy of appetizers, including zaaluk, Moroccan salad and vegetables. | Nancy Stiles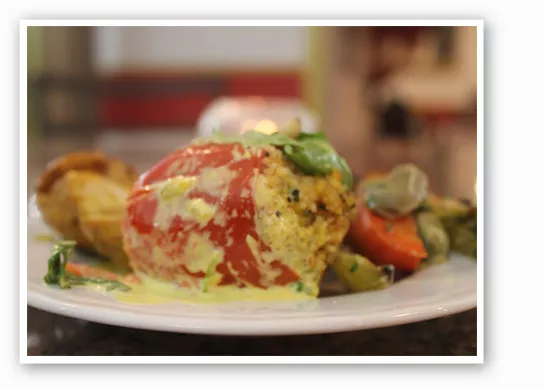 Tomatoes stuffed with a goat cheese sauce. | Nancy Stiles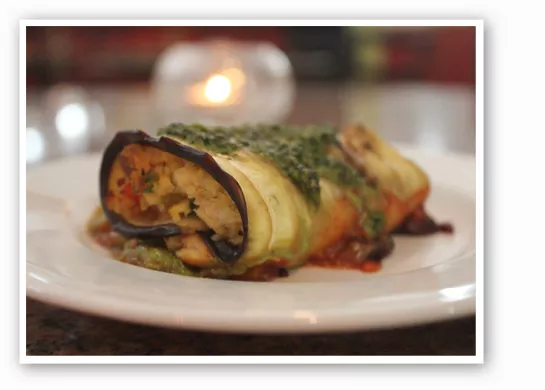 Eggplant stuffed with grouper. | Nancy Stiles
Next: more delicious Moroccan food.
Chicken tajine. | Nancy Stiles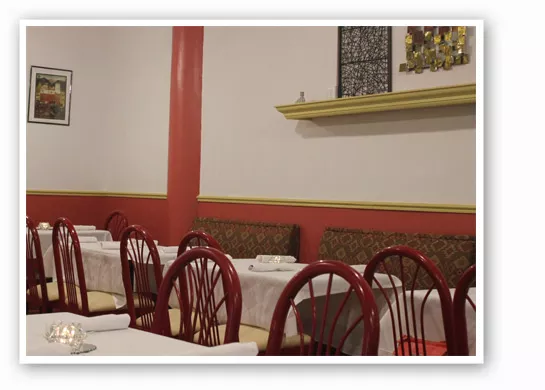 The dining room at Baida. | Nancy Stiles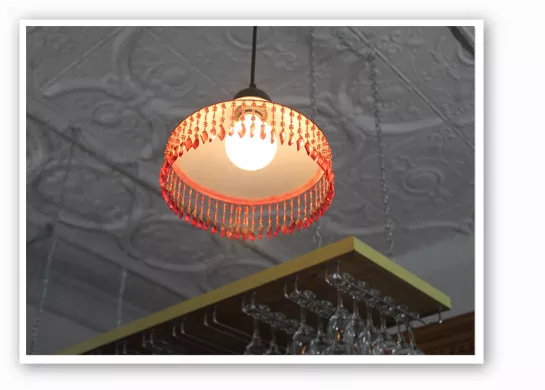 Small Moroccan touches. | Nancy Stiles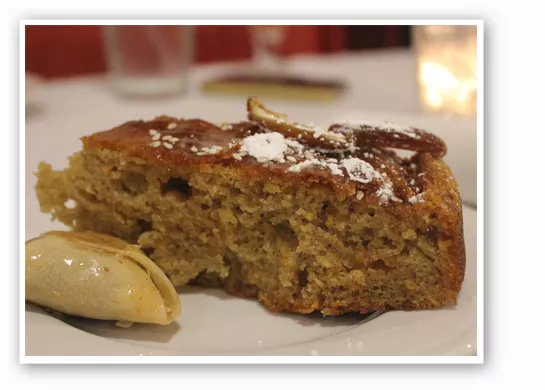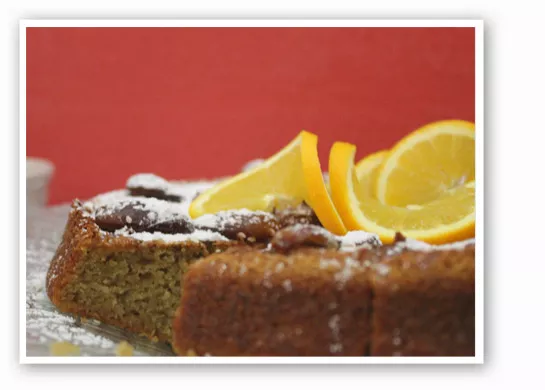 Orange cake with warm dates and sesame glaze.
Gut Check is always hungry for tips and feedback. Email the author at [email protected] or follow her on Twitter.
---