Cesmach coffee: It's better from a beaker. | Nancy Stiles
Blueprint Coffee (6225 Delmar Boulevard; 314-266-6808) finally opened on Labor Day after months of preparation. Partners Mike Marquard and Andrew Timko gave us a sneak peek last week, but we finally got a taste of what Blueprint's really about -- simple, tasty coffee.
See also: Blueprint Coffee Looks to Open Next Week in the Loop
Andrew Timko brews up some Joe. | Nancy Stiles
The coffee itself is pretty personal: It's pour-over, right in front of you. Timko served ours on a metal tray with a coffee cup and beaker, which makes the whole thing feel crafted and scientific. There's also espresso and tea, as well as iced and decaf coffee.
Blueprint isn't stingy with the food, either. The slices of bread -- English muffin, New York rye, French peasant, six-grain wheat, raisin cinnamon walnut -- are generous, as are the cheeses from Heartland Creamery. Cream scones, sour cream muffins and croissants were also on hand from Comet Microbakery. Blueprint also has housemade lemon raspberry, plum and peach preserves and compote.
"There was a line out the door the first day," Timko says. "All of our personal friends and coffee friends and people from around here welcoming us to the neighborhood. We couldn't have asked for a better day." He says customers have been complimenting them on the feel of the space, which was really Blueprint's goal. "We just want to make people feel comfortable. It's neat to see everyone be welcoming."
Continue for more photos of Blueprint Coffee.
Enjoying the natural light. | Nancy Stiles
Get the soft bread toasted with a house-made topping. | Nancy Stiles
One of the perks of working at Blueprint: plenty of caffeine! | Nancy Stiles
Blueprint uses Square, founded by STL native (and Twitter co-founder) Jack Dorsey. | Nancy &nbspStiles
People watching on Delmar. | Nancy Stiles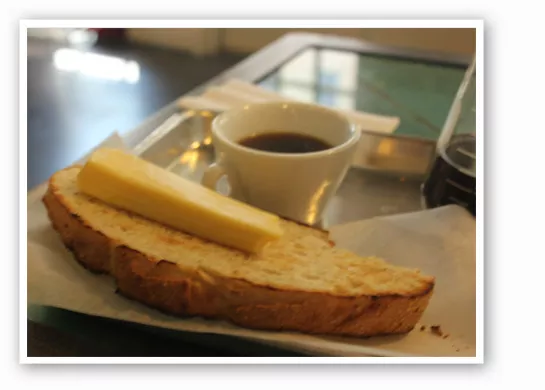 Toasted French peasant bread with Havarti cheese and Cesmach coffee. | Nancy Stiles
The helpful staff. | Nancy Stiles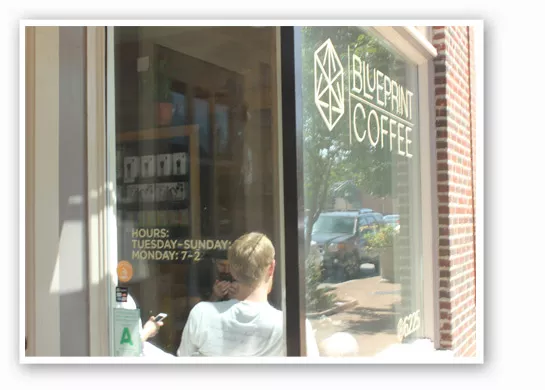 Hanging out. | Nancy Stiles
Gut Check is always hungry for tips and feedback. Email the author at nancy.stiles@riverfronttimes.com or follow her on Twitter.
---