The football season is officially upon on us, and with that the search for the perfect serving of wings becomes paramount. The right amount of sauce, spice and breading is crucial to any successful gameday. It can get a bit tricky, though, because nearly every sports bar around has (sometimes painfully generic) wings on the menu, but we're looking for some creativity. This list below presents some of our favorite wings around, including some of the winners from the Third Annual UCP Heartland Wing Ding. So enjoy, and let our list be the wind beneath your wings.
See also: Scenes from Midwest Wing Fest
Inside Three Kings Public House in the Loop. | Jennifer Silverberg
Three Kings Public House (6307 Delmar Boulevard, University City; 3 14-721-3355)
Recently at the Third Annual UCP Heartland Wing Ding, Three Kings Public House represented itself well, winning the "Best Traditional" and "Best Specialty" categories. The "Three Kings' Wings" are double dipped in its near-perfect signature sauce, or you can change things up and substitute the spicy Thai sauce, either way is pretty great. But for the best specialty wings category, Three Kings' "Chicken & Waffles," served with bacon jam and maple syrup, stepped up to declare supremacy. Combine your wings with a fantastic and constantly rotating draft list, plus plenty of flat-screens, and you've yourself got a nice little Sunday.
See also: - The Eight Bars With the Best Beer Selections in St. Louis: 2013
Fallon's took second place at Wing Ding. | Daniel Hill
Fallon's Bar and Grill (9200 Olive Boulevard, Olivette; 314-991-9800)
Fallon's Bar and Grill is a neighborhood Irish pub in Olivette that, from the outside, appears pretty unassuming, but just so happens to cook up some excellent wings. So good, in fact, it took second place in the "Best Traditional" category at Wing Ding. Sit outside (after this godforsaken heat wave passes, of course) on the newly renovated patio and order wings in quantities of ten or twenty and grab a Guinness to help take the edge off the spiciness. Fallon's offers a daily happy hour and drink specials plus trivia for you to enjoy as you lick the sauce off your fingers.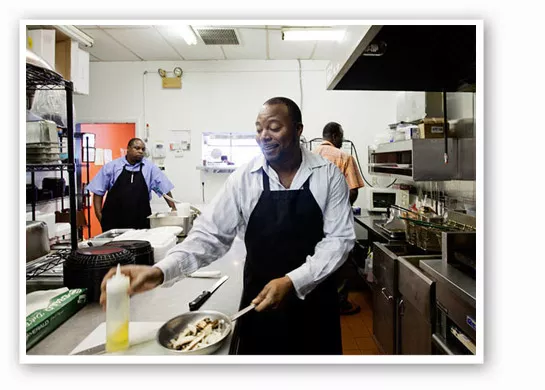 Owner DeMarco Howard in Gobble Stop's kitchen. | Jennifer Silverberg
Gobble Stop Smokehouse (1227 Castillons Arcade Plaza; 314-878-5586)
Sitting in a nondescript strip mall on the northeast corner where Olive Boulevard intersects Fee Fee Road, Gobble Stop Smokehouse specializes in all things chicken. It comes as no surprise then that it can handle some chicken wings -- as evidenced by the second-place finish at Wing Ding in the "Best Specialty" category with its sweet and spicy entry. Like any good barbecue joint, the sauces are excellent and, as mentioned, the sweet and spicy is unparalleled.
See also: - Gobble Stop Smokehouse's Turkey Tips: One of 100 St. Louis Dishes You Must Eat Right Now
EdgeWild: more than just wine. | Jennifer Silverberg
EdgeWild Restaurant & Winery (550 Chesterfield Center, Chesterfield; 636-532-0550)
Yes, this is a winery smack dab in the middle of Chesterfield (no grapes are actually grown on site, but rather unfinished wines are shipped in and allowed to finish the aging process, so there you go). And yes, it's fancy with all the wood finishes and an extensive menu. But here's the thing: EdgeWild's wings won "Best Dry-Rubbed" at the Wing Ding, and then went on to capture the "Judges Overall Favorite." You can't argue with that. An order gets you a half-pound of triple-dry-rubbed wings smoked to perfection. Additionally, it's suggested you pair the wings with a pinot noir -- go ahead, treat yourself.
See also: - Tidbits: In Good Company, EdgeWild and Burger Bar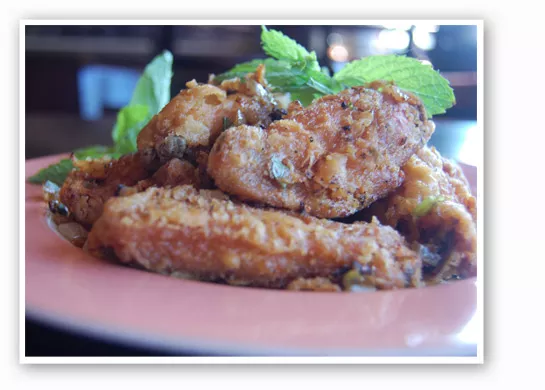 We named Mi Linh's wings one of the 100 must-try St. Louis dishes. | Cheryl Baehr
Mi Linh (9737 Manchester Road, Rock Hill; 314-918-8868)
As we recently discovered, the butter-garlic chicken wings at Mi Linh's are no ordinary wings. Served up with green and white onions, these mouthwatering meaty morsels were brought to life by Nelson Tran, who studied under an old Chinese "wok master" in New York City. Nelson's wings emerged after experimenting on his own with the garlic and onion flavors found in traditional Vietnamese cooking, plus a more modern flair infused into in the unique breading that is wonderfully crunchy with peppery spice.
See also: - Mi Linh: The Tran family raises the bar for Vietnamese cuisine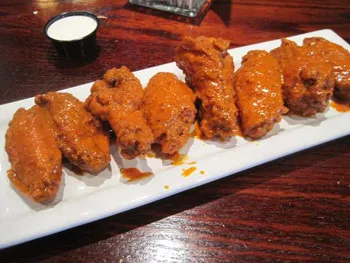 Wings at Kirkwood Station. | Ian Froeb
Kirkwood Station Brewing Company (105 East Jefferson Avenue, Kirkwood; 314-966-2739)
Kirkwood Station is a brewpub, so of course you've come for the beer, but the wings might be the best reason to come back. We're talking plump, juicy wings here, people. You can choose one of three sauces to coat the crisp wings: traditional buffalo, sweet and tangy, or chipotle barbecue. But if you had to choose just one, we say go with the traditional -- a thick, creamy concoction with a brilliant orange color and plenty of flavor.
O! Wings' Thai-chile lime wings. | Jennifer Silverberg
O! Wing Plus (10094 Page Avenue, Overland; 314-395-0180)
Turns out that bringing a Korean influence to chicken wings is a pretty great idea. O! Wing Plus offers sauces that are extremely flavorful but add perceptible heat as well. The "Beast Mode" is the hottest sauce on the menu, and it is not for the light-hearted. "Hot Mama!" is a step down -- a bit tamer, with a honey note, while "O's Original" brings together the sweetness of brown sugar with soy sauce for a remarkably pleasant combination.
See also: - Best Chicken Wings - 2011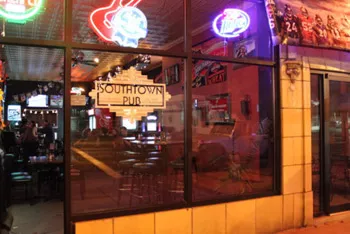 The wings at Southtown are jumob-sized. | RFT Photo
Southtown Pub (3707 South Kingshighway; 314-832-9009)
Southtown Pub is a friendly south-city hangout with plenty of character. (A sign behind the bar declares, "We don't serve women here. You'll have to bring your own." That's rich!) But what separates Southtown is its secret weapon: a smoker, which means the wings you're wanting oh so badly will be delicious. The wings come jumbo-sized and are therefore ridiculously plump and meaty. The breading is a deep, deep brown and wonderfully crisp, with the barbecue flavor of char and smoke. The meat is tenderized and spiced perfectly with a dry rub that packs heat. Southtown prices its wings by the piece, at 90 cents a pop -- yes, you're going to be eating a helluva lot of wings.
See also: - Best Chicken Wings - 2012
Gut Check is always hungry for tips and feedback. E-mail us!
---