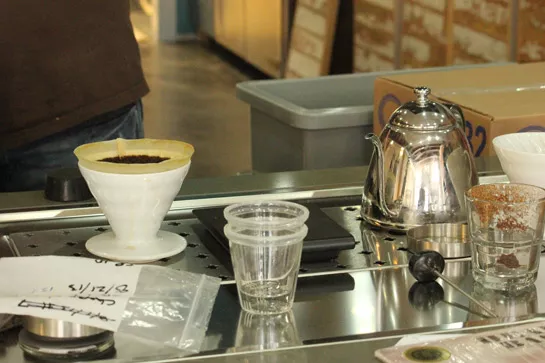 A test brew last week at Blueprint. | Nancy Stiles
Blueprint Coffee (6225 Delmar Boulevard) is finally open, conveniently just down the street from our own coffee-fueled offices. It will be open until 2 p.m. today serving Adulina, Cesmach, Kagumoini and decaf Rancho Bonito. Hours will be Mondays, 7 a.m. to 2 p.m. and Tuesday through Sunday, 7 a.m. to 7 p.m. Check back for a first look soon!
See also: Blueprint Coffee Looks to Open Next Week in the Loop
Gut Check is always hungry for tips and feedback. Email the author at nancy.stiles@riverfronttimes.com or follow her on Twitter.
---