Clockwise from bottom left: cinnamon roll, brownie, banana muffin, lemon bar, chocolate chip cookie and pretzel white chocolate chip cookie. | Mabel Suen
In July, Gut Check reported on the opening of a new bakeshop for the Grove: Amy's Corner Bakeshop (4476 Chouteau Avenue; 314-371-2253), located in a building previously occupied by a Joe Bacardi's space used primarily for catering. A month later, Amy Verkamp-McArthy has lots of exciting news to share, including a new weekend brunch menu and, most important, the birth of her new baby girl.
See also: Amy's Corner Bakeshop Opening Tomorrow in the Grove
"She's almost three weeks early, so it kind of made us have to adjust our timeline," she says with a laugh. "Our friends and relatives have just jumped in like no other to help with washing dishes and whatever else, so it's as seamless as you can imagine it...The response has been overwhelming so far. We just have to be careful -- we don't want to expand too fast!"
Amy Verkamp-McArthy, Matt McArthy, Cullie Freese and Sandra Barnes. | Mabel Suen
On a Sunday morning, Amy stands in the open kitchen whisking batter of some sort in a metal bowl, apron covered in a light dusting of flour, while her husband Matt McArthy plates up her family-recipe baked goods for a a busy brunch crowd at the counter. Meanwhile, staff wipe down tables and rush out hot plates of classic breakfast items like biscuits and gravy ($3.50 for a half order; $6 for a full order), made-to-order omelets ($4.50) and more alongside coffee and homemade cinnamon rolls ($1.25).
See also: Pastries and Cocktails at Cielo's A Taste of Summer
Verkamp-McArthy says she's been baking since she's been able to stand in a kitchen but got into highly decorative cake baking after reluctantly taking a class with a friend about ten years ago.
"I had a friend who wanted to take a cake-decorating class, and that did not appeal to me in the least. I wanted to take pilates!" she says. "It was one of those 'I'll take your class with you and you take your class with me' situations."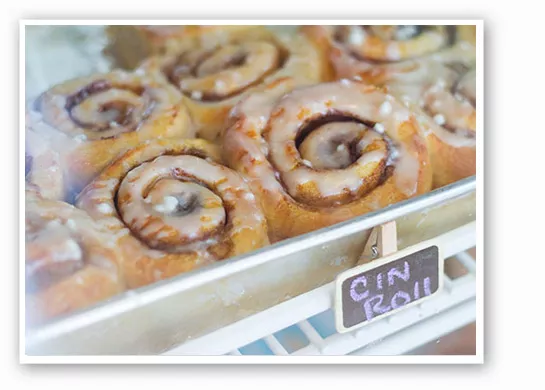 Cinnamon rolls! | Mabel Suen
A decade or so later, Verkamp-McArthy's bakeshop displays a sign that reads, "Pilates?? Oh hell, I thought you said 'pie and lattes,'" and she's still creating buttercream and fondant-covered masterpieces in various shapes and designs on the side. She says the main focus for the shop lies in the taste and comfort of the baked goods.
"My husband's been calling it good stuff in the Grove, We like to keep it simple, fresh and delicious," she says.
See also: First Look: Annie Moon's Bakery and Cafe
The corner space features bright, aqua-colored walls with an open kitchen and small dining room divided by a just-baked case of pastries. The catalog at Amy's includes everything from lemon bars and pretzel white chocolate chip cookies to scones and cupcakes prepared in traditional, fuss-free styles.
Amy's Corner Bakeshop. | Mabel Suen
"We started with what we know -- the go-to recipes from my mom and grandma are the basis, kind of the core traditional standards, and we just have some fun playing with those," she says. "The majority of our goods are from family recipes that have have been tweaked over the years. My mom was known for trying out new recipes and inviting twenty people over to try them and read cookbooks the way that people read novels. This is my way to honor that spirit about her."
Amy's Corner Bakeshop is currently open on Monday from 7 a.m. to 2 p.m., Thursday to Friday from 7 a.m. to 2 p.m., and Saturday through Sunday from 8 a.m. to 3 p.m. Brunch items are currently offered during the weekends, and Verkamp-McArthy says she'll be offering her baked goods at festivals and the like in the near future. For more information, visit Amy's Corner Bakeshop's website or follow updates via its Facebook page.
Click through for more photos!
Yum, cupcakes from Amy's. | Mabel Suen
The dining room at Amy's. | Mabel Suen
We go for the latter. | Mabel Suen
Breakfast at Amy's. | Mabel Suen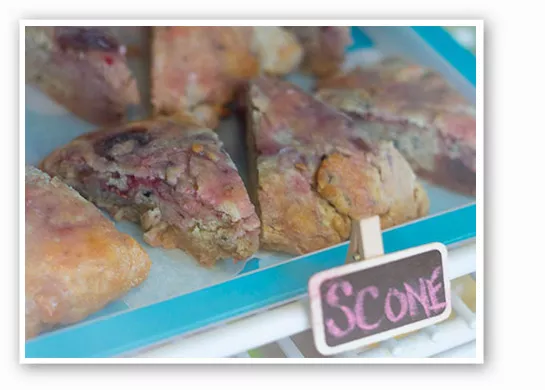 Fancy a scone? | Mabel Suen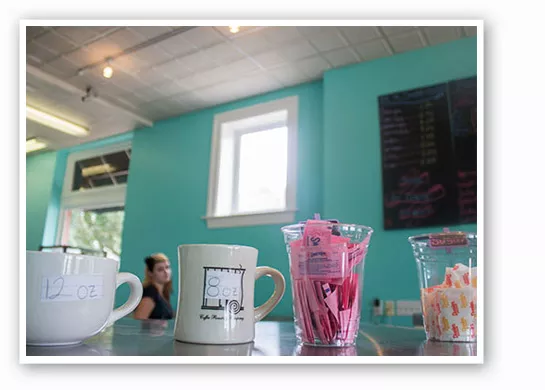 Morning joe. | Mabel Suen
Something for the kids. | Mabel Suen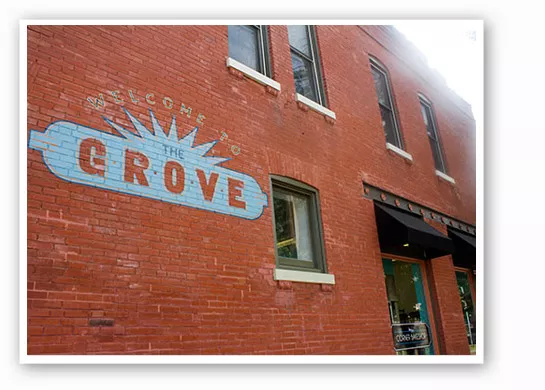 Now open in the Grove! | Mabel Suen
See also: - First Look: Papa Murphy's - First Look: Tripel Brasserie - First Look: Sister Cities
Gut Check is always hungry for tips and feedback. E-mail us!
---