The spread at Protzel's. | Madelaine Azar
You know a true deli sandwich when you see one: thick slices of bread holding together, somehow, a tower of meats and cheeses stacked to perfection. You'll find these overstuffed delights not in the monotonous chain sub shops, but rather in tradition-rich and family-owned delis with old-school counters where a friendly face is waiting to take your order and start slicing. Luckily, St. Louis is home to several such places, and whether you're hankering for a Reuben, a helping of potato salad or sandwiches that flawlessly incorporate Provel cheese, our list of best delis can hopefully steer you in the right direction.
Protzel's Delicatessen (7608 Wydown Boulevard, Clayton; 314-721-4445)
If it's your first time at Protzel's, you pretty much have to order the corned beef, made in-house and piled high on rye bread and covered with mustard -- served, of course, with a pickle. Since 1954 this family-owned establishment has been churning out a wide array of fresh deli meats and cheeses. Other than the corned beef, you can also try the knishes, potato salad, deviled eggs or fresh Jewish rye bread chips. Or shop around for European goodies, taffy and sweets -- three entire shelves are devoted to mustard! The full selection of sandwiches at Protzel's includes roast beef, pastrami, peppered beef, salami and bologna. The deli also offers specialty sandwiches, such as the "John Carney Special," with a third of a pound of corned beef and pastrami, Munchee cheese, honey mustard and coleslaw served on an onion roll.
See also: - Best Delicatessen - 2011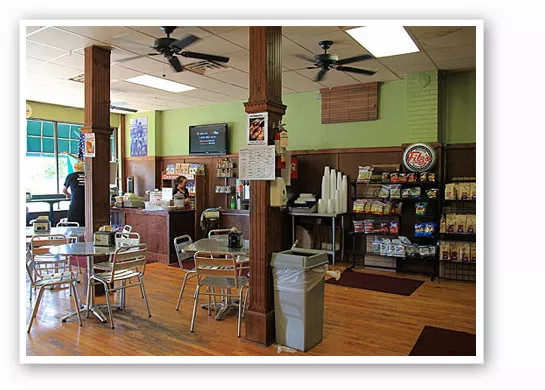 Giola's Deli on The Hill. | Madelaine Azar
Gioia's Deli (1934 Macklind Avenue; 314-776-9410)
Gioia's Deli began its life as a grocery store back in 1918 before transitioning to a deli, and thank goodness it did. Gioia's is now famous for its hot salami, or salam de testa: a thick, soft salami made from beef and -- yes -- pork snouts. The more familiar Italian meats are terrific, too, like the "Italian Trio," a dreamlike blend of mortadella and Genoa salami, peperoncini, onions and cheese on toasted garlic bread; or just grab a helping of "Cathy's Homemade Lasagna." End your meal with a sweet and generous serving of gelato.
See also: - The Five Best (Cheap) Italian Restaurants in St. Louis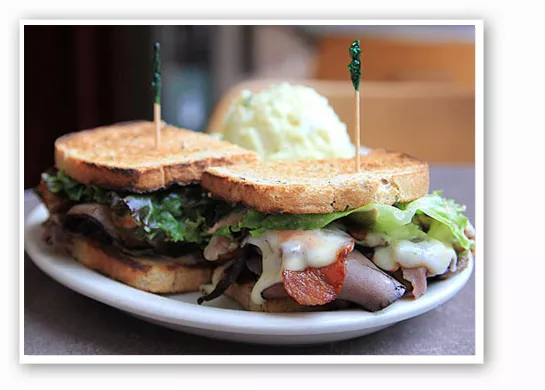 Mmm, Kopperman's. | Madelaine Azar
Kopperman's Delicatessen (386 N. Euclid Avenue; 314-361-0100)
Kopperman's is the quintessential New York delicatessen that just so happens to be a St. Louis institution. This place is serious about sandwiches: they're towering stacks of meats and cheeses, including one of the city's standout roast beef sandwiches ("Love at First Bite"). Oversized antique circus posters have decorated the walls for ages, and the outdoor seating area is maybe the best spot to take in the comings and goings of Euclid. The breakfast/brunch has to be one of the best in St. Louis (including the do-it-yourself bloody mary bar). One tip: Kopperman's is open late into the night on weekends, which means potato pancakes and slingers are waiting after you're kicked out of the bars.
See also: - Open Mouth, Insert Tongue: Why You Gotta Try the Tongue Sandwich at Kopperman's Deli
The classics at Blues City Deli. | Madelaine Azar
Blues City Deli (2438 McNair Avenue; 314-773-8225)
There's no great secret to Blues City Deli's success, just classic sandwiches that make you regret all those times you settled for self-made ham and cheese. The muffuletta, Italian beef dipped in jus and salsiccia, is the reason the phrase "mouth-watering" exists. The "7th Street Sicilian" is probably the best Italian cold-cut sandwich imaginable -- the Provel cheese is, of course, sublime. The concert posters, album covers and photos that cover the walls at Blues City Deli give it a definite New Orleans feel, and Thursday evenings and Saturday afternoons in this Benton Park deli feature free live concerts from blues artists and more. On these days, your best bet is the sweet (or spicy -- you choose) "Memphix Stax" -- pulled pork piled high and topped with slaw.
See also: - Pack a Restaurant Picnic for Your Next Visit to Busch Stadium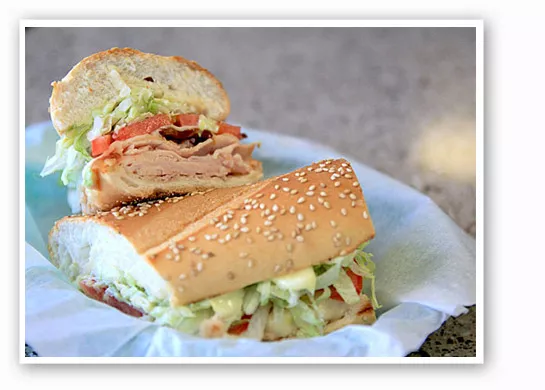 More cheese! | Madelaine Azar
9th Street Deli (900 Shenandoah Street; 314-664-3354)
Located on the corner of Soulard's picturesque and peaceful Pontiac Park, 9th Street Deli offers several must-try sandwiches -- the meatball sub, with Provel and marinara sauce, and the "St. Louisan," comprised of mortadella, capocolla, salami, ham and Provel, are good places to start. Then there's the "Cajun B.L.T.," with slices of very thick, smoky bacon, or the baked mortadella sandwich, an ingenious concoction of mortadella, capocolla, Provel and a relish of artichoke, black olive and tomato. And last but certainly not least is the cheeseteak. What makes 9th Street Deli's cheesesteak superior to all others, you ask? Pasteurized process cheese product. That's right, as far as we know, this is the only place in St. Louis that uses the true "cheese" of an authentic Philly cheesesteak, Cheez Whiz, with wonderful results.
See also: - #46: The Philly Cheesesteak at 9th Street Deli
Carl's Deli. | Madelaine Azar
Carl's Delicatessen (6401 Clayton Road, Clayton; 314-721-2393)
The New York deli experience is waiting for you at the corner of DeMun Avenue and Clayton Road. Giant, meaty, overstuffed sandwiches (the pastrami!) are the foundation of any deli worth its salt, and Carl's does not disappoint. There are no frills once you're inside, and you're likely to encounter a diverse clientele from all walks of life sitting around sharing a table. If a heap of thinly sliced meat is not your forte, try the egg salad, or maybe even the Provel sandwich -- there is a vegetarian menu. That being said, it'd be difficult to go and pass on that famed pastrami. Carl's has been around for more than 60 years with no signs of slowing down, so take advantage of the opportunity to visit this staple of the St. Louis deli scene.
See also: - DeMun Neighborhood Guide: Fine Dining and Pastrami Deli Sandwiches - Best Delicatessen - 2012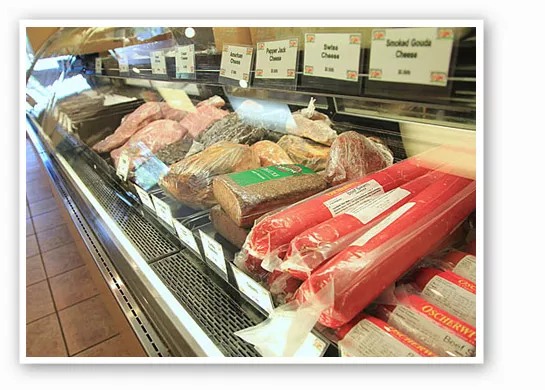 What's your pick? | Madelaine Azar
Pumpernickles Delicatessen (11036 Olive Boulevard, Creve Coeur; 314-567-4496)
Pumpernickles Delicatessen is the kind of place where the pastrami is brined and then seasoned with just the right amount of garlic and pepper -- enough to give it a kick, but not enough to burn you. Then it's steamed and sliced thin enough to melt in your mouth. The menu lists the Reuben as the "Absolute best in St. Louis." True to its word, you'll be served up two healthy but not excessively thick halves, plus a pickle. Between two slices of rye bread grilled to golden brown you'll find a pile of thinly carved corned beef on a generous bed of sauerkraut. Atop the corned beef is a slice of melting Swiss cheese, covered with a peach-pink layer of Thousand Island dressing. Pumpernickles specializes in gourmet smoked fish, like the Ultimate Fish Sampler, offering up smoked salmon, smoked sable, whitefish, two slices of Nova lox, chive cream, cream cheese, tomato, onion, olives, lemon and two bagels, which should hit the spot.
See also: - Battle Reuben: East Coast vs. West Coast - Best Pastrami - 2012
Gut Check is always hungry for tips and feedback. Email us!
---