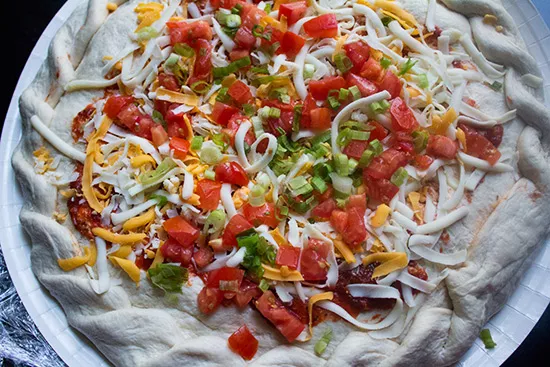 We cannot properly describe how massive this "stuffed" pizza was. | Mabel Suen
South city residents might have noticed a comically large, inflatable Italian chef -- at least 25-feet-tall, similar to a massive Christmas-themed lawn ornament -- hanging out on Gravois Avenue in early August. The cause for the overtly cartoon-ish decor? Papa Murphy's (3909 Gravois Avenue; 314-875-9199), voted "Best Pizza Chain in America" by Restaurants and Institutions magazine every year since 2003 (Zagat and many others agree), celebrated the opening of its first franchise location in St. Louis City. Read on to see its "take'n'bake" concept in action.
See also: First Look: Cini Serves Molto Bene Italian Food
Papa Murphy's doesn't even have ovens. Instead, employees toss some dough and top it to customers' specifications with freshly prepped ingredients, and the products get taken home and baked at home whenever desired. St. Louis county residents might already be familiar with the concept, but south city only recently got an introduction.
The Gravois Avenue location opened its doors to the public on June 17, in a space previously occupied by a Jack in the Box. Its unique set-up seems to have caught fire elsewhere in the greater St. Louis area and neighboring communities: Ten franchises of the Washington-based chain coined in the early '80s exist in St. Louis county and other areas including St. Charles, Wildwood and O'Fallon (on both the Missouri and Illinois side). A whopping 1,300 exist in the US and Canada. We're all familiar with another "papa" in pizza, but this one's kind of different.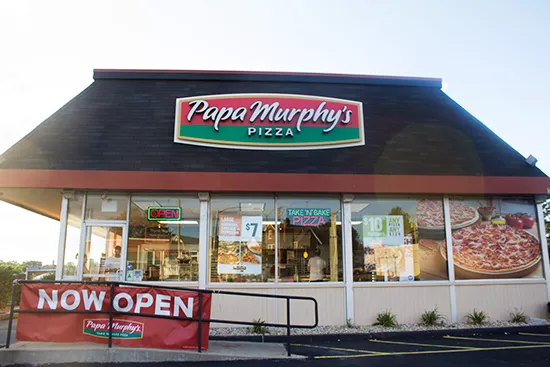 The view from the street. | Mabel Suen
"You don't need to wait an hour for a delivery guy or tip a server. This is a really good alternative," says Joe O'Neil, who co-owns the franchise with his father David O'Neil and uncle Joe O'Neil. "Because we don't have a high utility bill, we can pass the savings on to our customers, who can bake the pizza at home hot and fresh anytime they want."
Papa Murphy's offers specialty "stuffed" pizzas, signature flavors like gourmet chicken garlic and sides like cheesy bread and a s'mores dessert pizza. Choose between an original hand-tossed crust or a thin-and-crispy style option, and expect special shaped 'zas like hearts around Valentine's Day and cheesy jack-o-lanterns around Halloween. The cost ranges from $10 to $14 for a regular large-sized pizza. Build-your-own pizzas cost $1 per topping, with more than 25 ingredients at the ready.
For a truly efficient pizza-building experience, call ahead with an order and simply drive through the pick-up window to grab and go. Papa Murphy's in south city accepts EBT and also offers up its take'n'bake product as a fundraising option for organizations. Current hours for this location are 11 a.m. to 8 p.m. Sunday through Thursday and 11 a.m. to 9 p.m. Friday and Saturday. Get the full menu and more on the Papa Murphy's website.
Read on to see a step-by-step process of how it all happens.
You've arrived. Now what? | Mabel Suen
Decisions, decisions. | Mabel Suen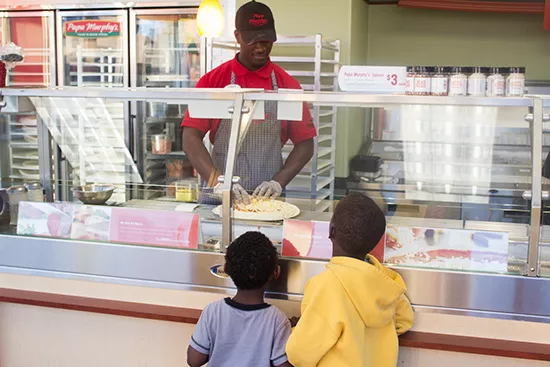 Behold: pizza-making in process. | Mabel Suen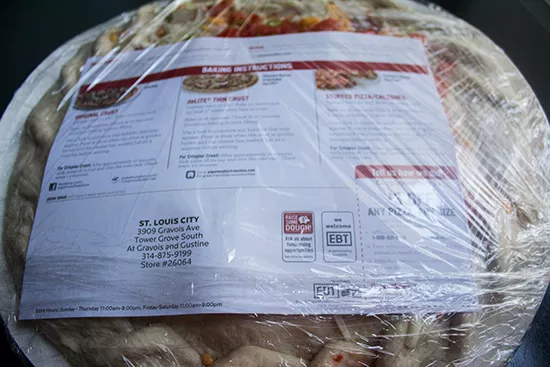 Take that sucker home! It comes tightly wrapped with baking instructions and a tray to bake and serve it on. | Mabel Suen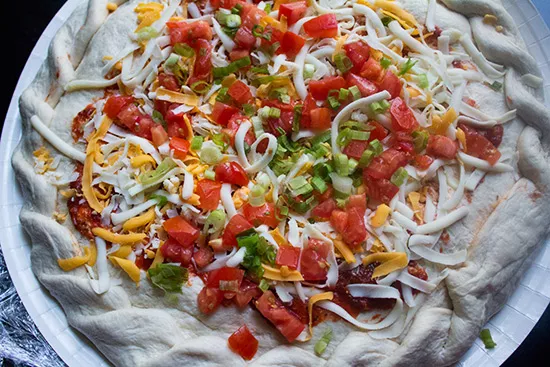 We cannot properly describe how massive this "stuffed" pizza was. | Mabel Suen
Then, what?
Put 'er in the oven! They grow up so fast :'( | Mabel Suen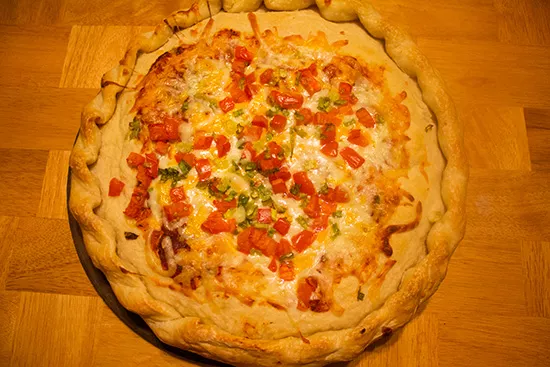 Be careful, it's hot! | Mabel Suen
Now, the moment we've all been waiting for. | Mabel Suen
Is it a pizza? Is it a calzone? Either way, it's a whole lotta food. | Mabel Suen
See also: - First Look: Tripel Brasserie - First Look: Sister Cities - First Look: Fizzy's Soda Fountain
Gut Check is always hungry for tips and feedback. Email us!