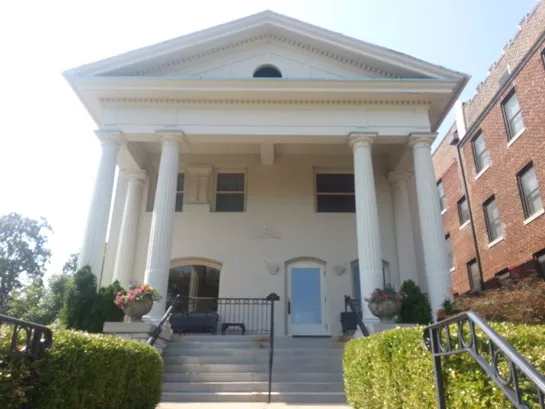 Soon-to-be-Nathalie's | Nancy Stiles
4356 Lindell Boulevard has been many things (even a mortuary) and Nathalie Pettus is hoping this is the one that sticks. The woman behind Overlook Farm in Clarksville is opening a new restaurant, Nathalie's, in the 19th century mansion which the late, great Salt recently vacated, as first reported by the Post-Dispatch.
See also: Salt, Landlord Appear Headed to Trial
Pettus opened Savor in the same building in 2005, and from the looks of it, she's restoring it to its former glory. Although Salt had a critically acclaimed two-year run, it was plagued with legal troubles and chef departures. Pettus tells Gut Check that while things didn't work out for them, she couldn't be happier to make something for the Central West End.
"I want to improve things, I want to rejuvenate, I want to renovate -- like this building," she says. "I know that so much of the success of this place is the building. It's beautiful." Pettus is restoring one of the front rooms to its brightly painted walls and moulding that she reluctantly allowed the owners of Salt to change. There's also a great, intricate fireplace original to the house that Pettus found hidden behind a cheap rectangular mirror.
There's seating throughout the first floor of the house as well as a patio dining space. The second floor, reached by a robust Victorian staircase that's also original to the house, will hold more tables and has a theater in the back -- "You can hear how much tighter the air is back here" -- with tables at three different heights for optimal views of the stage. Pettus says she plans to have magic, as well as chamber music or perhaps film screenings.
Also on the second floor: sumptuous bathrooms with a Marrakesh theme (ladies) and an Indian Colonial theme (gentlemen) that RFT once named the best in town, as well as a hidden staircase to the third floor -- but we're sworn to secrecy on where! Take the elevator to the basement for a private dining space and chef's tasting table.
Next: the food!
Jimmy Voss, formerly of Duff's, signed on as executive chef at Overlook a last year and will be serving in the same capacity at Nathalie's. Most of the food will be raised or grown at Overlook, and if it's not, Voss and Pettus know where it's coming from. For example, the chicken is from a local Amish community that Pettus partners with; one of the young men was even busy woodworking at the new Nathalie's. Another man, who was painting intricate molding, supplies the lambs.
"When I first signed on, it was first about being on the farm and the excitement of being able to plant hand in hand with my farmer, talking about what seeds to plant," Voss says. "The second year is going to be bigger -- knowing what I want, how to harvest it, how to plan a menu. It's a strange new world, but its really exciting."
Voss says that the menu at Nathalie's will be more adventurous than at Overlook Farm, so he's planning things like New Orleans-style quinoa crab cakes, black bean ravioli (Pettus' favorite), and blueberry chicken. Nathalie's will begin with dinner service at the end of September and hopes to expand into brunch, lunch, and weekday breakfast.
Pettus plans to decorate with a mixture of personal and St. Louis history -- her grandfather was a painter in the Central West End, her grandmother the Veiled Prophet queen in 1906, and another ancestor was the first secretary of state of Missouri. "I love social history, I love the stories of people, especially when they make contributions," she says. "And that's what I want to do."
Gut Check is always hungry for tips and feedback. Email the author at nancy.stiles@riverfronttimes.com or follow her on Twitter.
---