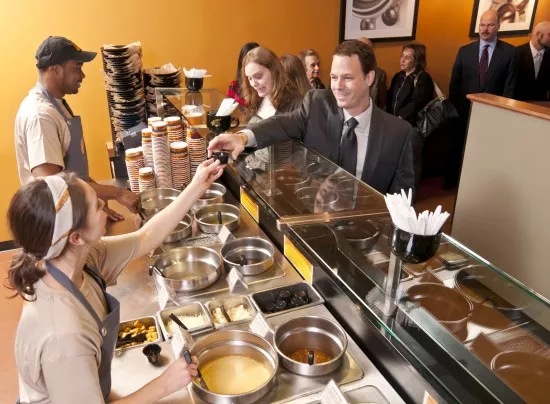 Zoup! at West County Mall. | Julia Gabbert
Zoup!, a fast-casual chain that focuses on soup, is opening a new location at 810 North New Ballas Road in November or December. There is already one Zoup! in Des Peres at West County Mall (I-270 & Manchester Road; 314-800-0414), but it's owned by a separate franchisee. Zoup!, which was founded in Detroit in 1998, has over 100 fresh soups, twelve of which are rotated daily, as well as several vegetarian and gluten-free options.
See also: - First Look: Zoup! Joins West County Center - Nine More St. Louis Soups for National Soup Month - Rick Ross Raps About Panera Bread's Broccoli-Cheddar Soup
Owner Thaer Abdulkarim tells Gut Check he looked at several different franchises, but decided that St. Louis could use something more unique and -- gasp! -- healthy. "I don't see anything like that here," he says. "When I hear of a new place that opens, I want go try it right away. I'm always interested to see something new open up in St. Louis."
Although Abdulkarim is from Milwaukee, much of his family lives in St. Louis, and he spent a lot of time here as a kid. He moved to the area five years ago for a marketing job. "I've always wanted to have my own business," he says. "I worked with a business marketing degree for ten years, but always had that in the back of my mind."
If his first Zoup! venture is successful, Abdulkarim plans to expand to places like Chesterfield and O'Fallon. "St. Louis is like a second home to me. I don't see myself going anywhere else," he says. As for Zoup! -- "Come on and try it. I'm pretty sure you'll enjoy it!"
Gut Check is always hungry for tips and feedback. Email the author at nancy.stiles@riverfronttimes.com or follow her on Twitter.
---