Did the Mayans get it right? Did the world really end least year, and are we living in some sort of post-apocalyptic utopia? How else can one explain the weather? Here at Gut Check, we find it unconscionable that anyone has to work on a such a nice August day in St. Louis. For this reason, we are giving you permission to play hooky from the office, and a few ideas on how to spend the afternoon. Which obviously all involve alcohol.
See also: - This Summer's 7 Best Cocktails - Great Patios for Al Fresco Boozing - 25 Reasons to Love Summer in St. Louis
Gringo's perfect people-watching patio. | Jennifer Silverberg
Gringo (398 North Euclid Avenue; 314-449-1212)
Occupying prime real estate on the quintessential Central West End corner of Euclid and McPherson Avenues, Gringo has transformed the blue-blooded space of the former Rothschild's Antiques into an oasis of tranquilidad, reminiscent of a beachside grill in Cabo San Lucas. The corals and blues of the tables and chairs, whitewashed interiors and lofted, airy ceilings make diners want to languidly gaze out of the wraparound windows for hours as the world passes them by. Gringo's patio provides the perfect beachy vibe and ideal people-watching spot that practically begs you to waste the afternoon day drinking margaritas in flip-flops. And keep an eye out for the fantastic tequila selection.
Water takes day drinking to the next level. | RFT Photo
The Boathouse at Forest Park (6101 Government Drive; 314-367-2224)
When the weather is like it is today, every St. Louisan knows that it is time to hit the park, and Forest Park is the crown jewel of St. Louis parks. It's got it all -- a zoo, museums, golf and the perfect place to grub before or after a day of frolicking: the Boathouse. Sure, the Boathouse is kid-friendly, so it's probably not the place take day-drinking over the edge. (Besides, who says that parents don't need an ice-cold one too?) Regardless, it's the perfect place to kick back, relax and enjoy a glass of wine while taking in one of St. Louis' best waterfront views.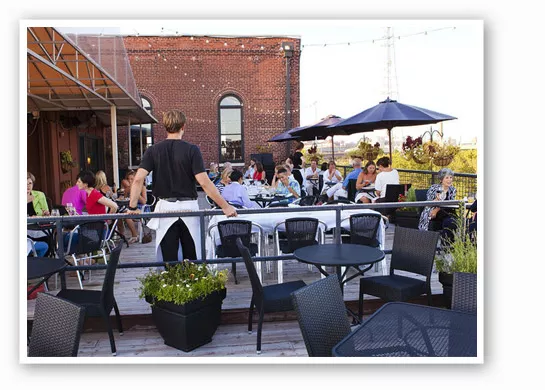 The rooftop patio at Vin de Set. | Laura Ann Miller
The Rooftop at Vin de Set (2017 Chouteau Avenue; 314-241-8989)
Rooftops are synonymous with day drinking, and the rooftop patio at Vin de Set offers some of the loveliest views of the city from its location in the old Centennial Malt House. For those looking for more of a Champagne rather than Budweiser day drinking experience, Vin de Set has one of the most expansive and adventurous wine lists in the city. Here's to sipping in the skies in style.
Sasha's on De Mun (706 De Mun Avenue; 314-863-7274)
Sasha's park-front De Mun location is the perfect place to congregate when you want to sneak out of work and celebrate the day with a glass of wine and a cheese plate. The atmosphere is stylish but humble, featuring the requisite doses of glass block, exposed brick and handmade wine racks. The list contains more than 60 wines, all available by the bottle, glass or 1.5-ounce taste. Build a foundation from the ample selection of house-made soups, salads and sandwiches or -- go ahead, you deserve it! -- splurge on caviar and a bottle of Champagne.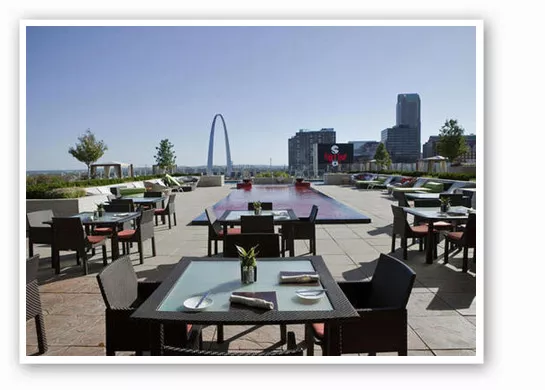 The view from Cielo's rooftop. | Laura Ann Miller
Cielo (999 North Second Street; 314-881-5800)
You could, of course, go up in the Arch if you're seeking out a great view of the city, but you might notice a couple important things missing from your view -- specifically, our iconic landmark itself, a gentle Midwestern breeze and (most importantly for this list) a cocktail. Cielo's sprawling patio, located on the eighth floor of the Four Seasons Hotel, provides the perfect setting for falling in love with the city over a daytime beverage.
Gut Check is always hungry for tips and feedback. Email the author at cheryl.baehr@riverfronttimes.com or follow her on Twitter.
---