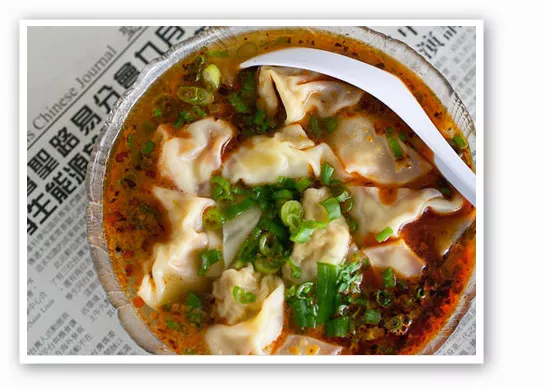 The Spicy Wonton Soup at Famous Szechuan Pavilion. | Jennifer Silverberg
Cravers of capsaicin rejoice: Today is National Hot and Spicy Food Day. This celebration of fiery foods is the perfect excuse to sample St. Louis' contribution to the category. So that all levels of spice connoisseurs can participate in the fun, the list includes a broad range of spice levels. While some dishes give a gentle burn, others will light your taste buds on fire. Just don't blame us tomorrow morning.
See also: - Ten Best Mexican Restaurants in St. Louis - 2012 Best Food Truck: Guerrilla Street Food - Seoul Taco and Chop Shop Review and Slide Show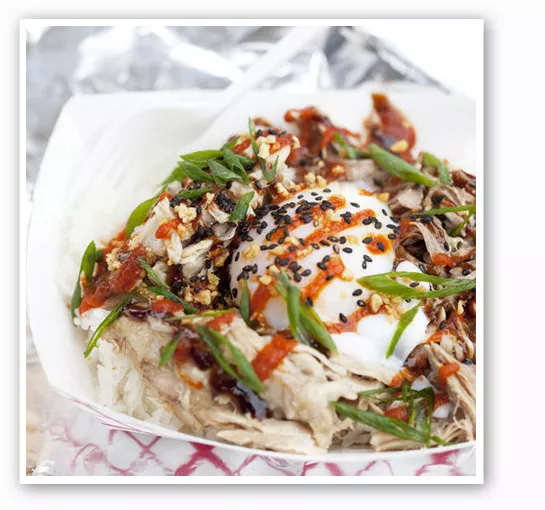 The Flying Pig at Guerrilla Street Food. | Jennifer Silverberg
The Flying Pig at Guerrilla Street Food (@guerrillastreet, www.guerrillastreet.com; 314-529-1328)
Brian Hardesty and Joel Crespo bring the hot and spicy to the customer via their famous food truck, Guerilla Street Food. The "Flying Pig" is Guerrilla's standout dish: tender, slow-roasted pork on a bed of jasmine rice. The meat's natural flavor is subtly spiced and then spiked with chiles, Sriracha sauce and calamansi (a lime-like citrus fruit). And there's that slow-cooked egg on top, which has a texture like no other egg you've ever eaten: white and yolk are thick and supple, like custard. We'd happily eat one of these eggs on its own; deployed in tandem with the pork, it fully justifies the dish's name.
The Kim Cheese Burger at Kim Cheese. | Jennifer Silverberg
The Kim Cheese Burger at Kim Cheese (13435 Olive Boulevard, Chesterfield; 314-485-1408)
Kim Cheese takes on one of the nation's hottest culinary trends: Mexican-Korean fusion. This seemingly odd marriage turns out to be a match made in heaven. The "Kim Cheese Burger" pairs thin slices of grilled rib-eye steak with a generous serving of kim chi and tops them, classic burger style, with tomato, onion and a slice of American cheese. The savory-sweet beef, the funky kim chi and the tangy cheese manage to surprise at the same time the combo presses your fast-food-pleasure buttons. While the Mexican element is not on display in this dish, it shows Kim Cheese's willingness to push past the basic Korean-Mexican trend to something both quirkier and more universally appealing: a quality-conscious, Korean-Mexican-American fast-food mashup.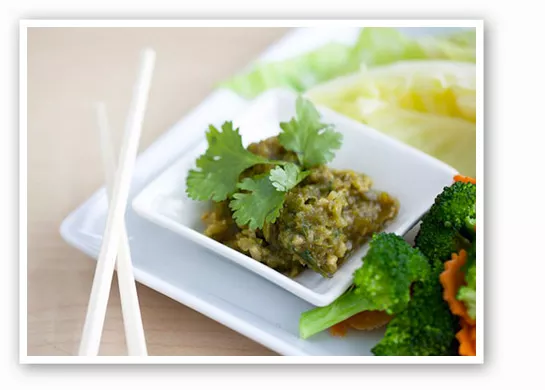 Sai Oua with Naam Prik Nuum. | Jennifer Silverberg
Sai Oua with Naam Prik Nuum at Fork & Stix (549 Rosedale Avenue; 314-863-5572)
Sai oua is grilled pork sausage with a powerful lemongrass note. It's delicious by itself, but adding naam prik nuum takes it to another level entirely. Naam prik nuum is a coarse sauce of roasted green chiles with garlic, cilantro and shallots. It's brightly flavored and -- fair warning -- devilishly hot and the perfect accent to the earthier pork. Vegetarians among you: Do not fret. You don't need to order the sai oua to enjoy the naam prik nuum. An order of the sauce comes with steamed vegetables; add a side of sticky rice for a nominal cost, and you have a complete appetizer or small meal. And don't hesitate to ask the Fork & Stix staff for further guidance. In our experience, they are more than willing to discuss their dishes and how you might best enjoy it.
Seoul Taco's burrito. | Ian Froeb
Seoul Taco's Burrito (571 Melville Avenue, University City; 314-863-1148)
The brick-and-mortar operation of the popular Seoul Taco food truck presents the entire menu within its tiny Delmar Loop storefront. It also offers one attraction that the truck doesn't: a burrito, arguably its best dish. You choose the protein inside the burrito: bulgogi beef, chicken, spicy pork or tofu, but the star isn't the meat (or tofu). It's the kimchi-fried rice. Unlike the rice in a typical burrito, the kimchi-fried rice doesn't serve as ballast. Instead, its funky, spicy flavor is the centerpiece of the dish. Lettuce, carrots, green onion, sour cream, cheese and the restaurant's own "Seoul Sauce" add as much flavor and textural contrast as the protein does. This is the embodiment of an unlikely food marriage made in heaven.
Xin Lin, owner of Famous Szechuan Pavilion, sits for a moment to enjoy lunch. | Jennifer Silverberg
Yu Shan Pork at Famous Szechuan Pavilion (8516 Olive Boulevard; 314-685-0888)
If you haven't visited Famous Szechuan Pavilion and tried the incredible dishes there, then you can't say you've experienced the full range of culinary delights that St. Louis has to offer. For a shot of straight-up capsaicin, try the yu shan pork: slivers of meat and chopped scallions and red chiles in chile oil, the savory blend of pig and garlic quickly giving way to a heat so powerful that leaves one begging for a pain-killing remedy.
Lamb vindaloo at India Palace. | Ian Froeb
Lamb Vindaloo at India Palace (4534 North Lindbergh Boulevard, Bridgeton; 314-731-3333)
Vindaloo traditionally offers a distinctive sour or tart note. Whether India Palace's version provides this through vinegar or tamarind paste or something else entirely, it is here in the precise proportion needed to balance out both the hot and the savory elements. The lamb vindaloo at India Palace is beautifully balanced. The heat of red chiles is strong -- just look at the dish's brilliant red color -- but not brutally so. It dampens your forehead, for sure, but never overwhelms the interplay of the complex spice blend and the thickly cut and richly flavored lamb.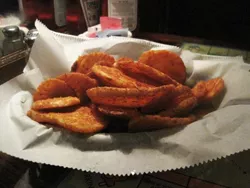 Buffalo fries at Blueberry Hill. | Ian Froeb
Buffalo Fries at Blueberry Hill (6504 Delmar Boulevard, University City; 314-727-4444)
Sure, Blueberry Hill is known for its famous burgers, and they are delicious in their own right. However, to turn a good meal into a mouth-tingling feast, pair the burger with Buffalo fries. So called because they pack some heat -- though they taste more like really kicked-up seasoned fries than traditional Buffalo wing sauce -- the fries are just a terrific snack, starter or side dish: crisp, salty, spicy and, yeah, a little greasy. To make the day extra decadent, ask for a side of blue cheese dressing.
Chile Morita con Puerco at Senor Pique. | Ian Froeb
Chile Morita con Puerco at Senor Pique (14870 Manchester Road, Ballwin; 636-394-3455)
Señor Pique might look like just another Mexican restaurant slinging chips and salsa and margaritas to the west-county masses -- and, yes, you can get all three of those items here -- but the menu offers more unusual dishes like the chile morita con puerco. As the deep, brick-red color of this sauce might suggest, the morita chile is very hot. It has the smoky flavor of chipotle -- indeed, you will often see it advertised as a chipotle morita or something similar -- with a slightly fruity note. It pairs beautifully with hunks of pork tenderloin. Eat it as is or fold it into corn tortillas (provided with the meal) to make a taco. Either way, it's likely to sear even the most jaded palates.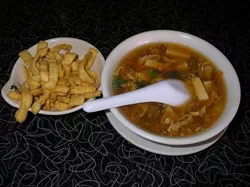 Hot and Sour Soup at Shu Feng. | Ian Froeb
Hot and Sour Soup at Shu Feng (8435 Olive Boulevard, University City; 314-983-0099)
A great bowl of hot and sour soup can clear the sinuses. So it happens at Shu Feng Restaurant, where the soup's one-two punch of pepper and vinegar makes the eyes fill with tears after a few bites. This fiery and piquant liquid will cause dots of sweat appear on the forehead as one revels in the joyous warmth. Sure, it's summer, but the soup is too good to wait for the winter to enjoy its spicy yumminess.
Spicy Fried Chicken at Porter's. | Ian Froeb
Spicy Fried Chicken at Porter's Fried Chicken (3628 South Big Bend Boulevard, Maplewood; 314-781-2097)
Nothing fancy here. Porter's serves your fried chicken in a plain white box whether you're eating in or taking it to go. No need for bells or whistles, really. This is as good as fried chicken gets in St. Louis. The batter is crisp and, if you like, spicy; the chicken is tender, with just the right amount of grease to be sinful rather than sickening. The spicy chicken takes an extra fifteen to twenty minutes to prepare, but it's worth the wait. Not very spicy -- probably a two on a five-chile scale -- it nevertheless kicks hard enough to send Porter's chicken to the next level.
Gut Check is always hungry for tips and feedback. Email the author at cheryl.baehr@riverfronttimes.com or follow her on Twitter.
---