Don't mind if we do. | Nancy Stiles
As you know, Gut Check loves desserts, booze and rooftops -- so we couldn't miss Cielo's (999 North Second Street; 314-881-5800) A Taste of Summer event Thursday night. The restaurant on the eighth floor of the Four Seasons Hotel hosted four of the city's top pastry chefs (plus its own), and we couldn't have asked for better weather (seriously, is it August?). Don't worry, we documented the sweets thoroughly for your enjoyment.
See also: - Cielo Hosts Dessert & Cocktail Tasting to Benefit St. Louis Children's Hospital - The Five Best (Not Cheap) Italian Restaurants in St. Louis - The Ten Best Outdoor Dining Spots in St. Louis
Nathaniel Reid explains his dessert to some lucky guests. | Nancy Stiles
The evening began with Nathaniel Reid from the Ritz-Carlton Hotel (100 Carondelet Plaza, Clayton; 314-863-6300). He whipped up some white chocolate yuzu ice cream with strawberry sorbet topped with a mini macaron. The mixture was perfect, and we may or may not have had two. It was paired with an Alper's Former Life, made with tequila, Sriracha honey syrup and amaro -- we weren't expecting the drink to be so spicy, but the sorbet was more than enough to cool us off.
Macarons taste better when overlooking the Arch. | Nancy Stiles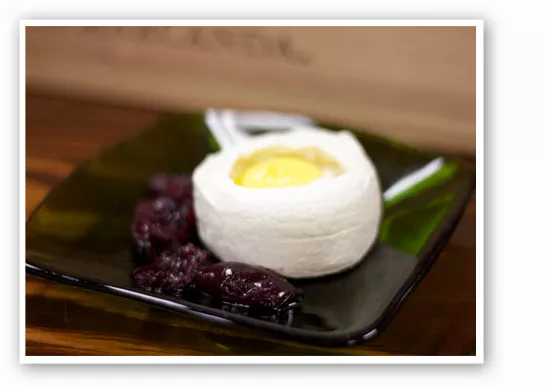 Just add cherry. | Nancy Stiles
Next we headed inside to try a summer pavlova with lemon creme, brandied cherries and cherry sorbet truffle from the Four Seasons' own Mary Boehne. The best part, though, was the candied cherry that went on top. The cocktail was even spicier than the first -- the Unusual Margarita is made with jalapeno tequila, cucumber lime shrub and Cointreau -- so we made sure there was a little pavlova left!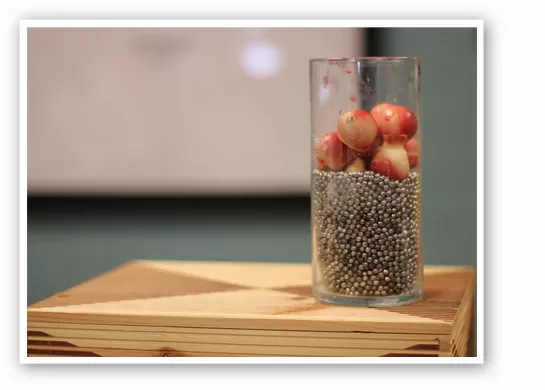 The candied cherries were sweet as can be. | Nancy Stiles
Next: more macarons!
Next stop: pear town. | Nancy Stiles
Simone Faure from La Patisserie Chouquette (1626 Tower Grove Avenue; 314-932-7935) -- with adorably Gallic business cards on hand -- made lavender poached pear and mascarpone gateaux with a mini lavender macaron on top. (Forget cupcakes, we think mini macarons are where it's at.) The pears she used were local and just came in season. The gateaux went with a Brown Butter Hemingway Daiquiri -- a heady mix of brown butter-infused rum, apple juice, lime juice, simple syrup and Luxardo maraschino liqueur.
Deceptively peachy tea cakes. | Nancy Stiles
Back in the pastry room (which smells just as you would imagine), there was peach frangipan tea cake topped with blackberry cream and, of course, a blackberry, from Christy Augustin at Pint Size Bakery (3825 Watson Road; 314-645-7142). They were like little muffins with a delicious, gooey inside. At this point, we were almost on sugar overload, but we kept on truckin' for you, dear reader.
The grand finale. | Nancy Stiles
The last dessert was from Anne Croy at Pastaria (7734 Forsyth Boulevard; 314-862-6603). It was a plum hazelnut crostada with crème fraîche gelato. We took our little tart from the pastry room and enjoyed it at one of the outdoor tables overlooking the Arch on the unseasonably pleasant August night. The final cocktail was the Empire, made with Bombay Sapphire gin, lillet, Campari, Luxardo and dry vermouth.
Continue for more photos!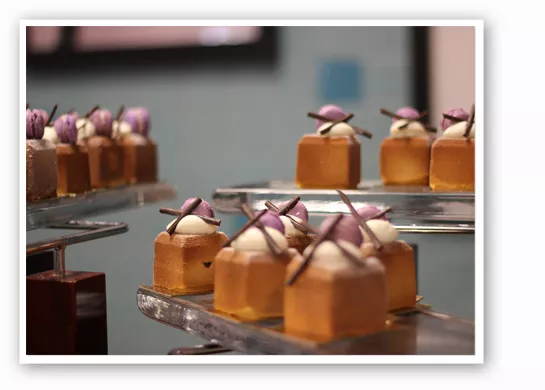 This should be enough to convince you to visit La Patisserie Chouquette. | Nancy Stiles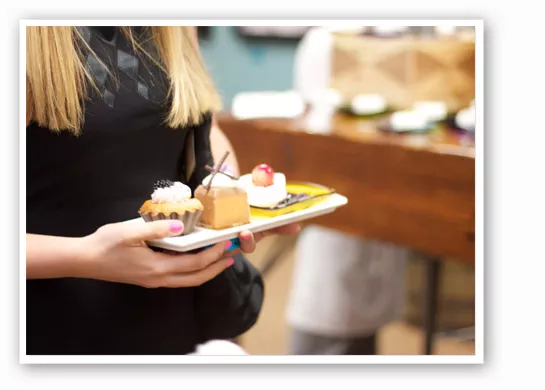 We'll take one of each, please! | Nancy Stiles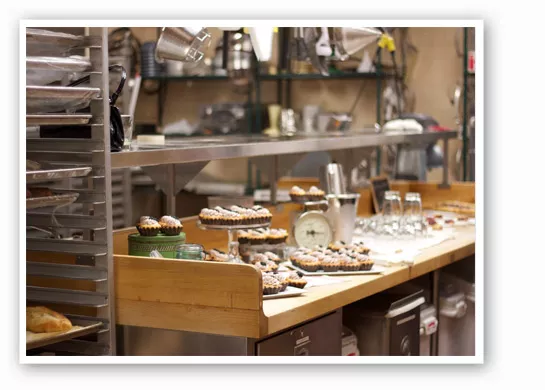 The pastry room smells like heaven. | Nancy Stiles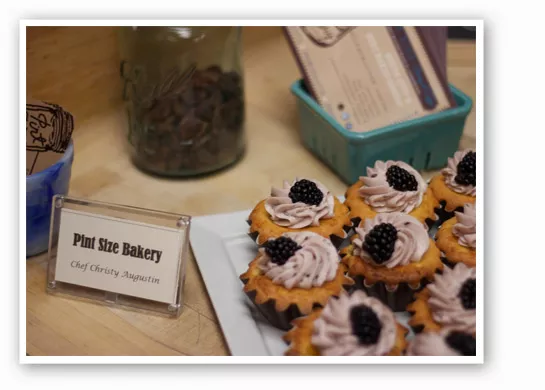 We loved the in-season pears. | Nancy Stiles
Oh, just a rooftop pool. | Nancy Stiles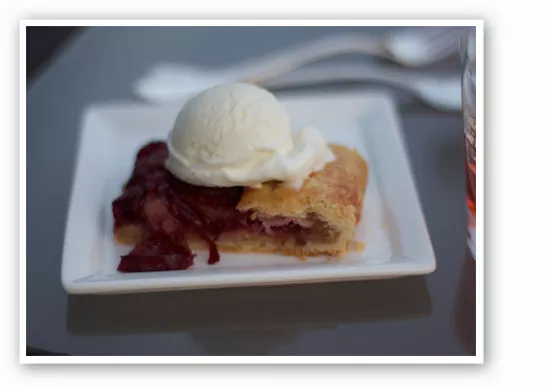 Refreshing creme fraiche. | Nancy Stiles
We think mini macarons are the next big thing. | Nancy Stiles
Gut Check is always hungry for tips and feedback. Email the author at nancy.stiles@riverfronttimes.com or follow her on Twitter.
---