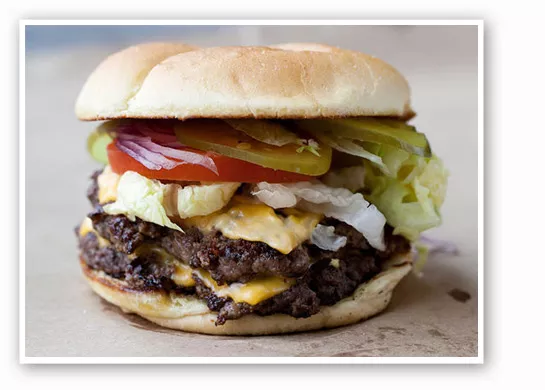 Will the burger from Alumni St. Louis win? | Jennifer Silverberg
No, Bravo isn't bringing its TV cameras to STL. But you'll probably still want to check out the Top Chef Ultimate Burger Challenge on Sunday, August 18, if only to get a chance to taste some beefy deliciousness from some of St. Louis' best burgermeisters.
See also: - Local Chefs to Compete in Grass-Fed Beef Burger Cook-Off - The Animal is Back: Look Inside The Dam - Sugarfire Smoke House's Beef Brisket: One of 100 St. Louis Dishes You Must Eat Right Now
Alive and Sauce magazines are hosting the annual event at Circa Properties at 5501 Pershing Avenue from noon to 4 p.m. A $25 ticket gets you six sliders (taste one from each chef), plus two drinks (one beer and one cocktail).
The competitors are Zach Rice of Three Monkeys, Bob Waters of Blueberry Hill, Mike Johnson of Sugarfire Smokehouse, Eric Brenner of Alumni Saint Louis, Ian Craig of SubZero Vodka Bar and Matt Galati of The Dam.
Blueberry Hill's Bob Waters and John Roman kicked around a few suggestions, like a Reuben burger or a Southwest burger with black-bean corn relish before settling on a Cuban burger for Sunday: a patty topped with Canadian bacon, Swiss cheese, pulled pork and aioli sauce. "We've done a few small practice batches and tested them out on the employees," Waters tells Gut Check. "They loved them! Even Joe [Edwards] had one. He loved it."
SubZero Vodka Bar's Ian Craig is actually baking his own buns for Sunday's competition -- they'll have pecan-smoked bacon in the bun! He'll also be using a bourbon-brined pork-belly topping and a pub-style cheese that he makes with smoked cheddar and some other ingredients. "I cook burgers all the time, so I'm not really worried," Craig says.
Matt Galati, who just starting slinging burgers this week and at the newly opened the Dam, went a little simpler. "I didn't know how to get super creative without making something people couldn't get at the restaurant," he says. Galati's burger is called "The Belgian," and it will have Sriracha mayo and bacon. It isn't on the Dam's menu, but Galatia says they have all the ingredients, so he'll gladly whip one up for you. He also competed at the Whole Foods grass-fed burger cookoff a few weeks ago with the little version of "The Animal," "The Critter." It didn't win, so Galati came up with something new for this weekend. No one has tasted it, yet, though. "I guess I should make one after this!" he laughs.
You can get tickets here -- and be ready to eat!
Gut Check is always hungry for tips and feedback. Email the author at nancy.stiles@riverfronttimes.com or follow her on Twitter.
---