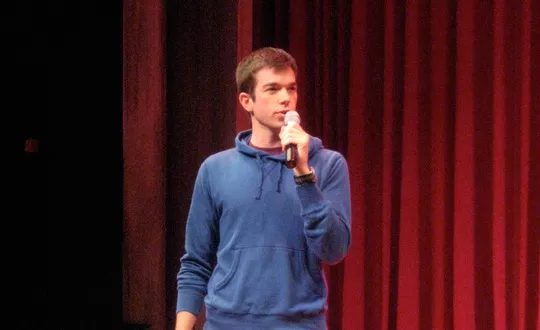 John Mulaney's show is sponsored by the St. Louis Area Foodbank. | Zena C
The St. Louis Area Foodbank knows that hunger really isn't a laughing matter, but that doesn't mean we can't laugh for its benefit. For the second annual Hunger is No Laughing Matter event, comedian John Mulaney will be at The Pageant (6161 Delmar Boulevard, University City; 314-726-6161), Saturday August 17.
See also: - St. Louis Public Library Forgives Fines for Food - The Best St. Louis Comedy Shows in August 2013 - Organic Produce to Your Door: Green B.E.A.N. Delivery Service Expands to St. Louis
"It just came out of the idea that we were looking for an event that would be reasonably inexpensive and make it a fun night out, and for people that aren't familiar [with us], its an opportunity to learn about the organization, and the issue of hunger and what we're doing in the community," St. Louis Area Foodbank's Ryan Farmer tells Gut Check.
Mulaney is a writer on Saturday Night Live (he co-created "Stefon" with Bill Hader) and had his own Comedy Central special in 2009. He's also been on Kroll Show, Late Night with Jimmy Fallon, Best Week Ever and The Jeselnik Offensive. This is the first time he'll be performing in St. Louis.
There will also be a raffle for a Microsoft Surface tablet, donated by the Microsoft store at the Galleria, and a contest for a $150 gift card to Green B.E.A.N. Delivery. "So it's not just a comedy show we wanted to make it a more laid back and casual event where you can learn a little bit more about the food bank and also have a good time," Farmer says.
You can buy $30 tickets here or by calling The Pageant's box office at 314-726-6161.
Gut Check is always hungry for tips and feedback. Email the author at nancy.stiles@riverfronttimes.com or follow her on Twitter.
---