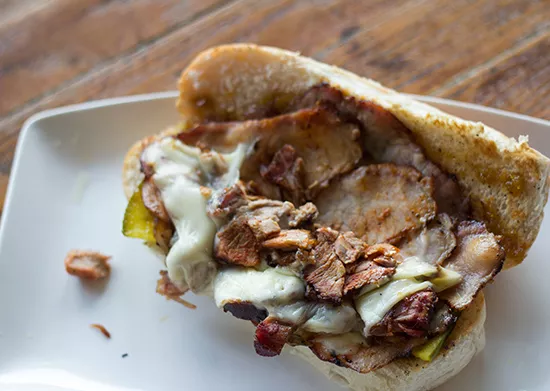 Sister Cities' Cuban sandwich | Mabel Suen
In June, Sister Cities (4144 South Grand; 314-875-9653) opened in the Dutchtown neighborhood. Named in regard to French heritage parallels between St. Louis and New Orleans, business partners Pamela Melton and Travis Parfait serve up a corresponding mashup of Cajun food and home-style Midwest barbecue with all the fixins.
See also: - First Look: Fizzy's Soda Fountain and Grill - First Look: The Dam
"We like to say Louisiana soul with St. Louis style because we definitely have authentic Cajun food as the star," says Melton."There's a little something for everybody. It's not pretentious -- Cajun food is based around poor man's food, so you might get a roll of paper towels on your table with your dinner."
Melton says this is her first dive into the restaurant business, though she grew up in the world of hospitality -- her mother owned a few businesses including Raintree Golf Course and Country Club. Head chef and beau Parfait is no stranger to the culinary world either: He has had several years experience in the back of the house, working predominately with Cajun chefs in a town just south of New Orleans and most recently in St. Louis as the kitchen manager of Southtown Pub.
Co-owners Travis Parfait and Pamela Melton. | Mabel Suen
Recommended dishes include Parfait's seafood gumbo and Melton's Cajun nachos, which slathers housemade potato chips in red beans, cheese topping, pepperoncini and Cajun garlic dressing. The menu also includes smoked meats, pork steaks and sides inspired by the holidays like homemade green-bean casserole, potatoes au gratin and fried potato salad.
"The smoked meat also threatens to steal the show. We have a custom-built smoker right out back. We smoke all our meat including our Cajun wings," says Melton. "We had been making our own dry rub by dehydrating our own vegetables at home... They're sweet, savory and have got a kick."
Gut Check didn't order any barbecue this time around, but considering Parfait's experience with Southtown Pub, named best chicken wings in 2012, we suspect they're worth trying out.
Sister Cities' 1,200-square-foot dining room seats about 44, with a 1,000-square-foot bar side in the works. Sister Cities is open Tuesday through Sunday from 11 a.m. to 9 p.m., with plans to extend hours pending a liquor license. Follow them on Facebook.
Click ahead for more photos!
A cup of gumbo | Mabel Suen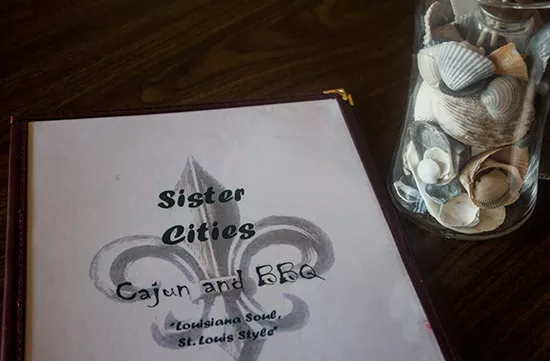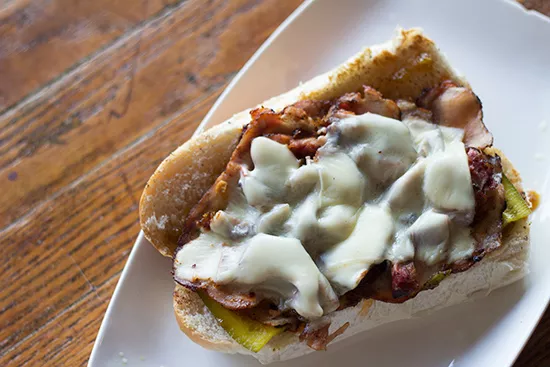 Are you hungry yet? | Mabel Suen
Cajun nachos with chicken | Mabel Suen
Fried potato salad | Mabel Suen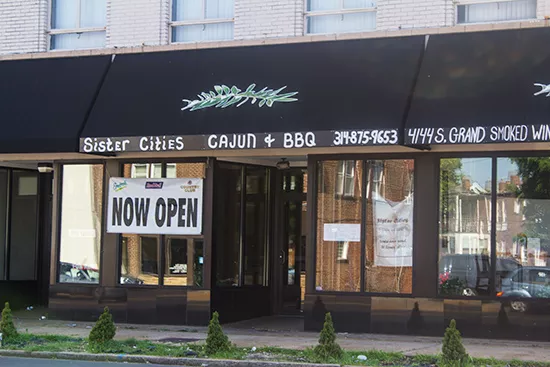 Gut Check is always hungry for tips and feedback. Email us!