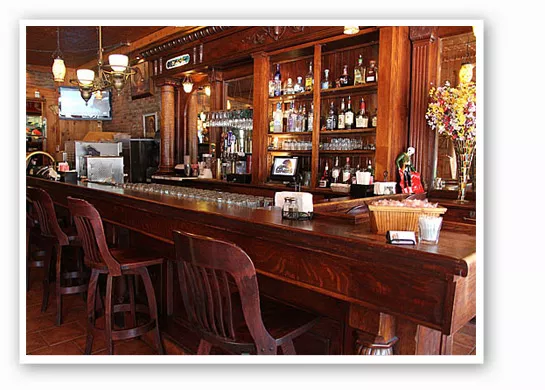 Chavas has ten flavors of margarita. | Madelaine Azar
Within the last few years, St. Louis has been lucky enough to experience an explosion of Mexican cuisine, with new restaurants popping up offering both authentic and modern options. Cherokee Street in particular has gained a well-deserved reputation for serving as the epicenter, but our collective craving for chips and salsa, taqueria fare and top-shelf margaritas has spread out across the city -- by the time you read this, a new taco shop will have probably opened up. In fact there are so many worthy contenders for Best Mexican, we had tough time selecting our ten favorites. Nevertheless, here's a helpful list of places to start.
See also: - First Look: Mission Taco Joint Preps Fresh Tortillas and West Coast Inspired Mexican Food in the Delmar Loop - One Nation, Under Tacos: How Mexican food conquered America - Gringo Could Use a Refresher Course on Mexican
Chava's (925 Geyer Avenue; 314-241-5503)
Fresh salsa and tortilla chips in abundance get things started, and ten different margarita flavors get it finished. Chava's menu keeps things short and to the point: tacos, a fajita platter, a burrito, an enchilada, a tostada and the like. The fajita platter and its close appetizer cousins (fajita quesadilla and fajita nachos) are sizzling-steak standouts, as are tacos de Guadalajara, a pair of flash-fried flour tortillas clamped around seasoned ground beef, lettuce, tomato, onion and a clever blend of grated Monterey and Parmesan cheeses. One of our favorite dishes here, though, is the vegetable quesadilla. Literally bursting with veggies, this baby packs flavor. You'll find carrots, zucchini, green beans, onions, baby corn and red, yellow and green peppers.
See also: - Soulard: A Glutton's Guide to St. Louis' Funnest Neighborhood - #77: Vegetable Quesadilla at Chava's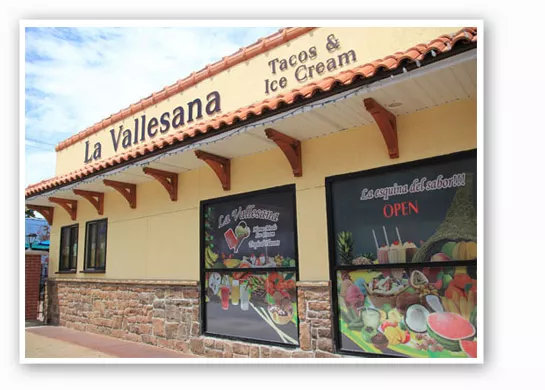 Good food isn't hard to find on Cherokee Street. | Madelaine Azar
La Vallesana (2801 Cherokee Street; 314-776-4223)
Next time you find yourself sitting on La Vallensana's outside patio watching the residents of Cherokee Street stroll by, order up tacos al pastor: that's smoked pork, grilled pineapple, onion and cilantro on corn tortillas topped with fiery red or green salsa -- trust us on this. But if you can't live by tacos al pastor alone? Try a burrito with spicy chorizo or an overfilled torta sandwich that deliver the goods and then some. Finish up with a dish of homemade ice cream or paletas, sweet Mexican popsicles made with fresh fruit that will cool off your taste buds.
See also: - Cinco de Cherokee: An Updated Guide to Restaurants on Cherokee Street - Pack a Restaurant Picnic for Your Next Visit to Busch Stadium
Don't be fooled by Mi Ranchito's strip-mall location. | Madelaine Azar
Mi Ranchito (887 Kingsland Avenue, University City; 314-863-1880)
Tucked away in a strip mall just north of the bustling Delmar Loop, Mi Ranchito features a lengthy menu boasting many of the standard Mexican dishes, from burritos, tacos and enchiladas to even heartier plates of carnitas and chile colorado. But you'll probably want to first order one of Mi Ranchito's legendary mammoth margaritas. During the day, stop by for the lunch specials (available every day but Sunday from 11 a.m. till 2:30 p.m.), particularly the chori pollo, a grilled chicken breast topped with chorizo and melted cheese, wrapped up in a soft flour tortilla.
See also: - Gut Check's Guide to Drinko Cinco de Mayo in St. Louis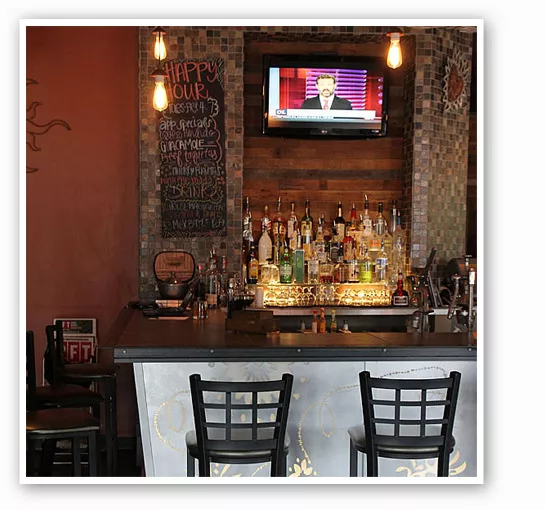 Milagro spices things up. | Madelaine Azar
Milagro Modern Mexican (20 Allen Avenue, Webster Groves; 314-962-4300)
Boasting something a little different, Milagro offers thoughtful and unique presentations of traditional and contemporary Mexican fare. Favorites include the roast chicken smothered in a complex mole poblano, mahi mahi in a bright mole verde or salmon simply dressed in a salsa of mango, cilantro and annatto oil. Simple dishes spiced-up in creative ways, like the Huitlacoche, a Mexican delicacy, add to the fantastic quesadillas tradicionales. Another standout is a tostada appetizer featuring pulled duck meat in a blood orange habanero sauce. Oh, and the top-shelf margarita is topnotch with the tequila of your choice (Don Julio, Patron, Tres Generaciones or Rio Azul), shaken with agave nectar and freshly squeezed lime juice.
See also: - Milagro Modern Mexican's Craig Bielke: Featured Bartender of the Week - Best Tequila Selections in St. Louis
Nachomama's Nacho Grande is can't-miss. | Sarah Rusnak
Nachomama's (9643 Manchester Road, Rock Hill; 314-961-9110)
Welcome to the best independent Tex-Mex fast-food joint in St. Louis. Enjoy the tricolor tortilla chips served in flower pots to go along with guacamole that ranks among the area's best, and the salsas (especially the hottest version) that require a cold bottled beer. The kitchen specializes in burritos, quesadillas and the so-much-more-than-a-side-dish beans. But what you really need to do is order the nacho grande -- choose either steak, chicken, veggie or shrimp with guacamole, sour cream and pico. If you're in need of a quick fix, Nachomama's is speedy and handles pick-up-orders in a flash.
See also: - Gut Check's Survival Guide for 4/20
Siete Luminarias has some more exotic fare. | Madelaine Azar
Siete Luminarias (2818 Cherokee Street; 314-932-1333)
Brothers Ramón and Luis García have added yet another destination to the list of Cherokee Street's fantastic collection of restaurants. At Siete, which we named Best Mexican 2012, you can find tacos, tortas and other standard taqueria fare, but dig a bit deeper to discover more exotic offerings: pambazo is a torta with bread soaked in guajillo-chile sauce; tlacoyos are masa cakes stuffed with melted cheese; tacos de cabeza are made from beef cheeks. Some have even suggested that the carnitas here might be the best-rendered pork in town. It also serves the chips and two kinds of salsa in tiny plastic mule-driven wagons, and that's pretty awesome.
See also: - Best Mexican Restaurant - 2012
Alcohol + tacos = awesome. | Madelaine Azar
La Tejana Taqueria (3149 North Lindbergh Boulevard, Maryland Heights; 314-291-8500)
If you've ever dreamed of a liquor store that serves tacos, you're in luck. The menu at Le Tejana is handwritten and taped to the wall: tacos, tortas and a few platters with meat, rice and refried beans, all made to perfection. Try the tacos campechanos, a mixture of steak and chorizo, or the simple but classic tacos al pastor. On the weekends, La Tejana prepares heavenly carnitas: crisp on the outside, tender inside and outrageously flavorful. Goat soup is another staple -- the flavor is rich and unmistakably, well, goaty as well as spicy, even a spoonful of the broth, minus any of the tender meat that swims in it, has quite the punch. Plus, as mentioned, you're in a liquor store...doesn't get much more convenient than that.
See also: - La Tejana Taqueria's Goat Soup: One of 100 St. Louis Dishes You Must Eat Right Now
Drama with a side of guac. | Nancy Stiles
Taqueria El Bronco (2817 Cherokee Street; 314-762-0691)
When you walk into Taqueria El Bronco, two TVs playing telenovelas will greet you, so prepare for some drama to go along with your amazing meal. Start with a bowl of chunky guacamole to accompany the basket of complimentary tortilla chips. The menu features standard taqueria food, though a few larger entrées are available. It needs to be said and emphasized that the tacos are very, very good, especially with a dash of red or green salsa. Of course, burritos, tortas and quesadillas are all satisfying and go well with the plot twists going down on the TVs.
Come for the combo plates, stay for the brandy margaritas. | Madelaine Azar
Lily's Mexican Restaurant (4601 South Kingshighway; 314-352-1894)
Lily's Mexican Restaurant sits unassumingly on the corner of Kingshighway and Devonshire Avenue, and when you walk into the homey environs, you feel like you've been invited to a big family get-together. The menu features exceptional dishes like those you'd find at taquerias, plus more conventional Mexican restaurant eats: tacos, tortas, burritos, tamales, enchiladas and chiles rellenos. With so many options, we suggest combination plates in addition to the several varieties of homemade salsa. Weekends feature posole, menudo and fantastic huevos chorizos. But your visit to Lily's wouldn't be complete without ordering one of the city's best margaritas: the Special includes brandy, tequila and your choice of amaretto, Grand Marnier or Kahlúa.
See also: - Best Margarita - 2009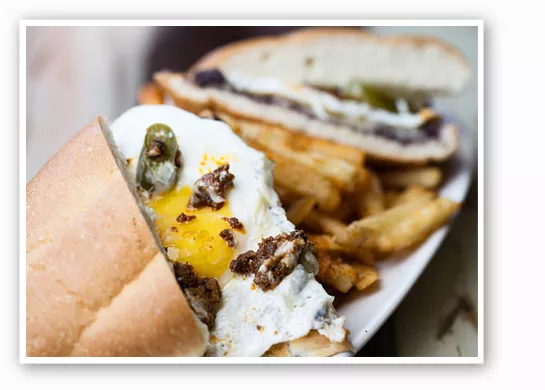 Mission Taco's Chorihuevo torta with chorizo, fried egg, pickled jalapeno, smashed black beans, Chihuahua and garlic lime mayo. | Jennifer Silverberg
Mission Taco (6235 Delmar Boulevard; 314-932-5430)
Don't let the name confuse you. Mission is far more than just a "taco joint." Focusing on all facets of Mexican street fare, the tacos are served taqueria-style on corn tortillas with the traditional garnishes of chopped onion and cilantro as well as lime to squeeze to taste on the side. One of the more intriguing tacos might be the one made with nopal: strips of roasted cactus flesh with poblano chile, caramelized onions, goat cheese and a roasted-jalapeño salsa. And then of course you also have tortas, burritos and freshly fried tortilla chips with salsa or guacamole or queso spiked with chorizo, cerveza and serrano chiles. The standout meat at Mission is the brisket, available in a taco or the "Cowboy" burrito. The meat is luscious, beefy and, thanks to an arbol-chile salsa, smoky and spicy. To top it all off, Mission serves one dessert: freshly fried churros with chocolate sauce for dipping -- it's the only dessert you'll ever want.
See also: - Mission Taco Joint's "Piscojito": Gut Check's Hump Day Cocktail Suggestion - Mission Accomplished: Mission Taco Joint spices things up in the Loop
Gut Check is always hungry for tips and feedback. Email us!
---