A Fizzy's grilled burger with fries. | Mabel Suen
Old-fashioned soda fountains bring out the kid in anyone, regardless of what era they grew up in. Fizzy's Soda Fountain and Grill (29 North Gore, Webster Groves; 314-395-4550) hopes to tap into that fountain of youth, delivering a shot of old-school charm in each of its handmade sodas.
See also: - First Look: The Dam - First Look: Melt on Cherokee Street
Fizzy's opened in Old Webster on May 17, in the century-old building previously occupied by Dr. Jazz, with a full soda shop and grill menu. The twenty-foot-long vintage soda fountain comes with a full freezer built into it and, of course, an original soda-fountain unit. Even the built-in stools and wooden backdrop came from the '30s.
Owner Michelle Bray. | Mabel Suen
Visitors can choose any combination of more than 40 different locally created RIO syrups to flavor a soda or float, and owner Michelle Bray says Fizzy's has already made thousands within only months of opening. Just choose a flavor -- options include everything from birthday cake and cotton candy to classic U-Bet chocolate syrup -- and staff will adjust the amount to your liking, fizz it up with seltzer water and even top it with a scoop of ice cream if desired.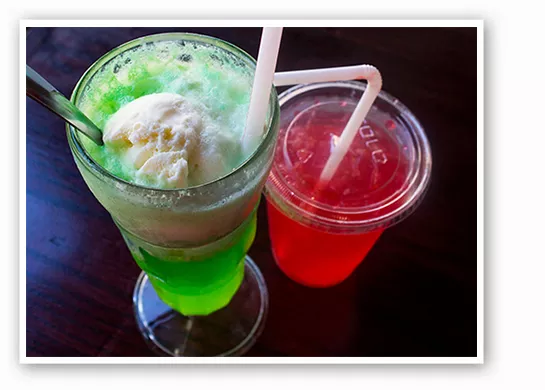 "The Lime Rickey" and a bubblegum flavored "Fizzy." | Mabel Suen
The family-friendly quick-service dining spot offers fuss-free, budget-friendly meals like hot dogs and chicken strips with fries. The simple grill menu offers burgers sourced from Kenrick's Meat Market and Catering in single, double and triple patty options, served on top of Fazio's Bakery buns with a toppings bar handy to dress them up. A "Blast to the Past" meal includes a grilled burger (or other selection) with fries and a Fizzy for a mere $5.99.
In addition to all of the above, Fizzy's also carries Ronnie's ice creams, Quezel sorbets and plenty of lollipops, candies and the like to add to the sugar rush. Look for Switzer sweets, wax lips and mustaches, and picturesque sundaes garnished with a mound of whipped cream and a cherry. Fizzy's also hosts private parties a la sock hops for the kiddos.
Happy customers | Mabel Suen
"We're hoping to take people back to their childhoods, and the days of chocolate soda and the soda fountain as a gathering spot," says owner Michelle Bray. "That's what Fizzy's is all about."
Fizzy's Soda Fountain and Grill's current hours are Monday through Saturday from 11 a.m. to 8 p.m. and Sunday from 1:30 to 6 p.m. Check out its full menu on the official Fizzy's Soda Fountain website, and follow it on Facebook.
See more photos after the jump.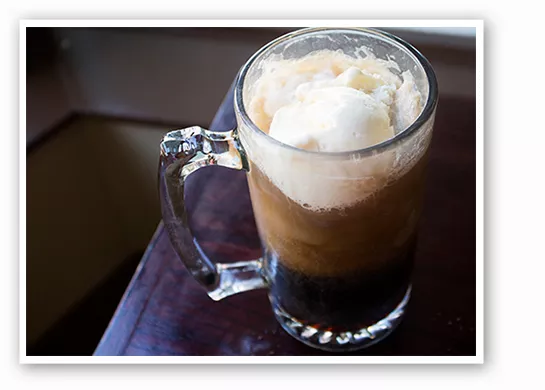 A classic root-beer float. | Mabel Suen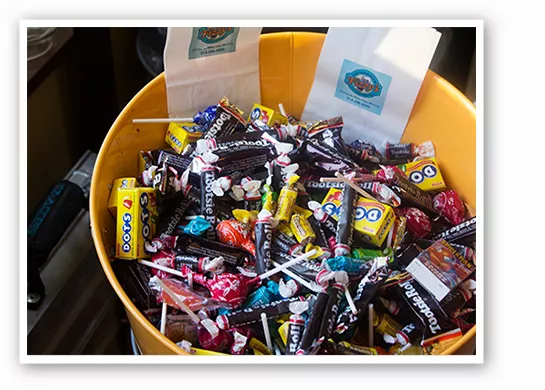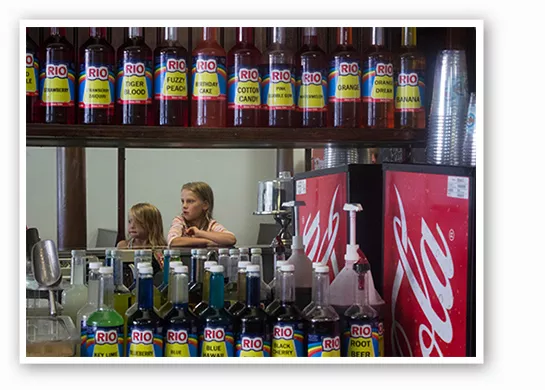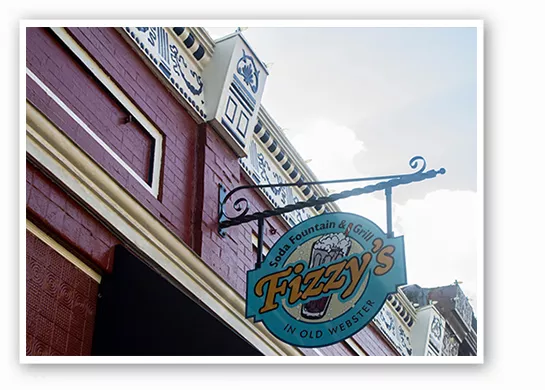 Gut Check is always hungry for tips and feedback. Email us!