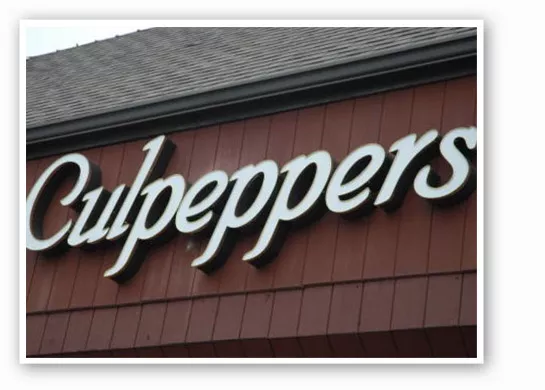 The Creve Coeur location will close August 18. | RFT Photo
Culpeppers (12316 Olive Boulevard, Creve Coeur; 314-469-3888) will close Sunday, August 18 after twenty-four years in business, as first reported by the Post-Dispatch. The Creve Coeur location was the local chain's second outpost out of the current five. The Arnold location, at Highway 141 and Jeffco Boulevard, closed in 2010.
See also: - CWE Culpepper's Now Serving Breakfast, Too - Local Harvest Kirkwood Closing - Jim Edmonds 15 Steakhouse Closing Aug. 31, Will Reopen as The Precinct by Jim Edmonds
Culpeppers COO Chris Olsen tells Gut Check that the Creve Coeur location was forced to close due to an ongoing dispute with the landlord. "We couldn't come to an agreement after twenty-four years with our landlord so a number of months ago we just stopped trying," Olsen says. Is he eyeing another Creve Coeur spot? "I wouldn't rule it out but we haven't looked at that right now."
Olsen assures us that Creve Coeur employees are being taken through their choices this week and that they absolutely have the option to move to one of the four remaining locations. The original Culpeppers in the Central West End opened in 1935, and became known for its chicken wings. The Creve Coeur restaurant opened in 1989. Olsen says the area has been great to Culpeppers and invites patrons to visit them in the Central West End (300 North Euclid Avenue; 314-361-2828), Kirkwood (312 South Kirkwood Road; 314-821-7322), O'Fallon (4401 Highway K; 636-442-5053) or St. Charles (3010 West Clay Street; 636-916-3105).
Gut Check is always hungry for tips and feedback. Email the author at nancy.stiles@riverfronttimes.com or follow her on Twitter.
---