The Food Network's St. Louis Dog. | Becky May
Ahh, baseball. Is there anything this city is more obsessed with? Fans can catch dozens of games each summer, and fortunately there are more than just peanuts and Cracker Jack to go with that $9 Bud Light. Busch Stadium (Broadway and Poplar Street; 314-345-9000) now has several specialty carts and concession stands, and Gut Check tried them so you don't have to.
See also: - Try the St. Louis Nacho Crunch Dog at Tonight's Cards Game - Oscar Mayer Wienermobile Comes to St. Louis - Food Network's "St. Louis Dog" at Busch Stadium Frankly Disappoints
Busch finally got a kosher cart. | Becky May
Kohn's Kosher Knackwurst (Kohn's Food Cart)
Kohn's Kosher cart debuted this season, the first kosher stand at Busch since Best's Kosher Hot Dog Stands left (and stopped production) in 2008. You can get the knackwurst, knosh or Kohn's famous pastrami sandwich. The wurst is just as good as the classic ballpark dog, and Kohn's has been a staple in the community since 1963. Busch even hosted its first Jewish Community Night in July -- but you don't have be Jewish to enjoy this all-beef frank.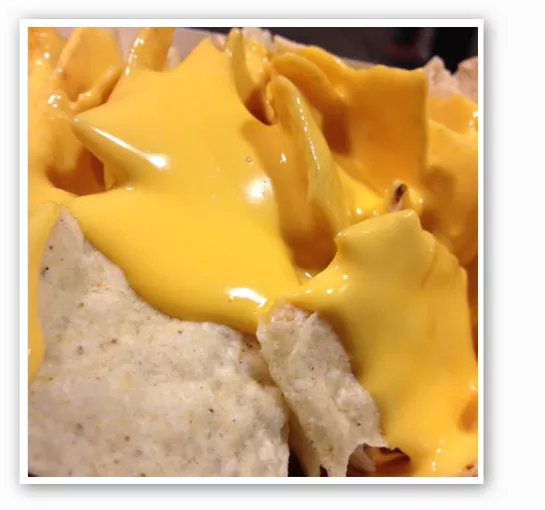 Look at all that cheese. | Becky May
Classic Nachos (El Birdos Cantina, main level in section 148)
Nachos are a sports-game staple in general, and it doesn't get better than that (probably) fake, melty cheese. The nachos at El Birdos Cantina are the same as around the stadium, but you can add shredded chicken and jalapenos here. Oh, and pulled pork. There's also an El Birdos Cantina build-your-own nachos station in section 141, but you can't go wrong with the original. Plus, at $6.75, nachos are one of the cheaper items that aren't like, peanuts. Did we mention all the cheese?
The Food Network's St. Louis Dog. | Becky May
The St. Louis Dog (The Food Network Hot Dog Bar, main level in section 144)
We haven't been big fans of the St. Louis Dog, but we decided to give it another go. The quarter-pound frank is covered in shredded Provel, Red-Hot Riplets and barbecue sauce and nestled in a huge bun in a bed of Miss Vickie's Salt & Vinegar chips. You might need a fork, and you'll definitely need napkins. It took a few bites for us to get to the actual hot dog, which was delicious. And let's be honest, we'll eat anything topped with Provel. The St. Louis Dog isn't for everyone, but perhaps you should try it just once, Man Vs. Food-style.
BBQ Pulled Pork Sandwich (Broadway BBQ, main level in section 509; Triple Play, main level in section 152; loge level in section 270; Riverview Corner, terrace level in section 432)
If the Food Network really wanted to create a St. Louis dog, they should have started with pulled pork. Yes, it's a staple around town, but there's no reason you can't have barbecue at the ballpark. Besides, it's available all around the stadium.
Fresh, in every sense of the word. | Becky May
Turkey Club Sandwich (The Carvery, behind Gate 2)
A turkey club might sound like an uninspired choice for our favorite eat at Busch, but hear us out. The name of the stand is quite literal -- they carve the turkey right there in front of you. And boy is it fresh, settled on a bun from Fazio's on The Hill. We topped ours with cheese, bacon, tomato and lettuce with a side of The Carvery's house-fried barbecue chips and coleslaw. If you're going to spend $11 on something at a game (and you will) make it the turkey club.
Did we miss anything? Let us know!
Gut Check is always hungry for tips and feedback. Email the author at nancy.stiles@riverfronttimes.com or follow her on Twitter.
---