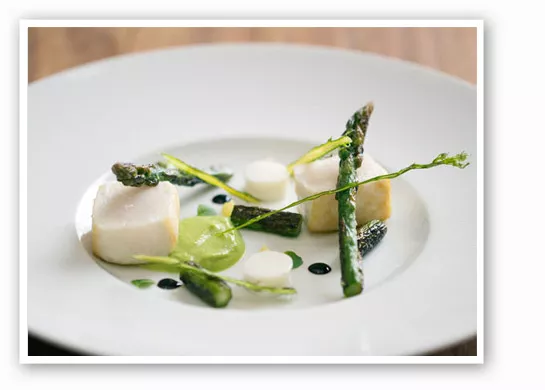 Escolar, along with asparagus, buttermilk and lemon verbena at Niche. | Jennifer Silverberg
Bon Appetit magazine has released its 50 nominees for the best new restaurant in the country, and two of our own made the cut. Elaia and Olio (1634 Tower Grove Avenue; 314-932-1088) and Niche (7734 Forsyth Boulevard, Clayton; 314-773-7755). Both have been praised here in town, but it's nice to see St. Louis getting some national attention (that's not, you know, crime-related).
See also: - Best in Shaw: Botanical Heights hits the jackpot with chef Ben Poremba's far-from-identical twins Elaia and Olio - Niche Knowing You: What local restaurant would Ian Froeb choose for his last meal? - Esquire Features Urban Chestnut Brewing Company, Bon Appetit Prints Blood & Sand Recipe
The nominees were selected by Bon Appetit's restaurant and drinks editor, Andrew Knolton. The 50 nominees will be trimmed down to ten on August 14 for the annual Hot 10 list; the magazine will also name the Best New Restaurant in America.
Niche was singled out for its risk-taking and creativity, especially when it comes to the vegetarian tasting menu. The magazine also loves chef Gerard Craft's coxinha and, of course, the boozy popsicles. Olio was praised for the vibe in general as well as the tasting menu. Knolton recommends Elaia's pig ear "Amatriciana" and Olio's kale and anchovy salad.
Last year Missouri didn't even make the list, so fingers crossed that one of our standouts goes to the next round. Stay tuned!
Gut Check is always hungry for tips and feedback. Email the author at nancy.stiles@riverfronttimes.com or follow her on Twitter.
---