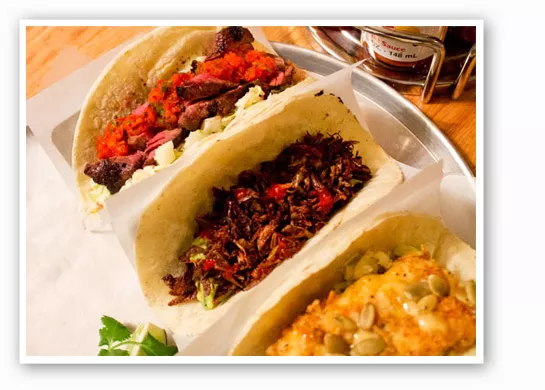 The chapulines taco at Gringo (center): sauteed grasshopper. | Mabel Suen
Gringo (398 North Euclid Avenue; 314-449-1212), a new venture from the owners of the wildly successful Pi Pizzeria (three locations), brings "authentic modern Mexican food with a twist" to the Central West End. On my recent trips to the self-described Baja surf lodge, I was certainly twisting out of my seat when presented with the chapulines taco, Gringo's grasshopper-filled homage to entomophagy, or bug-eating.
Now, I am no insect-eating neophyte -- I've had mealworms and crickets on a dare. However, to see bugs intentionally served on a posh corner of one of St. Louis' trendiest neighborhoods gave me pause. Are bugs the next new superfood? Can eating insects save the planet? To dig deeper, I spoke with Chris Hartley, an entomologist and coordinator of educational programs with the Butterfly House (15193 Olive Boulevard, Chesterfield; 636-530-0076) for his take on the phenomenon.
Gut Check: The UN recently released a report touting the health and environmental benefits of eating insects. Can eating insects save the planet?
Chris Hartley: Considering the current food security situation -- food shortages and droughts -- eating insects can provide a sustainable protein source for the world's growing population. Nutritionally, insects are almost 100 percent protein, contain virtually no fat and are filled with vitamins and minerals. From an environmental standpoint, insects require very few resources to produce. Unlike cows, which require vast amounts of land for grazing, large quantities of water and take a very long time to raise, insects can be produced quickly and efficiently. All you need is a room and you have a great protein source.
GC: Is the United States an outlier in our lack of insect eating? How common is it throughout the world?
CH: The U.S. and Europe are indeed outliers. When you consider that the majority of the world's population is in Asia, Africa and South America, where eating insects is culturally accepted, we are an anomaly. People all over the world eat everything from caterpillars to water beetles to crickets. In some areas, they raise scorpions as delicacies.
GC: So why hasn't the U.S. embraced edible insects?
CH: It all comes down to cultural avoidance. We eat the food that our mothers put in front of us. If she had put insects in front of us, it wouldn't be an issue. You know, there are things that we eat that other cultures think are disgusting.
GC: Such as?
CH: Take cheese, for example. In many parts of the world, they would never think of eating cheese. It's spoiled milk.
GC: Fair enough.
CH: You know, what's funny is that we, basically, already eat insects. Shrimp, lobster, crawfish -- these are all arthropods, the same phylum as insects. We have just been culturally conditioned to think of them differently.
GC: Do you see insect-eating as something that will catch on in the U.S.? What will it take to change the culture?
CH: I do think it is possible that this will catch on, and I am encouraged that a trendy local restaurant has taken the leap to put them on their menu. Hopefully, as insects show up on the menus of this type of establishment, people will become more comfortable with it.
GC: Do you have any recommendations for the insect home cook?
CH: Absolutely. It's easy. Get a ten-gallon aquarium and some crickets or mealworms from your local pet store. Line the bottom of the aquarium with a layer of plain oatmeal. If you want, you can also add apples and carrots to the mix, although you will have to change it out after a day or so. This will be the insects' food and will make sure that what they have been eating is a known quantity. After a week, put the insects in the freezer -- this is how you kill them. When you are ready to eat them, whip up a tempura batter, dip the insects in the batter, and put them in some hot oil. Voila! You have cricket fritters.
To see more impressions of Gringo, check out my review and accompanying slide show here.
Gut Check is always hungry for tips and feedback. Email the author at cheryl.baehr@riverfronttimes.com or follow her on Twitter.
---