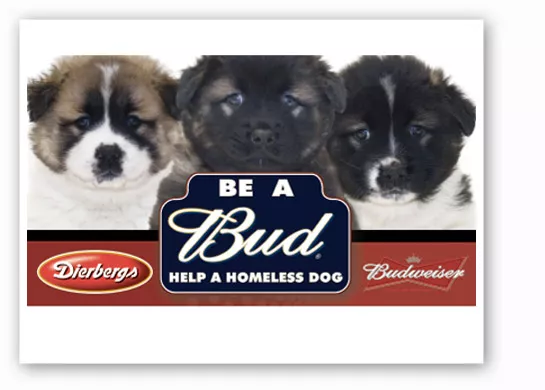 Be a Bud helps super cute dogs. And even not cute ones. | Dierbergs
You like beer. You like helping defenseless animals. Why not put the two together? Dierbergs (multiple locations) is doing just that. The market has partnered with Budwesier and Stray Rescue of St. Louis to help homeless dogs.
See also: - Limited Edition Cupcakes at the Cup Benefit Back-to-School Charity - Local Chefs to Compete in Grass-Fed Beef Burger Cook-Off - St. Louis Chef Kevin Nashan Leads Seven Regional Chefs in Charity Dinner This July
From now to September, there are two ways you can help homeless dogs awaiting adoption while you shop at Dierbergs. You can make a donation to Stray Rescue's Emergency Medical Care Fund when you pay for your groceries at the register. Or, whenever you buy a 30-pack of Budweiser, Bud Light, Bud Select or Select 55, Budweiser will donate $1 to the Emergency Medical Care Fund.
So really, you're getting drunk to help out some super adorable dogs! You can find out more about the fund here.
Gut Check is always hungry for tips and feedback. Email the author at nancy.stiles@riverfronttimes.com or follow her on Twitter.
---