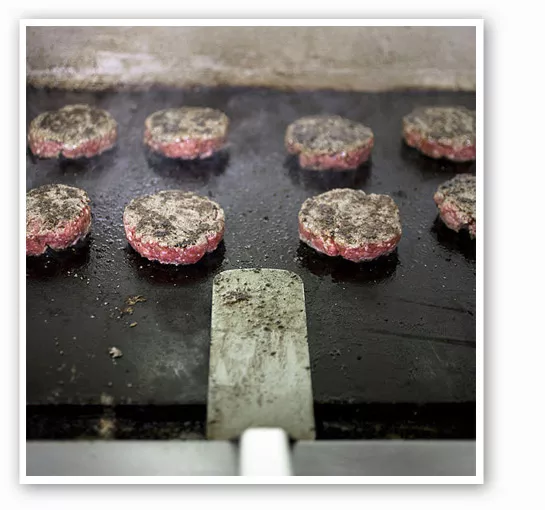 Whole Foods at the Galleria (1601 South Brentwood Boulevard, Brentwood; 314-968-7744) is hosting the third annual grass-fed beef burger cook-off Wednesday, August 7. The competition will feature several local chefs and of course, samples! The winners will get $500 donated to the charity of their choice.
See also: - Whole Foods Announces Grass-Fed Beef Nationwide, but One Missouri Ranch Has Been Doing it For Years - Review + Slideshow: Baileys' Range - Review + Slideshow: Winslow's Home
The grocery has been selling grass-fed beef nationwide since 2010, and Whole Foods' Jessica Seratti tells Gut Check that putting it in an event like this will hopefully prompt a larger conversation. "If you hope to get the nutrients and get what you want from the animal, it's a lot better to feed the animal it was meant to be fed, not the food that was meant to make them grow faster," Seratti says. "We're hoping to open up a conversation about where our food comes from."
The competing chefs are two-time champion Cary McDowell from Winslow's Home & Farm (7213 Delmar Boulevard, University City; 314-725-7559), cooking for Operation Backpack; David Bailey from Baileys' Range (920 Olive Street; 314-241-8121), cooking for Growing American Youth; Matt Galati from The Dam (3173 Morganford Road; 314-771-3173), cooking for Venus Envy; Donn Taylor from Cielo at the Four Seasons (999 North Second Street; 314-881-5800), cooking for Cooking Matters for Kids; Anthony Redden from Three Kings Public House (6307 Delmar Boulevard, University City; 314-721-3355), cooking for Discovering Options; and a team of chefs from Whole Foods, cooking for International Institute of St. Louis.
The cook-off starts at 6 p.m. in the Whole Foods parking lot. There will be free burger samples -- sliders from each restaurant -- Schlafly draft beer for sale, and live music from Swing Deville. Two chefs will win: guests can vote for Crowd Favorite (which enters you to win a grill) and Feast publisher Catherine Neville and the Whisnant Family Farm will decide the Judges' Pick. Voting ends at 7:45 p.m. and the winners will be announced at 8 p.m.
Gut Check is always hungry for tips and feedback. Email the author at nancy.stiles@riverfronttimes.com or follow her on Twitter.
---