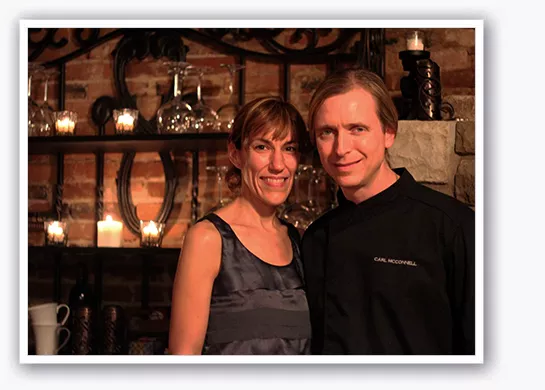 Nancy and Carl McConnell | Mabel Suen
Chances are, you probably haven't experienced true "farm-to-fork" dining unless you've eaten at a place like Stone Soup Cottage (5525 Oak Street, Cottleville; 636-244-2233) that gets its produce from a farm that's less than a minute away. In September the Cottleville dinner destination with a small dining room but big personality (not to mention a months-long wait list) will prepare to make a move. It will operate from a 6.5-acre farm property purchased from the Wiese family, the very same farmers who provide chef Carl McConnell with fresh vegetables and fruits to cook up in his tasting menus.
See also: - The Veggielante Visits Stone Soup Cottage
"Being right on the farm where we source has always been a goal of ours -- getting up at dawn and walking the fields seeing what is coming in fresh and truly getting inspired," says co-owner Nancy McConnell. "We are not expanding in a way that many restaurants do. We are just changing our canvas. The painting will be the same, well, even better!"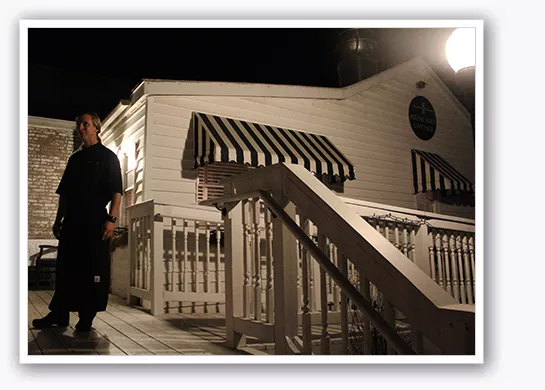 Stone Soup Cottage | Mabel Suen
McConnell says that with the new digs, she and her husband fully intend to offer the same small, hands-on approach to dining, which means that when guests book a table, it's literally theirs for the entirety of the evening. They can also rest easy knowing that chef Carl McConnell personally prepares each plate himself. An added luxury of the expansion includes the ability to host more frequent private events, thanks to the new space's patio overlooking a scenic expanse of fields.
For one last chance to enjoy an intimate meal at the cozy and quaint Oak Street location, call now and reserve a seat to enjoy an exclusive tasting menu from Monday, August 26, to Friday, August 30, with seating available at 6:30 p.m. Chef McConnell will prepare the menu that debuted at the cottage during its opening in June 2009, with accompanying wine pairings.
Check out the menu on the next page.
Chef Carl McConnell | Mabel Suen
The six-course meal consists of dishes like lobster consomme with delicately poached lobster tail and garden baby dill; duo of duck leg confit and seared breast with roasted shallots, merlot gastrique and summer petite vegetables; and Dutch chocolate souffle with garden mint and creme anglaise.
"Opening Stone Soup Cottage four years ago in the height of the recession in the middle of Cottleville took a leap of faith," says Nancy McConnell. "We worked hard and sacrificed a lot to get to where we are today. It just puts things back in perspective -- closing one chapter and moving on to a new adventure."
The cost is $150 per person, which includes the six courses with four wine pairings, as well as a copy of the house cookbook, Stone Soup Cottage: A Vignette of Seasonal Recipes. Only 24 seats are available for each evening. Call 636-244-2233 for reservations, and do it soon -- if the past four years have been any indication, those spots fill up fast!
As for the new location, they've already started booking reservations. Check the Stone Soup Cottage website for availability, and call to set up an appointment.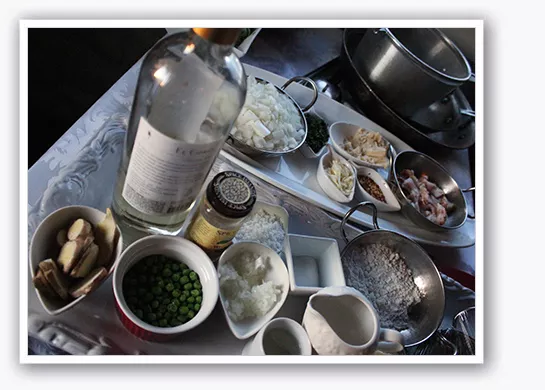 Fresh ingredients from a Stone Soup Cottage cooking demo | Mabel Suen
The full menu for the Monday, August 26, to Friday, August 30, dinner:
FIRST COURSE Lobster Consommé garnished with Delicately Poached Lobster Tail and Garden Baby Dill Wine Pairing: 2011 Chateau Lamothe de Haux Bordeaux Blanc, France
SECOND COURSE Simmered Summer Bartlett Pears served with Radish Micro-Greens, dressed with Champagne Lavender Vinaigrette and finished with Gorgonzola Cheese and Crisp Pancetta
THIRD COURSE Copper River Salmon en Papillote infused with Olives, Capers and Lemon Wine Pairing: 2011 Mas des Bressades Roussanne-Viognier, France
FOURTH COURSE Black Truffle Risotto served with Fresh Morels and Aged Parmesan Wine Pairing: 2010 Clos de l'Oratoire des Papes Châteauneuf-du-Pape, France
FIFTH COURSE Duo of Duck Leg Confit and Seared Breast with Roasted Shallots and Merlot Gastrique and accompanied by Summer Petite Vegetables
SIXTH COURSE Dutch Chocolate Soufflé with Garden Mint and Crème Anglaise Wine Pairing: 2010 Bodegas 'Breca' Garnacha Old Vines, Spain