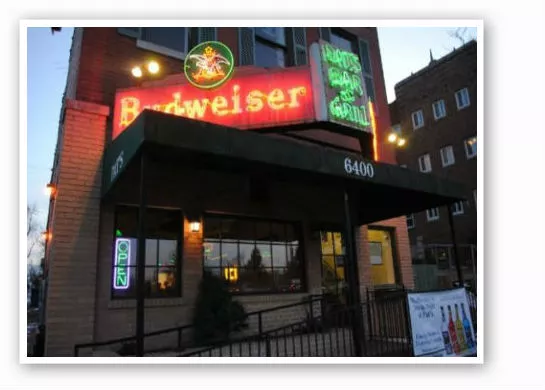 The ultimate Irish pub. | Sarah Rusnak
Dogtown fully embraces its Irish identity as evidenced by the Ancient Order of Hibernians' St. Patrick's Day Parade where attendees hold nothing back, imbibing from sunup to sundown in celebration of St. Patrick and shamrocks. During the rest of the year, though, Dogtown is home to a solid core of neighborhood bars and restaurants. Of course, you'll find a few Irish pubs, but there's also a one-of-a-kind karaoke bar and a bakery specializing in wedding cakes. So don't wait around till March 17 -- there's more to Dogtown than just Guinness and Irish whiskey (though there is plenty of that, too).
Pat's Bar and Grill (6400 Oakland Avenue; 314-647-6553)
If there is one place that encapsulates Dogtown, it's Pat's Bar and Grill. Opened in 1942 by Pat Connolly, then a recent immigrant from County Galway, Ireland, the eponymous pub is covered in green, white and orange. Over the decades, the venerable bar and grill has mastered the classic Irish pub formula: a down-to-earth atmosphere, friendly service and a solid menu, which includes not only a number of traditional Irish meat-and-potatoes entrees but also a smorgasbord of deep-fried fare. The chicken wings are some of the best in St. Louis, and they obviously need to be washed down with a cold Guinness. See also: - Mad Hatter Pub Crawl Celebrates Crazy Hats and Booze - Hibernians, Dogtown to Paradegoers: No Coolers for You
Nora's (1136 Tamm Avenue; 314-645-2706)
This Dogtown café offers a straightforward menu of soups, salads and sandwiches, but it's the attention to detail that will bring you back for more. Prime example: Nora's smokes many of its meats in-house, which makes a noticeable difference -- like pork loin smoked and served with bacon, Brie, onion and applesauce. Other sandwiches include a Reuben and the "Hangover Club": smoked turkey, Genoa salami, provolone, bacon and mustard. Vegetarians can enjoy a veggie melt or the portobello Philly, while cold sandwiches include a nod to the neighborhood in the "Dogtown Sub," made with roast beef, ham, smoked turkey, provolone, lettuce, tomato and mayonnaise.
See also: - What It's Like to Bartend in Dogtown on St. Patrick's Day
Felix's Pizza Pub (6335 Clayton Avenue; 314-645-6565)
Last year, RFT readers voted Felix's pizza the most underrated in town, which means we should all start paying more attention. Besides the generous slices of pizza, this unique watering hole always brings in an eclectic crowd, which includes both college students and fortysomethings. With a menu of burgers, the aforementioned pizza, quesadillas and the self-proclaimed "St. Louis' best ribs," Felix's has good eats. There's also Felix's jukebox, which favors the edgier side of the Top 40, and might inspire patrons to stay put and dance all night -- never a bad thing.
See also: - Your Pick for St. Louis' Most Underrated Pizza Is...
Latitude 26° (6407 Clayton Avenue; 314-932-5600)
The culinary traditions found on Texas and Mexico border (Tex-Mex) are the inspiration for both the name and menu at Latitude 26°. The floor-to-ceiling windows that front the restaurant bring in tons of light and create a fun, airy atmosphere. Owners Tony and Kelli Almond have put together a concise menu that hews to standard Tex-Mex dishes: tacos, enchiladas, burritos and more. The beef brisket is tender and flavorful and completely worth the trip.
See also: - Downtown vs. Dogtown Neighborhood Restaurant Guide and St. Patrick's Day Poll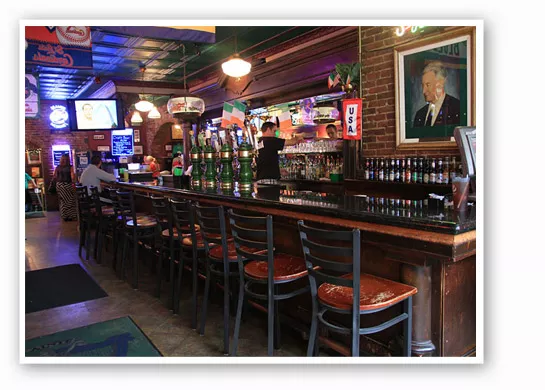 Seamus McDaniel's (1208 Tamm Avenue; 314-645-6337)
Another Dogtown staple, this is the quintessential neighborhood pub, featuring burgers, buffalo wings and an extensive beer selection. The mahogany paneling throughout gives the place a rustic feel, making it a comfortable place to throw back a few or watch a game. The outdoor patio is pretty amazing, too, and it's always filled to the brim during the annual St. Patty's parade.
See also: - The 10 Best Irish Pubs in St. Louis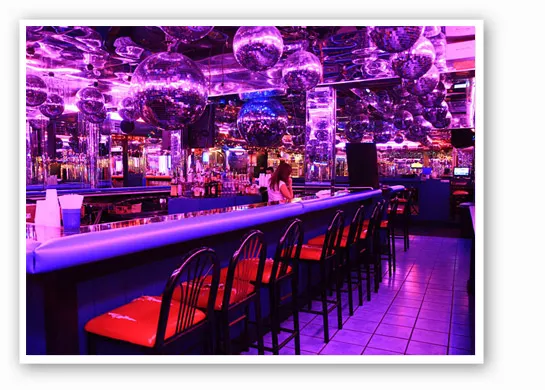 Mike Talayna's Juke Box Restaurant (1115 Hampton Avenue; 314-647-7600)
Somehow, this squat, unassuming building on the commercial Hampton strip has reached near-legendary status as the flashiest late-night karaoke bar in St. Louis. With dozens of sparkling disco balls hanging from the ceiling, mirrored walls and a glitter-inlaid bar top, it's part strip club, part disco roller rink, but also part karaoke extravaganza where dreams of stardom go to die. True, the drinks aren't as cheap as you might expect (or hope), but the mixed ones are strong enough to help you overcome any stage fright and probably encourage some bad decision-making. See also: - The Five Best Places for Karaoke in St. Louis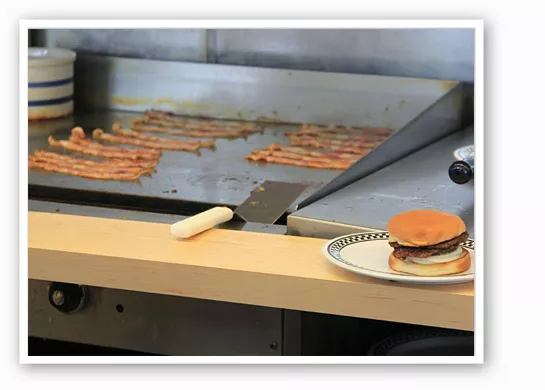 Courtesy Diner (1121 Hampton Avenue; 314-644-2600)
In one word: slinger. This late-night establishment is greasy and delightful with all the signatures of a diner for lost souls straight out of an Edward Hopper painting. Whether it's scrambled eggs, pancakes or a "Devil's Delight," you'll never be blown away by the food -- there's no culinary genius behind the scenes -- just simple dishes that provide enough sustenance to get your though the night and prepare you for the inevitable hangover headed your way. Remember, no matter how roughly your night went, there's always the slinger, just waiting to rescue you.
See also: - Where to Break the Yom Kippur Fast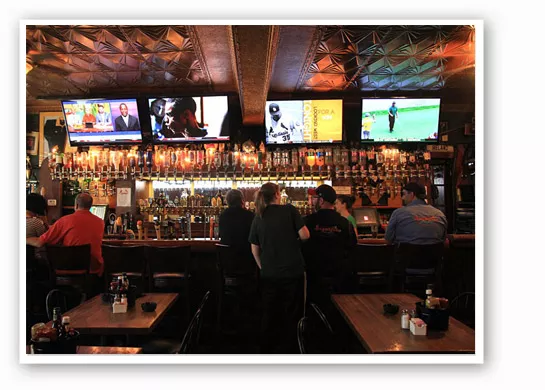 Nick's Irish Pub (6001 Manchester Avenue; 314-781-7806)
Geographically, Nick's is on the edge of Dogtown, but thematically speaking, this well-known bar fits right in. This Irish pub stays open till 3 a.m., which is perfect for that epic Saturday night you've been looking to experience. Plus, this is a pub in every sense of the word, the way pubs are meant to be: cheap beer, cheap bar food and plenty of drunken fools banging mugs on the table to the beat of local musicians playing traditional Irish tunes late at night.
See also: - The Ten Best 3 a.m. Bars in St. Louis: 2013
The Cakery (1420 Tamm Avenue; 314-647-6000)
Erika Frank is a born artist. Her canvas is cake, fondant and buttercream, and she produces true works of art. Her mastery of the craft began so early that she did, in fact, complete a wedding cake at age fourteen Since then, she has put a greater emphasis on the decorative side of baking, with elaborate, innovative designs -- that innovation is what has made the business a success, and has kept Frank and her team immensely busy during wedding season. Call for a custom order or go in for cookies, cupcakes, cakewiches, double deckers or specialty flavor cupcakes (pumpkin, lemon, strawberry, banana and red velvet). See also: - Ericka Frank of the Cakery and the Cup: Recipe for German Chocolate Icing
Tamm Avenue Grille (1227 Tamm Avenue; 314-261-4902)
Tamm Avenue Grille is a solid addition to the Dogtown neighborhood -- lots of patio space, a simple menu with a pick-your-toppings option for both the pizza and pasta, and friendly service. For dessert, go with a slice of chocolate peanut butter pie, rich and delicious. One of the favorites here is the pulled-pork nachos that go particularly well with a rotating selection of drafts doled out by attentive bartenders.
Gut Check is always hungry for tips. Email us!
---