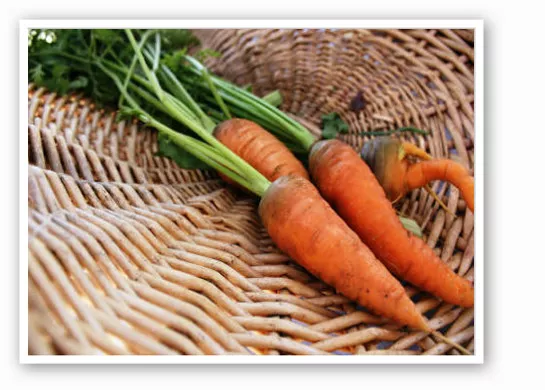 Get some fresh carrots from a farmers' market this weekend | Pat Kohm
This weekend, make the most out of the remainder of Craft Beer Week, hit up a blues and booze fest, pick up some groceries at the North City Farmers' Market, shop the Kitchen Conservatory annual sale and more.
See also: - 10 Must-Drink Events for St. Louis Craft Beer Week - Pick-Your-Own Peaches Ripe at Eckert's - Hidden Gems at the North City Farmers' Market
Friday (Aug. 2):
Feast in the Park @ Laumeier Sculpture Park This installment of Feast in the Park features live music from Leland's Road accompanied by more than a dozen food trucks serving up everything from gyros to fish tacos. Admission is free. 5 to 8 p.m.
Footless @ Bissell Mansion Murder Mystery Dinner Theatre Bissell presents the interactive comedy murder mystery Footless, a story with a mob mentality and plenty of dance scenes. Shows are available on Fridays and Saturdays at 7 p.m. and Sundays at 2 p.m. from now through October. The cost per seat is $52.95 per person and includes a four-course meal with entree options such as an eight-ounce New York strip and baked white fish with an almondine sauce. Call 314-533-9830 for reservations.
Craft Beer Week @ Participating bars and restaurants Craft Beer Week is in full swing and culminates this weekend with a slew of boozy events. Check out these must-drink events, wrapping up with the Schurcipefones Festival at Bridge Tap House and Wine Bar. Prices and times vary per event.
Saturday (Aug. 3):
Saturday market @ North City Farmers' Market "The North City Farmers' Market is, without a doubt, the little engine that could, operated by the Old North St. Louis Restoration Group, whose overarching goal is to bring vivacity and excitement (and fresh veggies!) to a neighborhood looking to make a comeback. We're guessing most St. Louisans have yet to visit Old North (unless making a stop at Crown Candy), so let us entice into making a trip in the near future." 10 a.m. to 1 p.m.
Riverpalooza 2013 @ Yacht Club of St. Louis "Celebrate the boating lifestyle with live music, great food & drink specials from Sundowners Restaurant and a river raft up contest. No boat necessary to participate -- come out for the fun." Free. 2 to 8 p.m.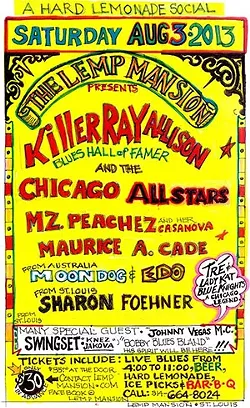 A Hard Lemonade Social @ Lemp Mansion Restaurant and Inn This special outdoor concert event features seven hours of the blues served up with plenty barbecue and booze -- especially hard lemonade and ice pick cocktails. Admission costs $35 at the door and includes all of the above. 4 to 11 p.m.
Double Feature: Shaun of the Dead and Hot Fuzz @ Schlafly Tap Room Bring a chair or blanket to the parking lot of the Tap Room to catch a couple of Edgar Wright flicks. Schlafly beer will be available to purchase on-site. Free. 8:30 p.m.
Sunday (Aug. 4):
Sunday brunch buffet @ Jilly's Cupcake Bar Choose between weekly offerings including mini coffeecake cupcakes, biscuits and creole sausage gravy, bacon and maple sausage, brisket hash and more. $14.99 for ages 11 and up, $7.99 for children ages 7 to 10, $3.99 for ages 4 to 6 and free for children 3 and younger (limit 2 per adult). Call 314-993-5455 for reservations. 9 a.m. to 2:30 p.m.
Cookbook Fair and Annual Sale @ Kitchen Conservatory Bring in a used cookbook to trade in and get an additional five percent off of the already twenty-percent off all the items in the store. If you've been hoping to stock up on baking supplies or replace some old tools with new-fangled gadgets, now's your chance! Now through Saturday, August 10.
Pick-Your-Own Peaches @ Eckert's "Eckert's says they've got all-natural peaches that weigh almost a pound. Pick-your-own peaches are 99 cents per pound. Blackberries are also available for picking from 8 a.m. to 7 p.m. while supplies last... Be sure to call Eckert's Harvest Hotline at 618-233-0513 before you go to get up-to-date information on what fruit is still available that day."