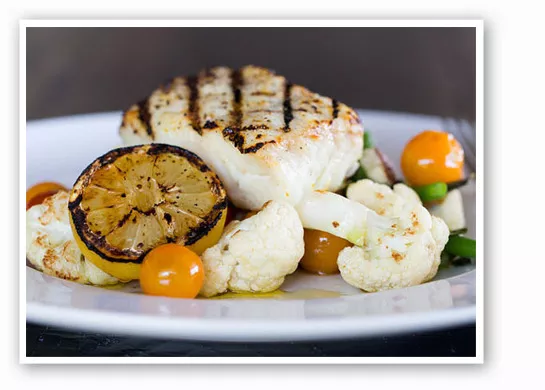 Wood-grilled halibut with green beans, cauliflower, lemon, oregano, tomato and olive oil at Prasino. | Jennifer Silverberg
Built on the ashes of the iconic Noah's Ark Restaurant at I-70 and 5th Street, Prasino (1520 South 5th Street, St. Charles; 636-277-0202) brings its eco-friendly ethos and Contemporary American cuisine to the Streets of St. Charles. Prasino, which is Greek for "green," is the third location of the Chicago-based boutique chain of restaurants built on the philosophy of offering sustainable, farm-to-table fare in an eco-chic setting. Its expansive menu features such diverse offerings as tacos, sushi, short ribs and even a few local classics like as St. Louis style-pork steak and gooey butter cake.
Wait a minute.
See also: - First Look: Prasino Brings Self-Proclaimed "Eco-Chic" Contemporary American Cuisine to St. Charles - Recent Openings: Piccione Pastry on the Delmar Loop, Prasino in St. Charles - Central Table Food Hall: Review + Slideshow
Tacos and sushi at a Contemporary American restaurant?
It is certainly ambitious to try to execute such a varied menu. Prasino has the schtick, but does it have the food to back it up? Read my full review of Prasino and get a good look with this week's restaurant slideshow.
Gut Check is always hungry for tips. Email us!
---