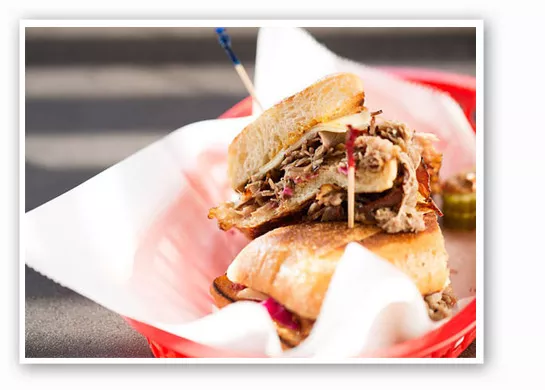 The "Special Ed": barbecue brisket, red cabbage slaw, white cheddar cheese and housemade Russian dressing. | Jennifer Silverberg
The Kitchen Sink (280 DeBaliviere Avenue; 314-261-4455) is moving to a new location this fall for a big expansion. Owner Anthony Ellerson Jr. says the cajun diner is just about busting at the seams -- he hopes to be moved less than a mile away to 275 Union Boulevard before the Kitchen Sink's one-year anniversary on September 15.
See also: - First Look: The Kitchen Sink Cooks Up A Cajun-Infused Diner-Style Menu of Burgers, Sandwiches and More - Home for Diner: Belly up to the Kitchen Sink for a burger or something a little more Louisiana-fied - The Kitchen Sink's Corn Fritters: One of 100 St. Louis Dishes You Must Eat Right Now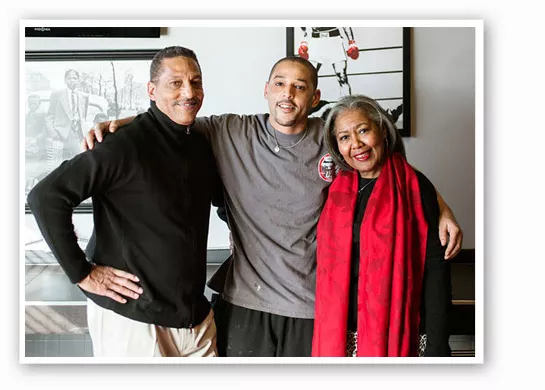 Anthony Sr., Anthony Jr. and Sharon Ellerson | Jennifer Silverberg
The new Kitchen Sink will have an expanded menu with appetizers, more entrees, more sandwiches. "More of everything, which is crazy because I already have a big menu," Ellerson says. The décor will be a little different, but he plans to keep the color scheme red, gray and black. It will also have Ping Pong and darts.
Ellerson is also applying for a liquor license, something the current 1,000-square-foot location just wasn't big enough to handle. The space on Union is about 5,393 square feet and will allow the Kitchen Sink to expand from four employees to twenty or thirty.
He opened the Kitchen Sink last fall after stints at Market Pub House (6655 Delmar Boulevard, University City; 314-727-8880), Norton's Cafe (808 Geyer Avenue; now closed) and Rigazzi's (4945 Daggett Avenue; 314-772-4900). Since then, Ellerson has wowed us with cajun-infused favorites made from scratch; the corn fritters are one of our 100 favorite dishes in town.
"That place on Union has been many things, and the last good thing was Turvey's on the Green," Ellerson, who lives nearby, says. "I'm a neighborhood guy, and I like the challenge."
Check the Kitchen Sink's Facebook page for updates on the move.
Gut Check is always hungry for tips and feedback. Email the author at [email protected] or follow her on Twitter.
---